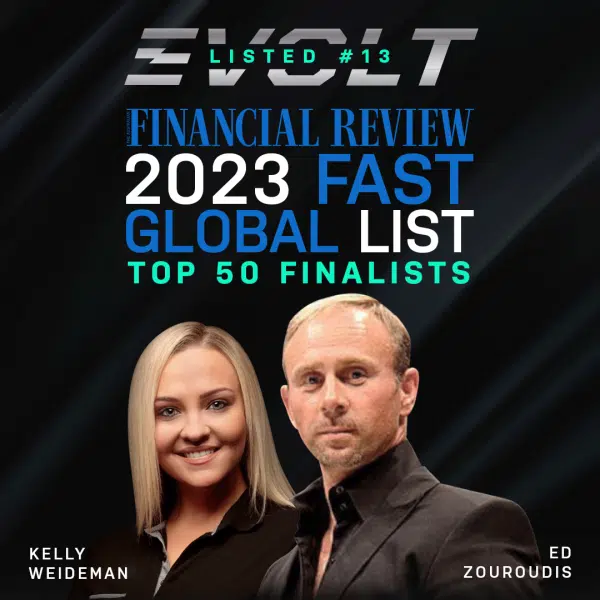 Evolt has achieved a remarkable milestone, securing the 13th position on the Australian Financial Review's Fast Global List for 2023.
This accomplishment reflects the dedication and hard work of our entire team at Evolt, and we are honored to be recognized among the most innovative and high-growth companies globally. Over the past year, we have experienced significant growth and success. Our substantial capital raise of $12 million has fueled our strong order pipeline, while our revenue for FY22 surpassed $10 million, more than triple the previous year's result. This demonstrates the increasing demand for our innovative fitness solutions.
With over a million registered users and a presence in 33 countries, we proudly serve a global community. Our partnerships with esteemed organizations like Anytime Fitness, HCF, leading global mining companies, and international medical universities have contributed to our expanding footprint and continued success.
Our cutting-edge technology has helped individuals achieve incredible results, recording an astonishing 2 million kilograms of fat loss since our scanners' inception. By providing accurate and actionable data about body composition, Evolt empowers individuals to make informed decisions about their fitness journeys.
The digital transformation of the fitness industry has played a significant role in our rapid growth. Consumers now seek personalized and data-driven solutions, and our body scanner perfectly aligns with this trend, enabling users to understand their bodies better and optimize their workouts for maximum efficiency.
Our commitment to innovation is at the core of our success. Our dedicated research and development team consistently explores new avenues to enhance the accuracy, functionality, and usability of our body scanner, ensuring that our technology remains at the forefront of the fitness industry.
We express our heartfelt gratitude to our clients, partners, and the entire Evolt community for their continued support and belief in our vision. This recognition not only acknowledges our achievements but also serves as a catalyst for our future endeavors.
Looking ahead, we remain focused on pushing the boundaries of fitness technology and empowering individuals to take control of their health. With an expanding global footprint and a commitment to introducing new innovations, Evolt is on an exciting trajectory of growth. We look forward to being featured next year, and even higher up on next years Fast Global list!
To see the complete ranking click here.
To read more about Evolt and our success click here.