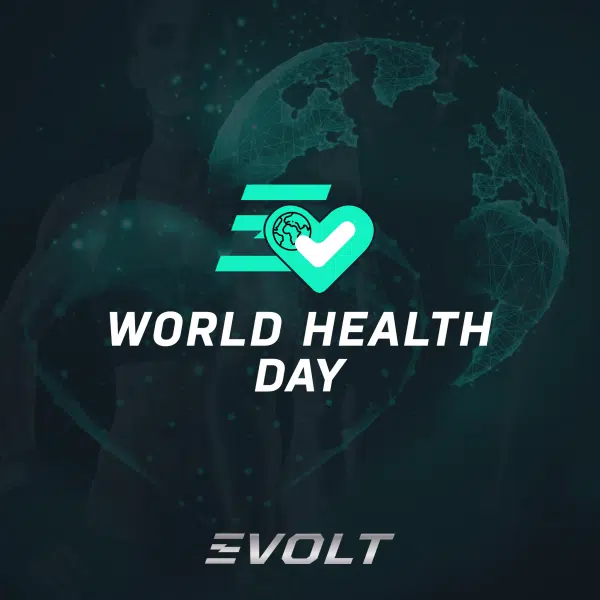 Today is World Health Day! And as the world comes to celebrate good health for a fulfilling life in a prosperous and sustainable world, the team here at Evolt want to celebrate YOU!
As leaders in the body composition space, Evolt could not be more proud than to be part of an industry that encourages, supports and advocates for good health.
So what can we all do this World Health Day to celebrate?
Time for a walk!
It's so simple, isn't it?! Before your gym workout, hit the treadmill to get the blood flowing and crank up the volume on your favourite tunes. Not planning a gym session, but the weather's looking stunning? Grab the dog and the family, or your colleagues if you're at work, and hit the neighbourhood to enjoy the sunshine – there's nothing better than a bit of fresh air and sunshine on the face.
Let's Get Physical
What's better than grabbing your friends and family for a gym sesh?! Not only does it keep you accountable, you can also use it to motivate and push you harder. Hit the gym together and spot one another, carpool with friends to your yoga or pilates class, challenge each other with interval training during your group run, or take the kids to the park and go nuts on the monkey bars!
We all know exercise can help improve cardiovascular health, increase strength, and boost your mood, and World Health Day is the perfect time to get active as a collective.
Eat What's Good For Your Body
Another fantastic way to celebrate World Health Day is to eat all the foods that are good for your body! Get all those macro and micro nutrients into your system by filling up on vegetables, proteins and fruits, all the while keeping hydrated with the planet's most precious resource – water!
Globally, at least 2 billion people use contaminated drinking water as a resource. We are so incredibly lucky to have clean water available to us!
Book In For An Evolt Scan
If you're a gym/health centre client: What better way to check in with your body composition and celebrate your achievements than with an Evolt scan?! If it's been a few months since your last scan, now is the time to get in at your gym or fitness centre and make that appointment. Remember, it only takes 60 seconds to complete and then you can see how much you've progressed in your health journey! How good is that feeling, when you make those comparisons?!
If you're a gym/health centre owner: Promote your Evolt scanner on your socials and within your facility this World Health Day! It's the perfect way to remind your members, and engage with them, to showcase what the Evolt is all about and how by simply booking in for a scan they are celebrating their health.
If you don't have the option to allow for bookings, put the spotlight on your Evolt and encourage members to come in on the day for impromptu scans – make it known that it's available, it's right at their doorstep, and they can come and see for themselves the benefits of including body composition scans in their health journey.
You know they won't regret it – now it's time for them to see it too!
We are so lucky to have access to amazing health systems, and together, we can encourage and focus on the importance and value of good health within our own lives. Happy World Health Day!