In the Beginning
Feeling tired and lacking energy was a catalyst for Caitlin Murphy. Not liking what she saw in the mirror ultimately became a turning point when she finally decided enough was enough. So in mid-2020, she did something about it.
Caitlin joined her local PLC gym and at the same time, stood on an Evolt 360 Body Composition Analyzer and faced the numbers to get a clear outlook on where and how she wanted to improve.
It wasn't easy though. Any training, whether it be weights or cardio never is but Caitlin put in the hard yards and the results speak for themselves – we're not talking about just a loss in weight though. We're talking drops in all sorts of areas of her body, from her total body fat percentage and visceral fat, to lean body mass and even her biological age!
Caitlin said she annihilated her first initial goal, which was to lose 13kgs by the end of the year.
"My first big goal was to reach under 100kgs by the end of the year, which I ended up reaching at the end of September!" she said.
"I've been training at a functional gym which is a mix of cardio, plyo and weight training; I started off going to 3-4 sessions a week and I now currently attend about 8-10 sessions a week."
Targeting Key Areas
Combining her exercise regime with nutrition was key, and she tracked all of her meals. After her first Evolt 360 scan at the start of her journey (June 2020), she targeted 3 key areas with the aim of having 45% carbs, 30% protein and 25% fats.
"Knowing how much of each macronutrient to ingest has certainly helped me keep on track of my calories and nutrition," she revealed.
"I did also initially start out taking fat burner supplements and I also have protein shakes."
The Results Speak for Themselves
Let's take a look at Caitlin's Evolt 360 body scan results so you can see the comparison for yourself! Between June 2020 and March 2021, her 23kg weight loss also came with astonishing results in other forms of measurement.
                                     BEFORE                      AFTER
Body Weight                 112kg                           89kg
Total Body Fat %          37.4%                           25.5%
Visceral Fat Area          100                               34
Subcutaneous Fat         36.4                             20.6
Lean Body Mass           70.1                             66.3
Body Fat Mass              41.9                             22.7
Bio Age                         30                                26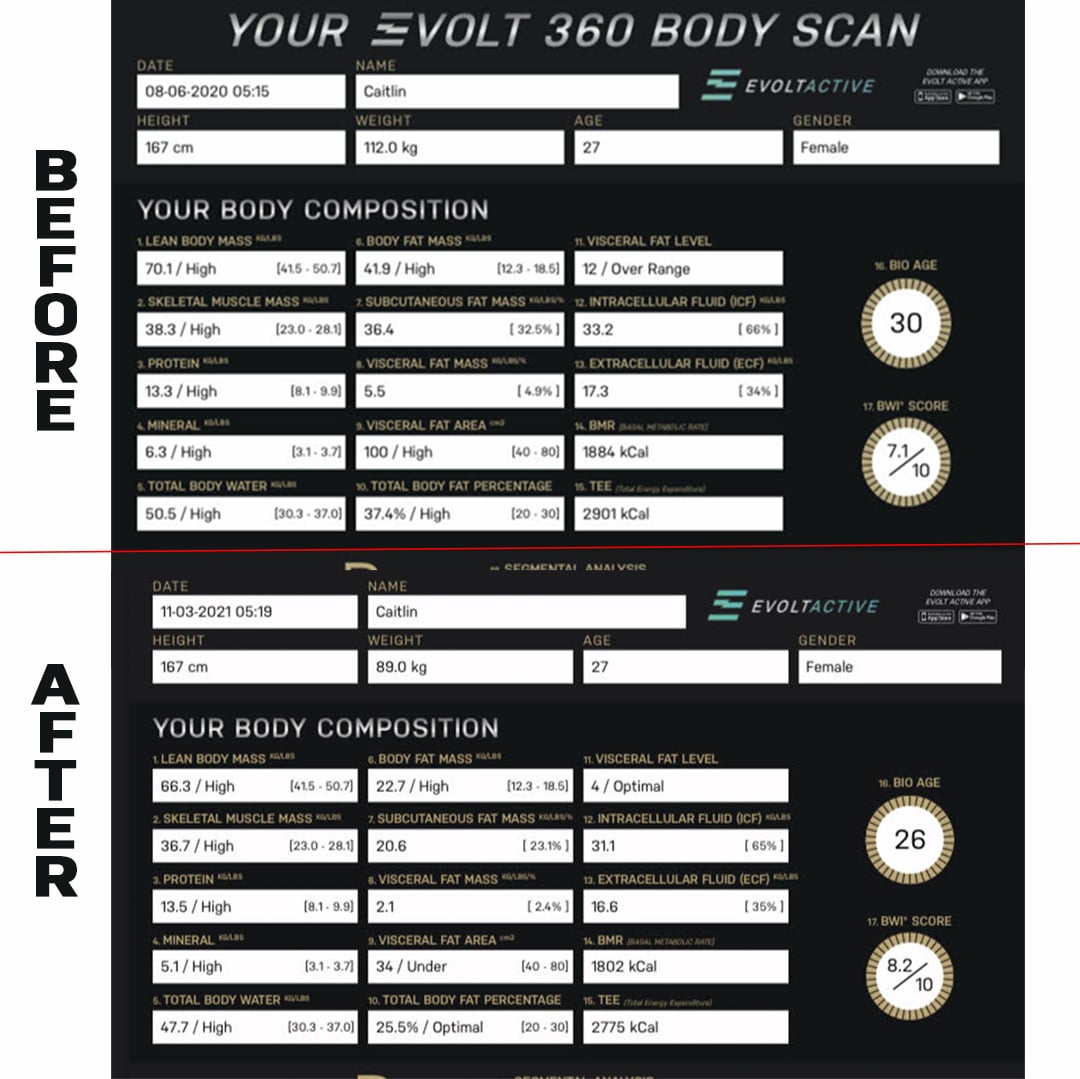 Caitlin's journey towards a life of better health and wellbeing has left her feeling better than she's felt in a long time, and she admits that a lot of the motivation came from knowing she had scientifically validated data right at her fingertips through our Evolt Active app.
"I love that everything from the Evolt 360 body scan can be broken down so I can see where I'm actually at," she said.
"I use it all as a tool on where to improve, for example, if I've lost muscle, I know I need to increase my protein intake. I just love how easy it is to use the app with all of its cool functions."
"Using scientifically validated data from an Evolt 360 Body Composition Analyzer is so important when it comes to tracking my body composition and my transformation – it provides a sense of accountability, awareness, as well as real insights into my body."
"I know that for myself, it's especially helped motivate me more within my journey and reaching my goals."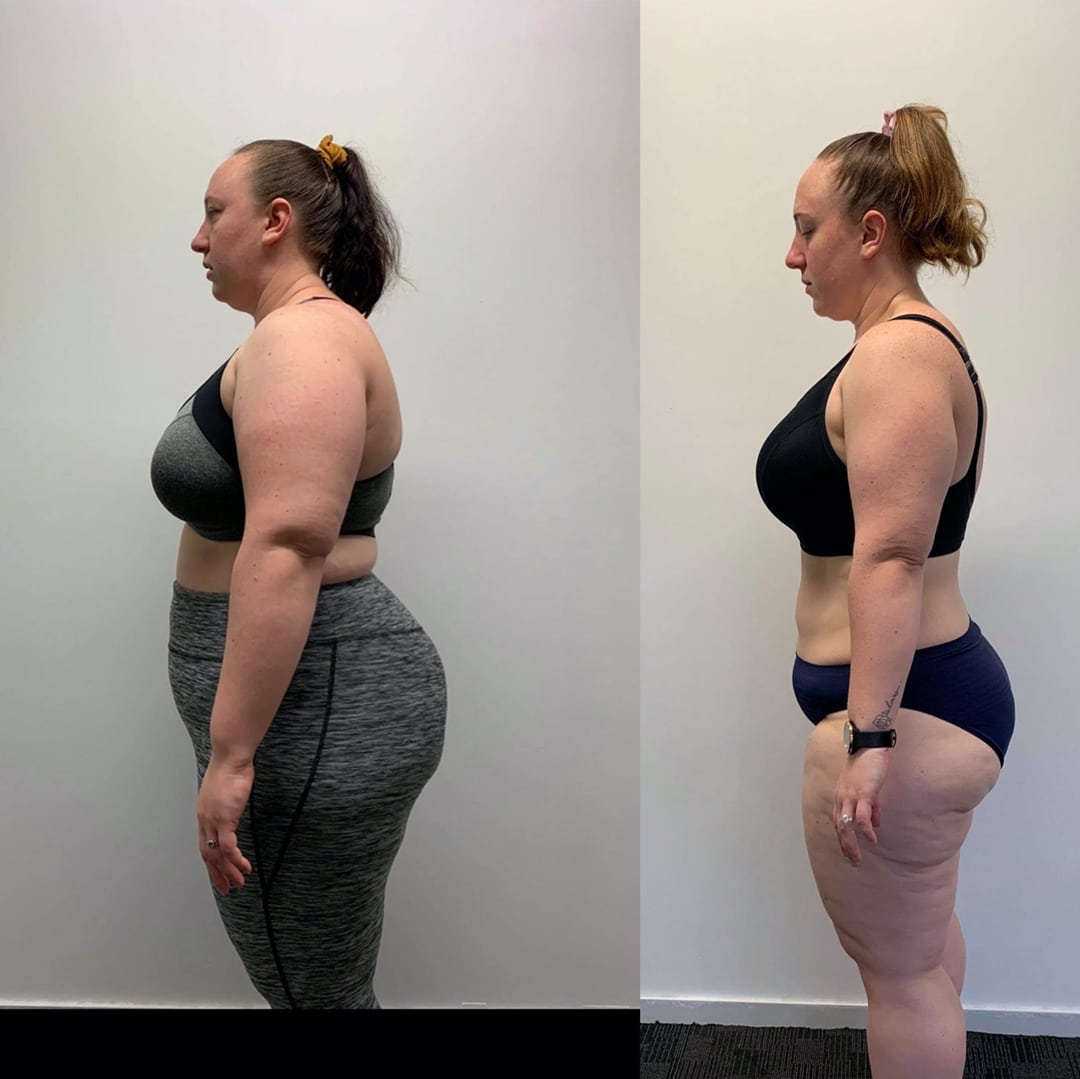 Real-Time Results
When Caitlin stepped on our Evolt 360 Body Composition Analyzer, guided by a trained gym staffer at PLC, a harmless electrical current ran through her body in the space of 60 seconds.
The biometric screening technology provided Caitlin with over 40 measurements, and they included skeletal muscle mass, protein mass, macronutrient intake and bio age. She was then given a printout of her initial scan results, and access to her own personal account through the Evolt Active app where she could keep track of her progress and stay inspired.
Features in our Evolt Active app really complement an individual's health and wellness journey. You can take a good hard look at your body with 3D scanning (available on iPhones) that provides a full 360-degree view and tracking platform to see 4 body circumference measurements – chest, waist, hips and thigh. Although not designed to replace an Evolt 360 BIA scan, users can still find motivation in the 3D feature.
Staying Driven
Caitlin said she is now more driven than ever to continue with her health and fitness, and wanted to share advice to others who felt the same as she did last year.
"The biggest piece of feedback I can share is that the easiest way to start your journey is to just do it," she said.
"Don't dwell on it, and find somewhere that you love to train; that has been the biggest and most important factor within my journey."