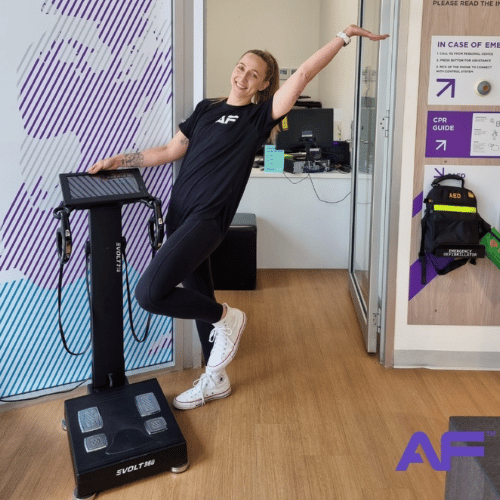 Body Composition Data Now Accessible Across Anytime Fitness Australia Gyms
Across the world, more and more gyms are getting their hands on body composition analyzers to help members with their health journey, and we couldn't be more thrilled that Anytime Fitness is working with us to get more Evolt 360s onto their floors!
Gone are the days when Anytime Fitness staff and personal trainers use measuring tapes, calipers or bathroom scales to record the numbers on a piece of paper as part of a client's progression.
Today, all those traditional methods have been thrown out the window because they don't represent the best or only health measurement – in other words, they can't tell you what's going on inside your body.
With over 500 clubs across Australia, it's now easier than ever to walk into your local Anytime Fitness and ask for a full body composition scan on the Evolt 360. In 60 seconds, members can get a non-invasive scan that will measure over 40 body configurations including muscle mass, visceral fat mass, basal metabolic rate, subcutaneous fat mass and so much more.
The successful franchise is keen to make sure its gym members can keep a track of their progress by ensuring accessibility to the Evolt 360. They've even incorporated each individual's Evolt health data with their Anytime Fitness app so it's at everyone's fingertips!
Anytime Fitness is a gym that wants to help its members with their health journeys and allow them to see the results with real progress. It's a clear-cut way for motivation to stay high, which in turn sees people continue their exercise regimens for positive lifestyle outcomes.
How Anytime Fitness Members Will Benefit
Members across Anytime Fitness clubs will have the advantage when it comes to how they progress throughout their health and fitness journey! The Evolt isn't just about one number on the scale – it's about how your body, inside and out, is working for the better.
Scan results provide clear indications on how much muscle and/or fat there is, what macronutrients are recommended for the best results for either muscle gain or weight loss, and what vitamins and minerals will work in your favor for optimization.
The Evolt 360 is the best way to track all the progress you're making at the gym. So check out what Anytime Fitness have to say about the Evolt here and how they see it benefits their entire membership base!