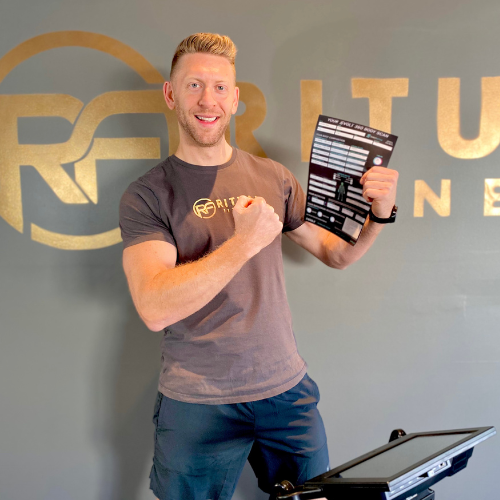 Ritual Fitness Says, "No More!" To Everything But The Evolt
The best things in life come from passion and devotion, don't they?
Ritual Fitness in Balcatta, WA (Australia) was born out of a love for fitness, strength and optimal health for everyone! So, it's no wonder that their approach is a holistic one with strength training, conditioning, and yoga – what more could you ask for?!
Actually, there is more! A recovery room with an infrared sauna, a massage table, a nutritionist, and a chillout space for meditation, stretching, and breathwork…
Sign us up!
No More Traditional Methods
Coaches at Ritual Fitness used to use traditional methods, like skin fold calipers and tracking scale weight, but with the obvious room for human error and inaccurate measurements, it was time to move into the high-tech space and bring in an Evolt 360.
For founder Sam Clarke, measurements provided by the Evolt 360 are more precise and accurate than the original methods of measuring.
"For us, the measurements provided are more accurate, and the Evolt Insights dashboard is a game changer when it comes to continually measuring and managing our members' progress," he says.
"The Evolt 360 allows us to tailor our members' nutrition plans with ease, whether the goal is fat loss, muscle gain or maintenance. The app makes it super easy to manage in-club challenges too and provides great education for members which is one of our main pillars."
Extra Income From Locals
With word hitting the streets that Ritual Fitness has its very own Evolt 360, people are getting in touch to have body composition scans to check in on their health.
Sam says the community is always welcome to walk through the door and give it a try.
"Locals in need of body composition tracking have reached out to us to come and use the Evolt 360," he explains.
"It gives them all a chance to see our awesome facility and come and try it out for themselves!"
There's Never Been A Better Time!
Everyone at Ritual Fitness is seeing the benefits of having an Evolt 360 on-site, and Sam couldn't speak more highly of the technology.
"With Evolt tracking, my clients' progress has never been easier, and the app and coach's dashboard are total game changers," he says.
"I've been using skin fold measurements and Tanita and InBody scanners for years – but I won't go back after seeing the results with Evolt!"
Get In Touch
For more information on Ritual Fitness or to book in a scan, enjoy a free trial or join the Ritual team, simply check out @theritualfitness on Instagram or head to ritual-fitness.com.au for everything you need.
For more information about purchasing an Evolt 360 for your business visit www.evolt.s.thrivex.io/contact or request an information pack below. Further information on the Evolt 360 is also available here
You might also like Evolt 360 Metrics Explained