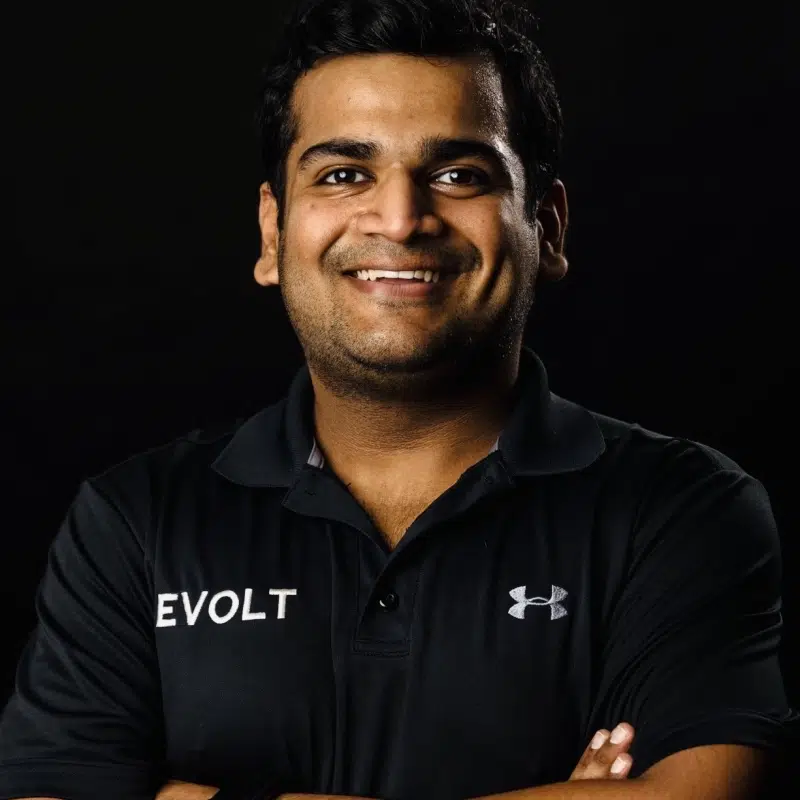 Evolt's Corporate Fitness Challenge – a Win for Employee Dhanesh
Consistency really is the key to success when it comes to any exercise and nutrition program. One of the main problems is that people tend to try fad diets that don't fit into their lifestyle or that restrict their favorite foods. And when it comes to workouts, it's all about commitment and mapping out a plan for exercise that needs to be done consistently.
Evolt employee Dhanesh Dutt was among those who found inconsistency in both exercise and nutrition for most of 2021 but signed up for an 8-week corporate fitness challenge at his workplace near the end of the year – which gave him the motivation to bring back the feeling of change into his life.
Getting Started
With an initial goal to lose fat and gain muscle, Dhanesh started doing 6 HIIT sessions per week at his local BFT Robina. With those short bursts of intense exercise on a regular basis, it was exactly what Dhanesh was looking for in terms of getting back into shape and finding a groove again with his physical routine.
"My initial goal was fat loss alongside gaining some muscle," he explains.
"When it came to nutrition, I was mainly focused on my diet because being vegetarian, I had few protein options to choose from. I was mainly using MyFitnessPal to track my daily calories, and I was also writing in a document separately about my daily intake and meals."
Dhanesh's main meals consisted of vegetables, brown rice, tofu, avocado, peanut butter, spinach, berry smoothies, and on the odd occasion, coffee.
He also took supplements to complement his improved diet.
"I used BCAA for post-workout, which helped to give me more energy and fulfill the needs of electrolytes," he says.
"I also incorporated a greens powder to help with any vegetable deficiency, fish oil tablets for muscle recovery, a plant-based protein and a casein protein to manage the protein levels and help with strength and conditioning."
The Evolt Experience
Working with Evolt as customer service and support intel has helped Dhanesh gain complete access to the Evolt 360 body scanner, so it was no surprise that utilizing the scanner was a part of the 8-week challenge.
"I'm always amazed to see the technology and amount of information I can collate from one quick and easy BIA scan result," he explains.
"The best thing, which I absolutely love, about the Evolt 360 is the accountability I get throughout my fitness journey; I was doing 1 scan per week, which helped me determine where I stand at that exact moment and what can be improved to achieve my desired goal – in this case, fat loss."
Let's take a look at Dhanesh's Evolt 360 scan results, with the first scan conducted on 11 October 2021 and his last one at the end of the 8-week challenge, 3 December 2021.
| Measurement | Before | After |
| --- | --- | --- |
| Weight (kg/lbs) | 89.3 kg | 81.5 kg |
| Subcutaneous Fat Mass (kg/lbs/%) | 24.5 kg | 20.0 kg |
| Visceral Fat Area (cm2) | 133.0 cm2 | 102.0 cm2 |
| Visceral Fat Level | 13.0 | 11.0 |
| Total Body Fat % | 33.0 % | 29.0 % |
| Lean Body Mass (kg/lbs) | 59.8 kg | 57.9 kg |
| Skeletal Muscle Mass (kg/lbs) | 32.9 kg | 32.0 kg |
| Protein (kg/lbs) | 11.7 kg | 11.6 kg |
| Bio Age | 28 | 27 |
Words From Dhanesh
Realizing the personal benefits from using an Evolt 360 body scanner has allowed Dhanesh to truly see the potential of his body and how it has transformed over the course of last year's 8-week challenge.
"I'd highly recommend using a BIA scanner like the Evolt 360 to track your fitness journey," he says.
"As mentioned before, it not only provides accountability, but it also helps to provide in-depth details of where your body metrics are at that particular instance. It's definitely a game-changer because it brings awareness and motivation to yourself and helps you work towards feeling different and better throughout your fitness journey."
"Now, I feel amazing. I can see myself being more energetic, confident, focused and determined towards my goal. Also, I maintained discipline with my diet and workouts even after the challenge ended, which is playing a vital role in my overall progress. Another aspect to this is that I got to understand more about my body, I realized the reasons why I was gaining weight in the past, and how to maintain myself now moving forward."
"Remember – if you could do this yourself, you'd have done it already. So having the proper guidance along with the scan results plays a big role in moving one step closer to your goals."
To learn more about your body and for personalized macronutrient and supplement recommendations Download the Evolt Active app and search for your nearest Evolt 360 Body Composition Scan location.
For more information about purchasing an Evolt 360 for your business visit www.evolt360.com/contact or request an information pack below.