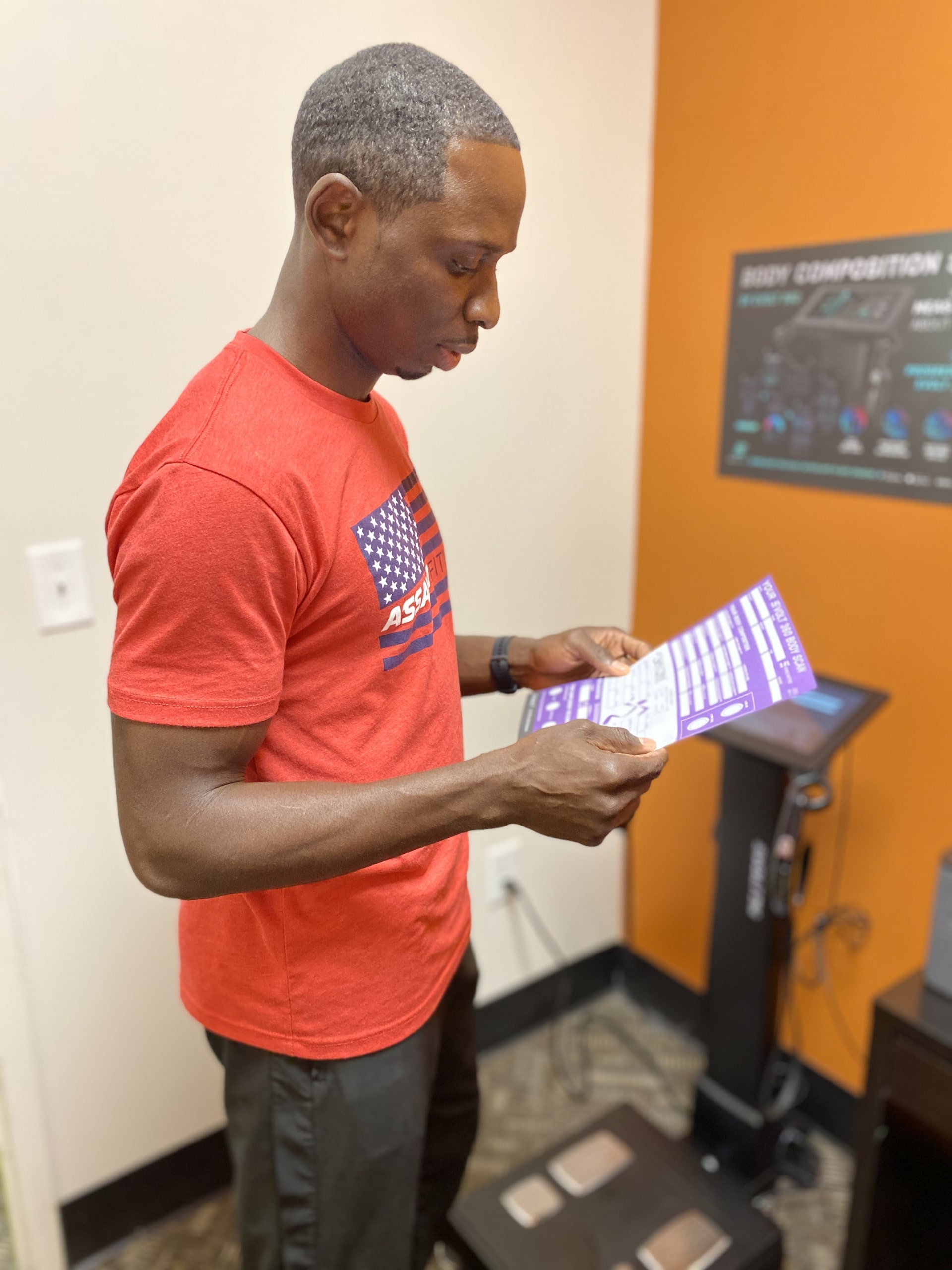 Professional athlete Durran Dunn helping people get the best results with high tech Evolt 360 body scanning
The year 2020 may definitely be one to remember with all the goings-on of COVID-19, but in the state of Georgia, USA there's one professional athlete who has decided to take the bull by the horns and turn things around for the better – combining his love of athletics and fitness with helping people get the best results with an Evolt 360 Body Scanner.
Originally from Kingston, Jamaica, Durran 'The Freeze' Dunn is mostly known for his track and field career. Already competing by the age of 11 in organised meets, he later migrated to New York where as a young man he earned a spot as a Top 10 nationally ranked sprinter and later was offered an academic track and field scholarship to the University of Southern Mississippi.
Graduating with an Accounting Degree and becoming a Certified Public Accountant, Dunn has seen success within his chosen field, but at the time didn't keep up his optimal fitness levels. In 2015, things changed. A passion for health, wellness and helping people get the best results was re-ignited and the rest, as they say, is history.
"I made a serious lifetime commitment to my health and wellness after I watched a film titled What the Health during a business trip to Australia," he recalls.
"I took away a new perspective on how food is prepared and whilst I enjoyed my professional career, and continue to have high aspirations, my renewed passion for physical fitness and competition led me to start a training program and compete at various national and international track and field meets representing USA and with the Atlanta Braves as "The Freeze."
Fast forward to June, 2020 and Dunn made the commitment to purchase the Anytime Fitness East Cobb franchise gym in Marietta, Georgia – right in the middle of the COVID-19 pandemic. His reasonings?
"My decision to embrace this venture was made after significant due diligence efforts and clearly having recognised the assumed risks and the potential," he said.
"My passion to own a gym was inspired by my own circumstances of wanting to optimise my physical health and fitness for competition, then in turn wanting to impart my learnings and experiences with others."
AND ONCE HIS DOORS OPENED TWO WEEKS LATER ON 29 JUNE, HE SIMPLY HASN'T LOOKED BACK – ESPECIALLY WITH THE PURCHASE OF AN EVOLT 360 BODY SCANNER, WHICH HE HAS SAID WAS ONE OF HIS FAVORITE COMPONENTS OF THE CLUB.
"All our membership offerings include an initial health assessment using the featured cutting-edge technology of the Evolt 360; we absolutely love this body scanning technology and we appreciate the fact that it is a simple-to-use 60-second scan that provides detailed data about a body through more than 40 relevant measurements," he said.
Included in memberships at Dunn's Anytime Fitness East Cobb gym are exclusive appointment-based full-body recovery sessions along with personal training and athletic coaching. Combining those features with the Evolt 360 provides clients with vital tools to support health and fitness goals for everyone – from clients to trainers and coaches.
Interestingly, Dunn said that before getting hold of an Evolt 360 he used a variety of inconsistent methods like Microsoft Word and Excel to manually track his clients' progress as well as his own – but in some cases, he didn't track anything at all.
"I have a saying – that what doesn't get measured, doesn't get done," he said.
"I've applied this theory in the gym for our members and for myself; I knew I needed a technology device that was easy to use and could solve all the manually intensive methods I was originally using. After some detailed research, I chose the Evolt 360 – that choice was easy with assessments taking one minute and providing scientifically backed results."
Not just for members, Dunn has promoted the fact that his Evolt 360 is accessible to non-members too and he has seen success with that demographic's usage, which in turns shows the value that the technology provides. All those who have utilised the Evolt 360 Body Scanner have the opportunity to make informed and timely decisions that are tactical on things like calorie intake, weight management, protein and body fat percentage just to name a few.
In Marietta, Georgia health and fitness has been, and will continue to be, kicked up a notch by the public thanks to Dunn's new gym venture at Anytime Fitness East Cobb and his investment in the Evolt 360.
"The Evolt 360 Body Scanner has to be a staple device in everyone's fitness journey," he stated.
Visit evolt360.com for more information or to get in touch about how the EVOLT 360 Body Scanner can benefit your facility.
See what the fuss is all about by visiting Anytime Fitness East Cobb at 4880 Lower Roswell Road, Ste 520 in Marietta, Georgia or call 678 909 5095. Alternatively, you can email the club directly on eastcobb@anytimefitness.com or follow their social media tags on Instagram by searching for @AFEastCobb, or Facebook at AnytimeFitnessEastCobb.
About Evolt
EVOLT is a technology-driven health and wellness company that is powering connected and digital health. EVOLT has developed an end-to-end solution that tracks detailed changes in the quality of activity, body composition, nutrition and overall health that can be shared in gamified social environments. EVOLT is empowering and educating consumers of all ages to improve the quality of their lives by making positive behavioural lifestyle choices and helping people get the best results & achieve their goals.
Founded in 2015 by Ed Zouroudis and Kelly Weideman, EVOLT is a company powering connected and digital health. Having developed an end-to-end solution that tracks detailed changes in the quality of activity, body composition and nutrition with its EVOLT 360 body scanner and other support platforms, EVOLT is now a global player in the health, fitness and wellness industries.