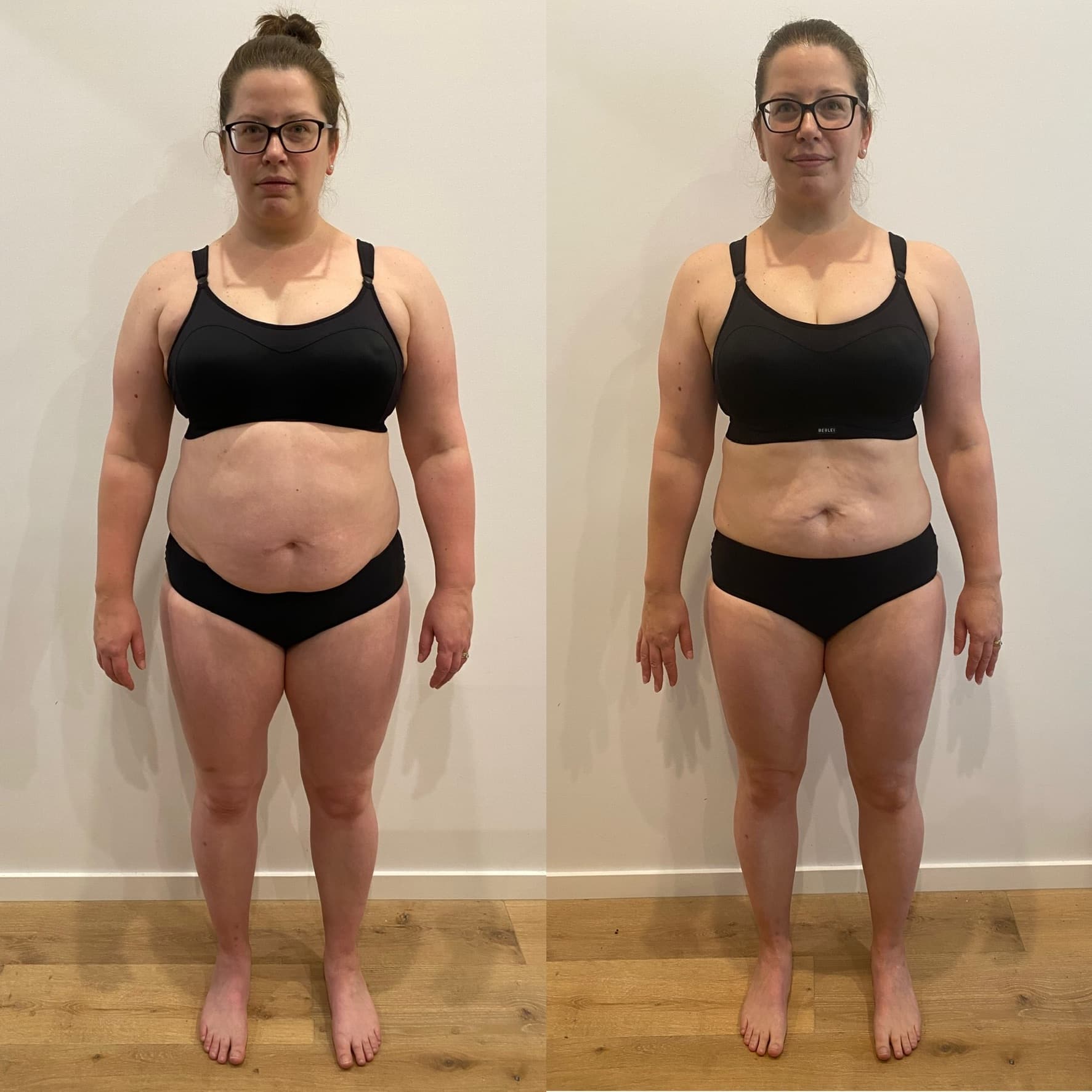 How to get back into working out – Hilary's Story
If you took a long break from exercise during the COVID-19 pandemic, you're not alone. So many people have been thrown off their workout routines due to gym closures, restrictions and social distancing, that for a large group of people it's been hard to get back into the swing of things.
But there are also those who reached a pivotal moment once restrictions began to ease, and restarted their fitness journeys, keen to get active again and feel at the top of their game.
Hilary Smith was one of those people, who decided enough was enough when she was asked a question most women dread.
"The majority of my clothes didn't fit anymore, and the bigger ones that did fit were starting to get tight," she said.
"I knew that I really needed to get active again and lose all the weight that I had gained during the numerous lockdowns."
"I think the pivotal moment for me was when someone asked me if I was having a baby, and I had to respond with, 'No, I'm just eating too much food and not doing any exercise'. I was deeply embarrassed, but really only had myself to blame. I knew it was time to draw a line in the sand to make a change."
"At 41 years of age, apart from being really uncomfortable in my own skin, I also wanted to be healthy for my own sake and for my kids too."
Getting Started With BFT Caulfield
The beginning of Hilary's fitness journey started together with her husband, when they both joined BFT Caulfield after hearing nothing but great things about it.
"My husband and I decided enough was enough, and we would fully commit to doing the BFT 8 week challenge to break our bad habits, re-set, and really focus on our health and fitness," Hilary explained.
"My initial goals for the challenge were to lose 10kg, stick to the challenge meal plan, and to really focus on getting my sleep back on track (I was waking during the night most nights and couldn't get back to sleep for hours)."
Hilary's training included doing 5-6 sessions most weeks as well as classes via Zoom during lockdown for the first 4 weeks of the challenge. In terms of nutrition, her goals consisted of 1500 calories per day and utilizing Dineamic Food for most of her lunches and dinners.
Supplements for Hilary included Happy Mammoth prebiotic collagen protein powder, Deep Sleep Mode powder, a daily magnesium supplement and prescribed melatonin.
Motivation From Just One Evolt 360 Scan
Because Hilary's 8 week challenge started during lockdown, she was unable to hop onto an Evolt 360 for a before scan, so only had one done at the end of the 8 weeks (29 November 2021).
"It would have been really interesting to see my exact starting point data and map how drastically it changed over the challenge," Hilary said.
"I lost over 11kg in that time according to my bathroom scales, and so many centimetres off all my body measurements taken just using measuring tape. But the one scan I did have done, I loved how comprehensive the results were and the fact that it gave me so much information about where I was at, along with recommendations specific to me."
"The Evolt Active app, too, is fantastic and I love that it will be a central point for my scans and progress tracking."
"Personally, it's really important to use a scientifically validated scanner like the Evolt 360 to track my body composition and transformation because it gives a holistic view of where my body is at – not simply just a number on a set of bathroom scales."
No Excuses For Hilary
Today, Hilary is more motivated than ever to increase her Bio Wellness Index score following on from her first scan.
"I now have a clear focus on further reducing my body fat percentage and visceral fat, not just a set kilogram weight goal I want to achieve," Hilary explained.
"I am so much happier now, and have a lot more energy. I wore bathers for the first time in a very long time just a few weeks ago and I felt good wearing them, so my self-confidence has definitely improved; I'm also sleeping better!"
One of the biggest points of motivation for Hilary was ensuring there were no excuses while on her fitness journey.
"I think it's really important to be totally honest with yourself and really own where you're at," she said.
"Excuses are not going to bring about positive change; if you're not happy, draw a line in the sand and commit to making a change. Even if you only make small changes to start with, it will still be a step in the right direction."
"Knowing you're actually doing something to get fitter, stronger and healthier is such a great feeling, and once you start making progress and seeing some results, it makes it easy to keep up the good new habits."
To learn more about your body and for personalized macronutrient and supplement recommendations Download the Evolt Active app and search for your nearest Evolt 360 Body Composition Scan location.
For more information about purchasing an Evolt 360 for your business visit www.evolt360.com/contact or request an information pack below.