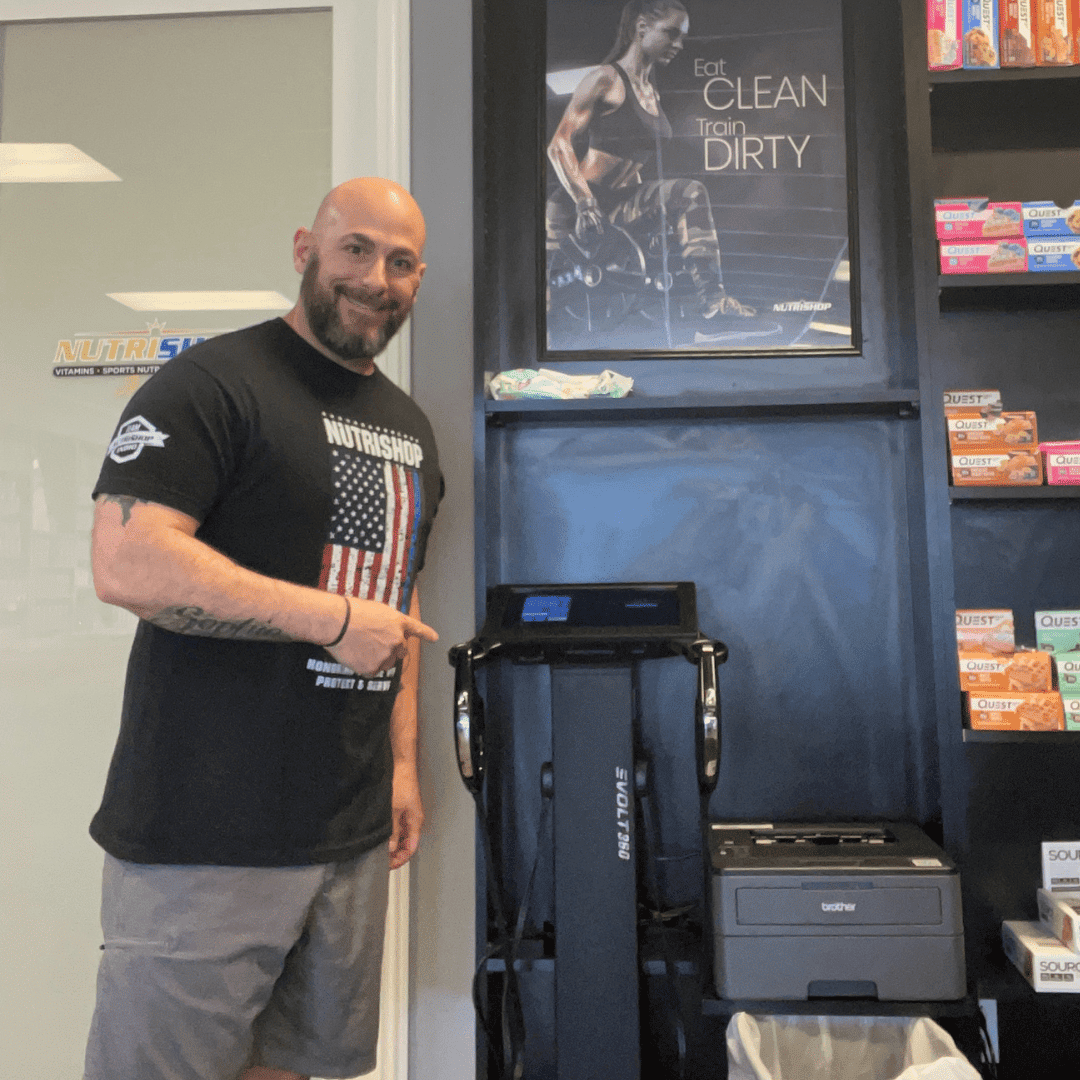 Combining body scans and nutrition with the right education at Nutrishop Indio.
Comprehensive body scans aren't just for gyms and fitness centers anymore. They are fast becoming the norm throughout a range of different retail outlets, including sports nutrition shops, where expertise and knowledge expectations are vastly robust.
Walk into Michael Norcia's Nutrishop store in Indio, California and you'll instantly spot the Evolt 360 Body Composition Analyzer in amongst the outlet's impeccable products. With 25 years in the sports nutrition industry under his belt, Michael has been a part of Nutrishop Corporate since 2003, and he's owned 3 locations under the brand – Norco (sold in 2006), Lake Elsinore (sold in 2020), and now Indio in Coachella Valley.
"Our shop focuses on our clients' wellness through education with regards to proper nutrition and supplementation," Michael says. It's the perfect combination – an Evolt 360 in Nutrishop Indio where knowledge about body composition entwines seamlessly with education about nutrition.
Evolt and Nutrishop Indio Working Together
Nutrishop Indio's clients use the Evolt 360 to monitor their progress in the gym and in their daily lifestyles and activities, as well as the macros provided based on their body composition, physical needs and overall goals.
"We request our clients try to scan every 2 weeks to ensure accountability," Michael explains.
"I chose the Evolt 360 over other machines based on the support and willingness of Evolt to accommodate my overall needs. I love the technology to assess the macros based on the clients' needs, goals and body composition. It takes a ton of the guesswork out for our clients, giving them solid information."
Evolt 360 scans provide users with suggested macro nutrition and supplementation options to achieve the best results for their biology and having Nutrishop Indio right there when you get those results means you'll have everything at your disposal.
Having the Evolt 360 in-store has also seen positive financial outcomes for Michael. "We offer this service of body composition scans to all of our clients and promote the use of it through our social media platforms," he says. "Since utilizing the Evolt, we've noticed a dramatic increase in both overall sales numbers as well as customer retention. It's definitely worth the investment!"
PROVIDING THE RIGHT GUIDANCE
The Evolt 360 provides a safe and efficient method of visually breaking down the body into the components of protein, minerals, fat and water, providing a better glimpse into overall health. Users can then gauge where on the body they need to put more, or less, work into and speak to their trusted allies, who include personal trainers and nutrition experts, about how to go about it.
Having Michael, and his wife Chelsea, right there at Nutrishop Indio when you come off the Evolt 360 is the best way to get the right education on where to go from that moment on. Their operations manager, Kerri Shingledecker, said the Evolt 360 is one of the best resources on offer for everyone who walks into the shop.
"We love the functionality of the machine and what a great tool it is to track our clients' progress," she says. "It makes educating them about their bodies very simple, including helping to identify where their strengths and weaknesses lie."
HOW TO GET A SCAN AT NUTRISHOP INDIO
Anyone can, at this point, walk into Nutrishop Indio and get a scan. You can also contact Michael and Chelsea through their Instagram (@NutrishopIndio) or Facebook (Nutrishop Indio) handles.
Nutrishop Indio, at 42250 B Jackson Street (Suite 6) in Indio, California offer Evolt 360 scans at no cost, so there are no memberships or fees associated.
To learn more about your body and for personalized macronutrient and supplement recommendations Download the Evolt Active app and search for your nearest Evolt 360 Body Composition Scan location.
For more information about purchasing an Evolt 360 for your business visit www.evolt360.com/contact or request an information pack below.