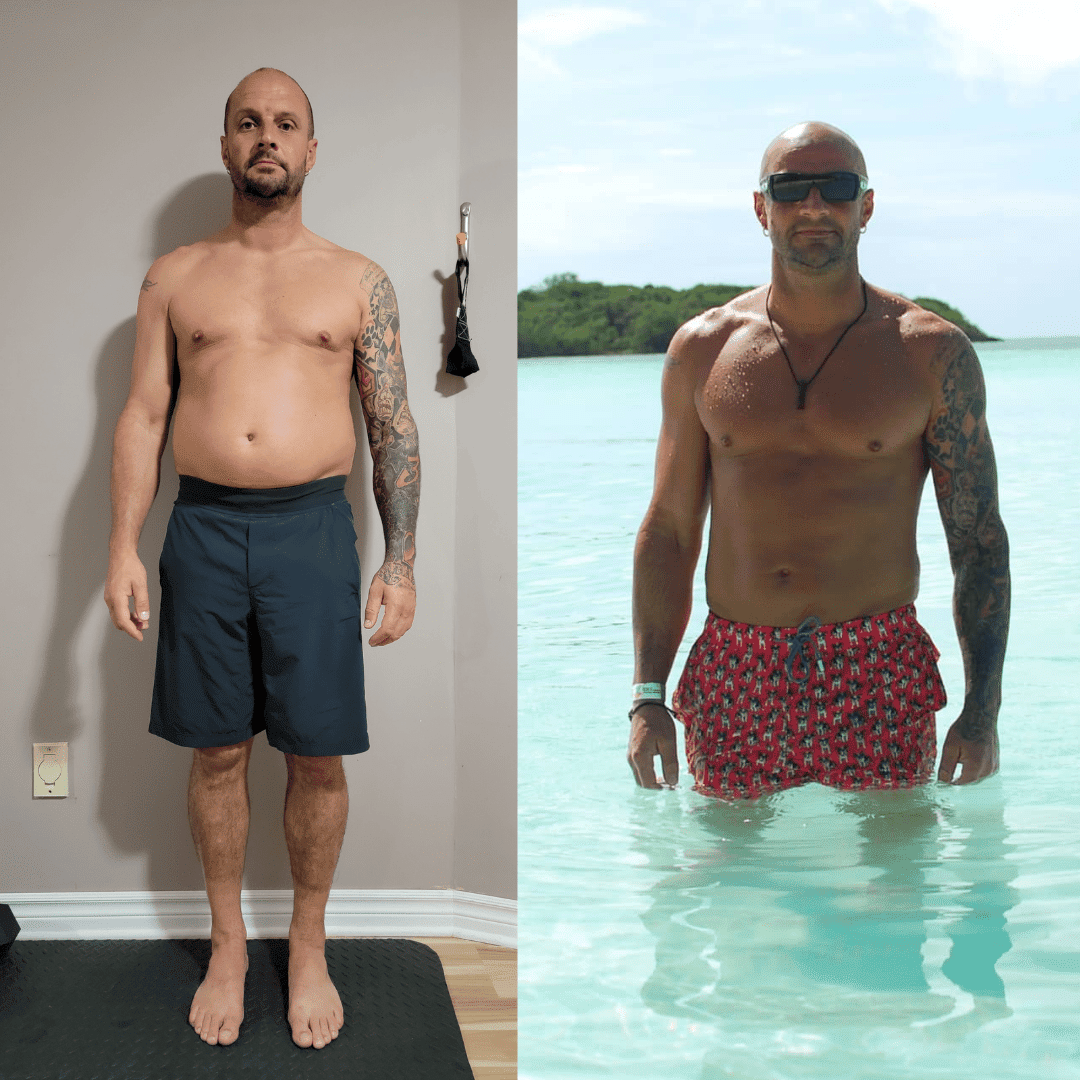 How a weight gain during lockdown spurred Wayne into losing 11% body fat.
The last 22 months have, unfortunately, not been kind to some people all across the globe, with many people admitting to lockdowns and restrictions taking their toll on health – both mental and physical.
Wayne Benoit was no exception. Living in Ottawa, Ontario (Canada) Wayne realized he was gaining weight, with his clothes beginning to get tight around the waist, and when he looked at himself in the mirror, he really didn't like who or what he was seeing.
So when the gyms finally re-opened, he decided it was time to do something about it.
How Wayne Got There
It was a gym called LF3 Fitness in Little Italy, Ottawa, Ontario that called Wayne's name. LF3 stands for lifestyle fitness based on 3 core pillars – be strong, be healthy and be resilient. Wayne signed up with a focus on HIIT-style workouts.
"They have some of the best trainers I've ever worked with, they're high energy and they really push you to be your best," he says.
Now training at LF3 Fitness five days per week, Wayne originally started his journey using a meal prep service called Meal Prep Ottawa, a company that specializes in macro balanced meals specific to an individual's needs. After learning everything he needed to learn about macronutrients, Wayne now does his own meal preps after discovering what his body responds to best.
"As far as supplements go, I use an herbal Test Booster (Mutant) in the morning, one scoop of protein (Mutant) in my morning shake, BCAAs (Mutant) during my workout and creatine (EFX Sports) pre and post workout," Wayne explains.
"Since my journey began, my energy levels have increased dramatically and although I still have more goals to reach, I'm starting to really like who I see in the mirror."
The Best Bits About The Evolt 360
Wayne admits he loves the Evolt 360 body composition analyzer, saying his favorite features of the body scanner include how thorough each scan is and how easy-to-understand the reports are.
"The number on my bathroom scale is not nearly as important as the ones that Evolt can provide," he says.
"My absolute favorite feature on the Evolt Active app is seeing the graph of my progress."
"I'd recommend to anyone that no matter what your fitness goals are, whether it be losing weight, gaining weight or building lean muscle, get an Evolt scan to begin your journey so you can track and see your progress at any time."
It's time to take a comparison of some of Wayne's Evolt 360 body scan results! The first scan we're comparing was conducted on 24 August 2021, and the second was done on 19 November 2021.
| Measurement | Before | After |
| --- | --- | --- |
| Weight (kg/lbs) | 220.7 lbs | 205.7 lbs |
| Subcutaneous Fat Mass (kg/lbs/%) | 19.2 lbs | 10.3 lbs |
| Visceral Fat Area (cm2) | 107.0 cm2 | 56.0 cm2 |
| Visceral Fat Level | 11.0 | 6.0 |
| Total Body Fat % | 22.3 % | 11.6 % |
| Lean Body Mass (kg/lbs) | 171.5 lbs | 181.9 lbs |
| Skeletal Muscle Mass (kg/lbs) | 95.2 lbs | 101.9 lbs |
| Protein (kg/lbs) | 35.3 lbs | 38.8 lbs |
| Bio Age | 42 | 37 |
You Can Do It Too
Like Wayne, hard work combined with keeping track of your progress is highly rewarding. The Evolt 360 body composition analyzer will help unlock your potential once you get an understanding of all the parameters it covers so you can get the best results ever. Visualizing success is made easy with an Evolt 360 scan.
To learn more about your body and for personalized macronutrient and supplement recommendations Download the Evolt Active app and search for your nearest Evolt 360 Body Composition Scan location.
For more information about purchasing an Evolt 360 for your business visit www.evolt360.com/contact or request an information pack below.