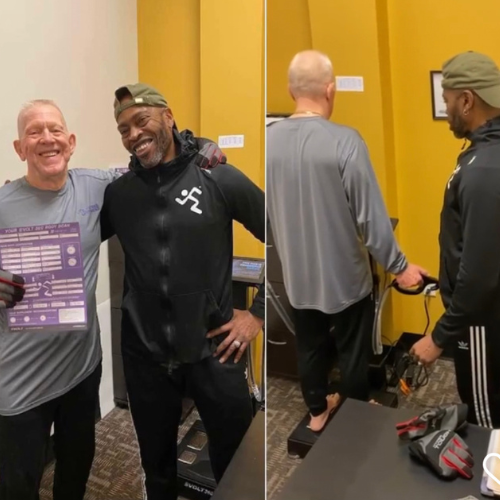 Don, 76, Has the Body of a 63-Year-Old Thanks Partially to a Mediterranean Diet!
76-year-old Don Martin only got serious about his health 5 years ago when his family doctor told him he was pre-diabetic. It was the sign he needed, and after researching ways how to turn his condition around, he discovered the best solution was a combination of diet and exercise.
With a Mediterranean diet together with an hour of cardio or strength training every single day at Anytime Fitness in Wind Gap, Pennsylvania (USA), Don found himself no longer facing the diabetic prognosis. After just 3 months of getting himself into the gym, Don was well on his way to achieving the health results he was looking for – and so much more.
How Did Don Do It?
Working out at Anytime Fitness Wind Gap became a way of life for Don, and he lost over 40lbs!
"It gave me more confidence in my appearance and enough energy to take a part-time job in retirement," he says.
"Another thing I did to help with weight management was using an app called Lose It that tracks your calories by what you eat on a daily basis."
"I feel very blessed at my age to not have to take any medication although I do take a number of supplements like garlic, cinnamon and ginger plus a few vitamins like D3 and B Complex as well as follow the Mediterranean diet."
Because of Don's determination to improve his health, he continuously finds himself on the top of Anytime Fitness Wind Gap's 'Most Active Member Board' every month! If that's not dedication to set things right, we don't know what is!
The Numbers In Don's Favour
After years of hard work, one of Don's Evolt 360 body scans, completed at Anytime Fitness Wind Gap in December 2021, showed that his bio age was a whopping 63-years. In the time he took to take care of his body and put himself first, Don has seen an incredible 13 years taken off his bio age!
But it doesn't stop there.
His visceral fat was at 6% and his BWI (Bio-Wellness Index) score was a very impressive 10 out of 10! (BWI is an overall measure of progress in the promotion of lean body mass for longevity). It's hard work for anyone to get a 10 out of 10 – that ratio is hard to come by!
Don's Message to Others
Don's hard work saw results, and nothing could have pleased him more.
"I was amazed that I got a 10 out of 10 on my Evolt test," he says.
"My favorite part of the scan was finding out I had the body of a 63-year-old! The importance of being scanned and using scientifically validated information as to your body composition gives you so much insight as to what you need to do to give yourself a stronger and healthier body, especially as you age."
"My advice to every senior is no matter your age or your ability, eat a healthy diet and exercise as much as you can. Join a fitness center like Anytime Fitness; start slow, use a trainer until you are confident using all the equipment by yourself, and bring a friend to be your workout partner so you can motivate each other."
"But the biggest thing is don't give up. Results don't come right away, and I believe life is 10% ability and 90% persistence."
To learn more about your body and for personalized macronutrient and supplement recommendations Download the Evolt Active app and search for your nearest Evolt 360 Body Composition Scan location.
For more information about purchasing an Evolt 360 for your business visit www.evolt360.com/contact or request an information pack below.