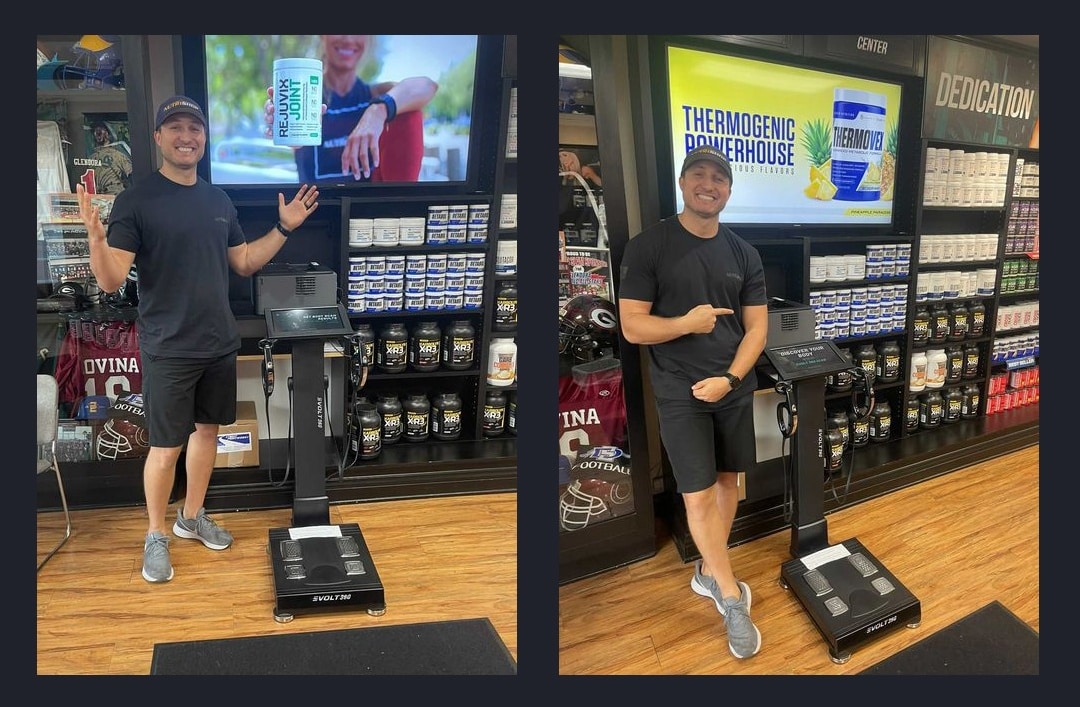 Nutrishop Glendora now has the health tech to match its high-quality products
For over 15 years, Nutrishop Glendora has seen a multitude of health and fitness trends come and go. From the South Beach and Master Cleanse diets to the introduction of the kettlebell, ab roller and circuit workouts, Nutrishop Glendora has seen it all.
And whilst the wellness centre has always strived to help its clientele achieve their health and fitness goals with the best nutritional supplements available, Nutrishop Glendora has taken another leap forward by offering Evolt 360 body scans to those who walk through its doors–clients and non-clients alike.
Not only is Nutrishop Glendora now providing the cutting edge in supplements and offering profoundly effective nutritional advice, it's also now leading the way with innovative technology thanks to the Evolt 360.
The Better Choice Was Evolt
Prior to getting their hands on an Evolt 360 body scanner, the owners of Nutrishop Glendora used an InBody composition analyser to offer a measurement service so that clients could keep track of their health and fitness results.
Similar to the Evolt 360, their previous machine could also provide an analysis of body composition, measuring fat, muscle and total body water as well as approximately 40 other units. However, according to the owners of Nutrishop Glendora, Evolt's "superior technology, amazing app and company support" were a cut above the rest –and so it was out with the InBody and in with the Evolt 360.
Top Of Its Game
Nutrishop Glendora scans up to 1000 clients every month –that's an average of 30 people per day! As you can imagine, their choice in body composition analyser had to be able to handle that sort of capacity of use, and the Evolt was their best option.
But it's not just that level of usage that puts the Evolt 360 at the top of the competition at Nutrishop Glendora –its delivery of over 40 measurements is one thing, but providing macronutrient and supplement requirements based on a person's results is yet another.
Being a retail outlet that offers high-quality, superior nutritional products like proteins, BCAAs and vitamins, Nutrishop Glendora has found the perfect partnership with Evolt. Thanks to training and knowing everything there is to know about the body scanner, staff members work together with Evolt results to provide the right supplement plan for each person.
As one Nutrishop Glendora team representative said, "The details Evolt provides blows me away, and don't get me started about their app!" Ah Yes, The App!
One of the best things about Nutrishop Glendora having a new Evolt 360 at their centre is the fact they can provide their clients with the Evolt Active App once they've completed their first scan.
The smartest way to track body composition, Evolt Active provides the insights people need to keep track of their progress, storing results so they can be tracked, monitored and analysed –so detailed, in fact, that the technology provides instant graphs and charts showing real time results.
Designed to keep people motivated, Evolt Active is simple to use –start your journey, log your scans, and track your results. It doesn't get any easier than that.
Head Into Nutrishop Glendora
For the very best advice on nutrition and supplements, head to Nutrishop Glendora. And while you're there, get a scan to see how your measurements are adding up after all your hard work. You can get in touch with staff members by visiting them on Instagram and hitting up their tag @nutrishopglendora_ to make a booking.
For more information about purchasing an Evolt 360 for your business visit www.evolt360.com/contact or request an information pack below.