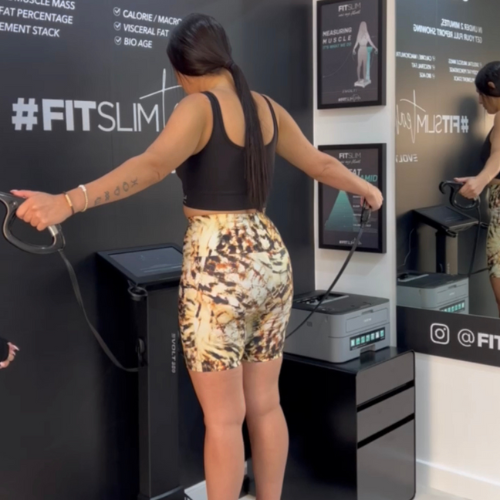 Smart Gym FitSlim Gives Free Evolt 360 Scans with Pod Packages
A leader in the emerging category of 'smart gyms', FitSlim in NSW, Australia started back in 2019 with just one studio. Since then, its reputation for using science and data to deliver accelerated fitness outcomes with its FitSlim 'pods' have helped see it grow across 3 locations around Sydney (Parramatta, Yagoona and Brighton-le-sands).
As a smart gym offering a clever cardio training solution for busy everyday people, it was inevitable that FitSlim and Evolt would come together to create the most perfect partnership and offer clients high-quality technology in their journey towards a healthier version of themselves.
Working Together
FitSlim Pods are state-of-the-art exercise machines that combine a traditional treadmill with red-light (or infrared) therapy and vacuum resistance to supercharge your workout. When new clients walk through their doors, their first session includes a complete body scan with the FitSlim's brand new Evolt 360 body composition analyzer.
It allows FitSlim clients to see, in less than 60 seconds, a report on the workings of what's going on inside their bodies – from body weight, fat mass, lean mass, water retention, metabolism index, and the list goes on. Over 40 measurements are analyzed with the Evolt 360, and this helps FitSlim clients know where they are currently at, and where they want to go with their health and fitness.
But it's not just a once-off scan. FitSlim wants to see all its clients progress throughout their journey, so offers multiple body scans within its available packages.
FitSlim And Evolt the Perfect Match
According to FitSlim's Chloe McCann, the Evolt 360 was the perfect fit to their image.
"We were looking for a way to track our clients' progress," she says.
"We had used another scanning machine prior to the Evolt 360, but loved that like our brand, Evolt uses advanced technology to provide the most accurate measurements and was easy to track via the integrated app and dashboard."
"In terms of financial benefit, that was less important to us than actually seeing our clients' results – that's why we include the scans for free within our packages."
Not Just a Number
A FitSlim representative has said having the Evolt 360 right there on the floor for clients to use has been an incredible benefit to everyone.
"Evolt has helped us to explain to clients that it's not just about the number on their bathroom scales," they said.
"We can explain that the scan gives a real insight into their body composition. It really assists us in personalizing our clients' FitSlim journey and providing them with the best possible recommendations."
For More Information
To get in touch with the team at FitSlim at any of their 3 studios, visit their website fitslim.com.au or DM on Instagram @fitslimau
To learn more about your body and for personalized macronutrient and supplement recommendations Download the Evolt Active app and search for your nearest Evolt 360 Body Composition Scan location.
For more information about purchasing an Evolt 360 for your business visit www.evolt360.com/contact or request an information pack below.