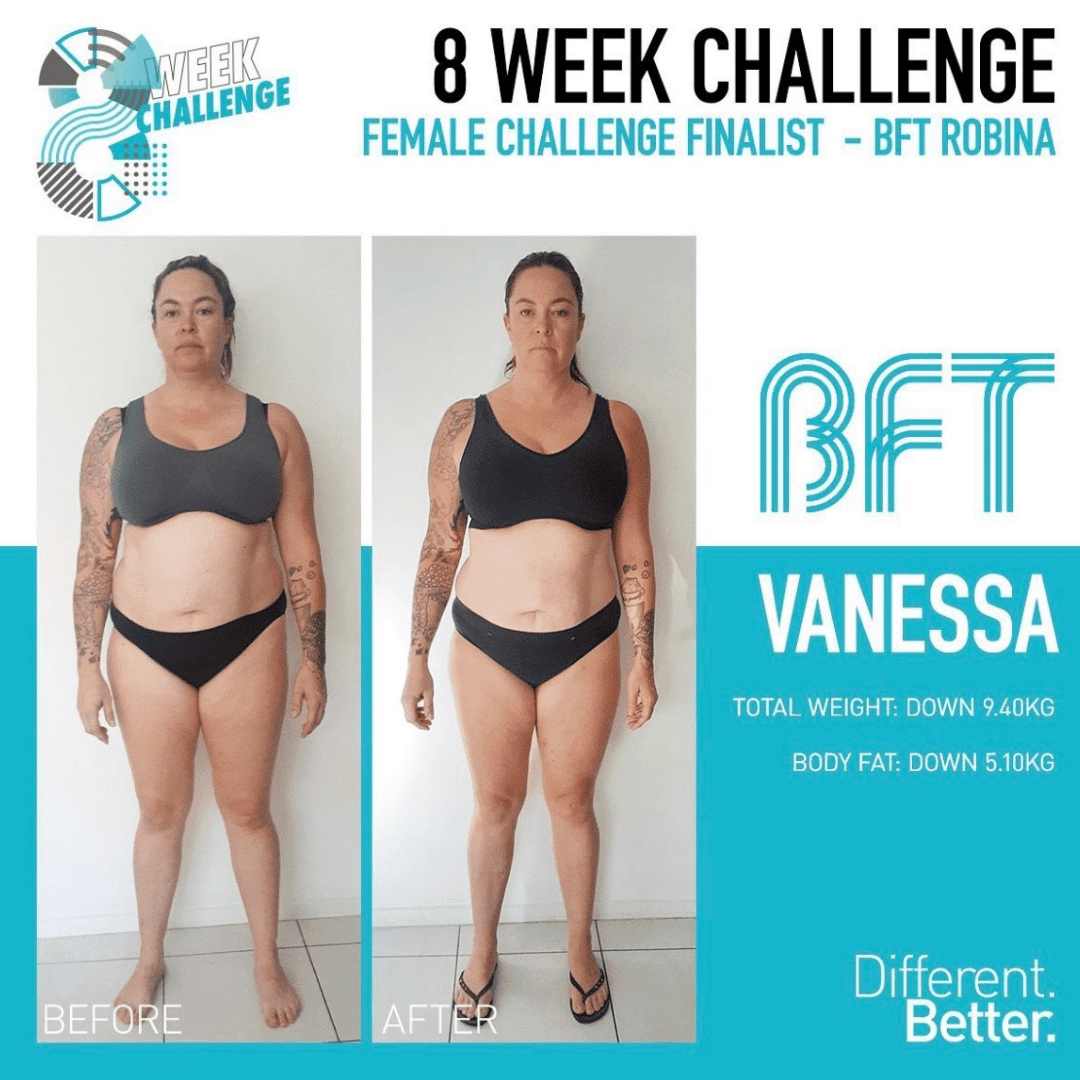 How Vanessa started her transformation with an 8-week Challenge meal plan and Evolt body scans for motivation
For Vanessa Sturcke, the realization that she needed a healthier lifestyle came when she put on her work shirt and it felt uncomfortably tight. Having to order a bigger size, Vanessa also recognized and admitted to feeling heavy, tired and depressed – an unhealthy combination when living a busy life.
"I have very active kids and I couldn't do the things I wanted to do with them," she says.
"I was comfort eating and drinking, a bad family cycle; but then I met Lindsay from BFT Robina who gave me a gentle nudge to join her studio. I've signed up with gyms in the past and never went, so I was wondering if the same would happen here."
"Initially, it was my goal to just go to 2 sessions per week."
More Than Just 2 Sessions Per Week
It was such a good introduction to BFT training, that Vanessa now participates in group training at BFT Robina 5-6 times per week! With workouts that last 50 minutes and which are delivered around the studio, she has regained her fitness, motivation and health.
"My body has responded beautifully; I strictly followed an 8-week challenge meal plan, something I'd never done before," she explains.
"I found it easy and doable. I was eating more than ever but all good meals I'd prepared at home; I was never craving for anything."
"Now, I feel energized, light, confident, and in control – all the good stuff! It's unbelievable, I never thought I had it in me to feel so great."
Always A First Time For An Evolt Scan
Vanessa, 42, had never had a body scan done before but found such ease when stepping on it for the first time.
"I loved all the extra information about what was actually going on, on the inside," she says.
"I'm still learning about it, I learned quickly that I should focus on what's going on inside to then see changes will happen on the outside. Having the Evolt 360 right there to step on is great motivation. During my 8-week challenge, I didn't really notice results…but then after my scan at the end of the challenge, I was totally amazed! It motivated me to keep going."
"The Evolt also comes with an app, and I like how there is an information button to find out exactly what all of it means, and I also like how all scans can be seen to keep track of progress."
Take a quick look at Vanessa's before and after results of the 8-week challenge, with her first scan done on 5 October 2021 and her last on 27 November 2021.
| Measurement | Before | After |
| --- | --- | --- |
| Weight (kg/lbs) | 105.2 kg | 97.8 kg |
| Subcutaneous Fat Mass (kg/lbs/%) | 34.1 kg | 28.2 kg |
| Visceral Fat Area (cm2) | 113.0 cm2 | 75.0 cm2 |
| Visceral Fat Level | 13.0 | 10.0 |
| Total Body Fat % | 37.5 % | 32.6 % |
| Lean Body Mass (kg/lbs) | 65.8 kg | 65.9 kg |
| Skeletal Muscle Mass (kg/lbs) | 35.9 kg | 36.2 kg |
| Protein (kg/lbs) | 12.5 kg | 12.9 kg |
| Bio Age | 45 | 43 |
'Just Get Started!'
Vanessa not only got the results she was after, but she also found a new tool in her health journey that can help her track progress.
"Using the Evolt scanner is great motivation," she says.
"My tip to other people is to just get started! Be patient, and you'll see results."
To learn more about your body and for personalized macronutrient and supplement recommendations Download the Evolt Active app and search for your nearest Evolt 360 Body Composition Scan location.
For more information about purchasing an Evolt 360 for your business visit www.evolt360.com/contact or request an information pack below.