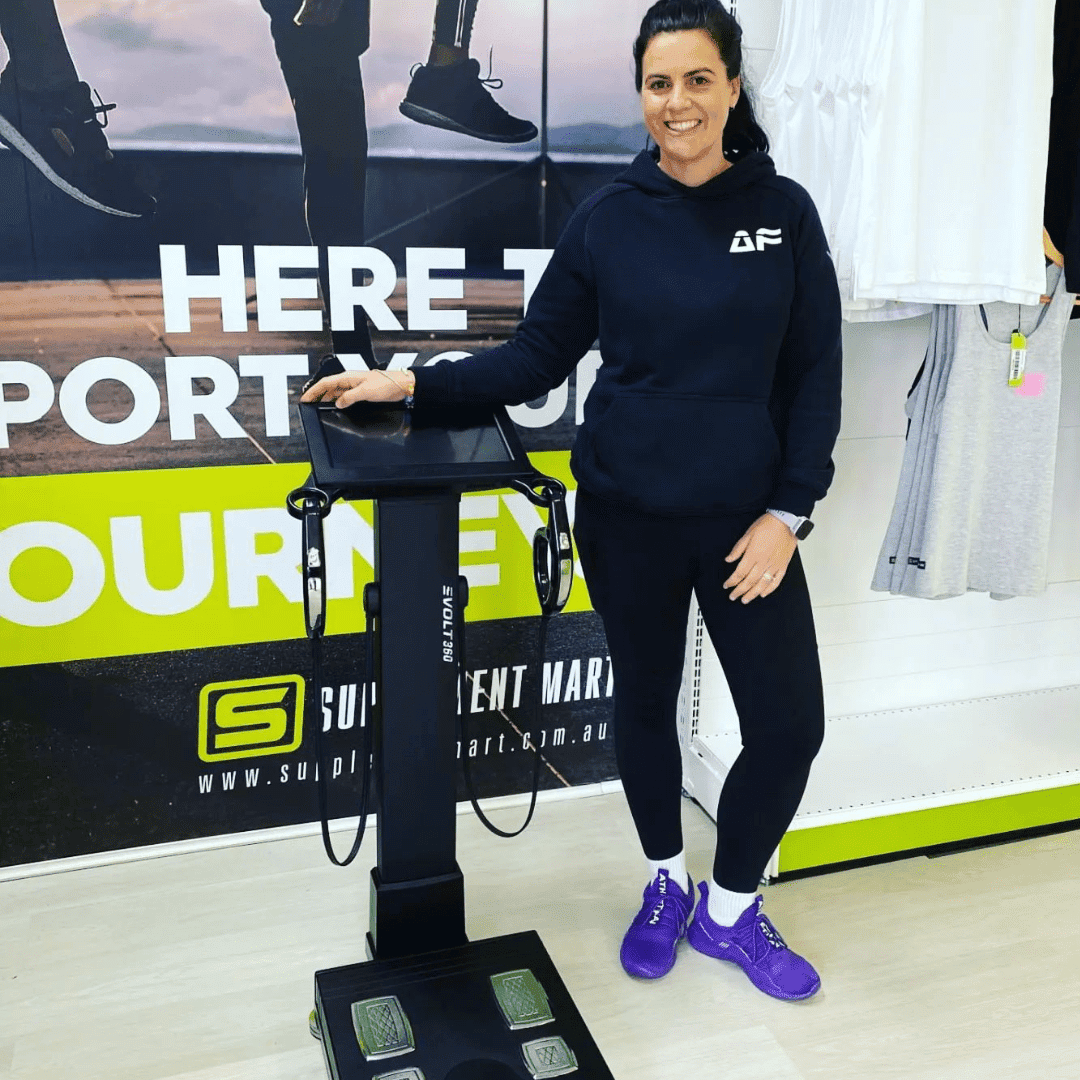 Anytime Fitness Bunbury Increases Engagement and Reaps the Financial Benefits of an Evolt 360
Anytime Fitness in Bunbury was established in February 2011 with the new owners, Billy and Tobey Wauhop, taking over from May 2021. Offering traditional gym services with 24/7 access, small group sessions, and 1:1 personal training, the Wauhops had been a part of the Bunbury Anytime Fitness venue since August 2015 when they relocated back to the south-of-Perth town and grew a strong attachment to the "amazing core base of members" at the gym.
"Our people are what make us unique as we are all from different walks of life, brought together with the common goal of getting the most out of our lives through exercise, all while having fun with it along the way," Billy explains.
From Old to New
Previously, Anytime Fitness Bunbury trainers and coaches used an older Tanita scale as well as the usual manual measurements to track members' progress. But today those old forms have been discarded to make way for the more modern and tech advanced Evolt 360 body scanner, which is now within arm's reach of everyone at the club.
So why did the gym move from traditional to modern, state-of-the-art technology?
"Our choice to utilize Evolt 360 over other products in the market wasn't based on any one thing in particular," Billy explains.
"The things that stood out to us, where we felt our members would get the maximum benefit from, were the Evolt Active app, the results print-out sheet, and the nutritional element. There was nothing that was comparable and the ability for members to utilize it anywhere they go based on the cloud capabilities of the Evolt 360 increased its appeal to us."
How Anytime Fitness Bunbury Utilizes Its Evolt 360
The Evolt 360 at Anytime Fitness Bunbury allows Billy and his team of trainers to help customize members' programs towards their goals, which could be about muscle gain, fat loss, or simply better health.
Using the Evolt 360 has allowed the gym to showcase to its members just how their bodies adapt and change with each workout.
"With regard to weight loss, it's helped us show with a number of members that even if the scales aren't budging, the body is still responding," Billy reveals.
"One of our members had been discouraged until seeing a 2kg weight loss was actually a 6kg fat loss and 4kg muscle gain. That's just one of many examples where the Evolt 360 has assisted in encouraging, supporting and educating our community."
On top of that, Billy says having the Evolt 360 has helped with the effectiveness of customized programming.
"Proving the effectiveness of programming has been made easier because the Evolt 360 gives such a comprehensible read-out. The insights dashboard gives great insight and the ability to walk members through scans that they have had over time," he explains.
"The Evolt Active app also allows our members to see this in their own time and really understand their results."
Reaping All the Benefits…And More
With Anytime Fitness Bunbury being a gym that centers around knowing everyone and ensuring all are like family, Billy says the Evolt 360 has given his staff the opportunity to engage with everyone even more and give them a look at something a little different from the usual options.
"It has helped as a huge value add for challenges and in providing a benchmark for when our members are ready to tackle their goals head-on," he reveals.
"It's also proven effective in assisting those who had been otherwise busy with life and looking to leave their exercise behind, by offering an insight into what their bodies are made up of and an action plan to measure the benefits of getting back on track."
But the benefits don't stop there. Financially, the Evolt 360 has allowed Anytime Fitness Bunbury to engage in extra community events and create relationships with other local health and fitness communities within the local area as well as adding another opportunity to generate extra revenue for the club.
Anytime Fitness Bunbury's Tobey Wauhop completely agrees with all of the above.
"It's great! Not only does the Evolt 360 help with giving our members a clear understanding of their bodies, but it has also really helped keep me on track," he acknowledges.
Get In Touch With The Team At Anytime Fitness Bunbury
For anyone keen on more information when it comes to joining Anytime Fitness Bunbury or getting a scan done with the club's Evolt 360, check out their social tags @anytimefitnessbunbury on Facebook and Instagram. You can also email bunbury@anytimefitness.com.au or check out their website anytimefitness.com.au and search for Bunbury under locations.
To learn more about your body and for personalized macronutrient and supplement recommendations Download the Evolt Active app and search for your nearest Evolt 360 Body Composition Scan location.
For more information about purchasing an Evolt 360 for your business visit www.evolt.s.thrivex.io/contact or request an information pack below.