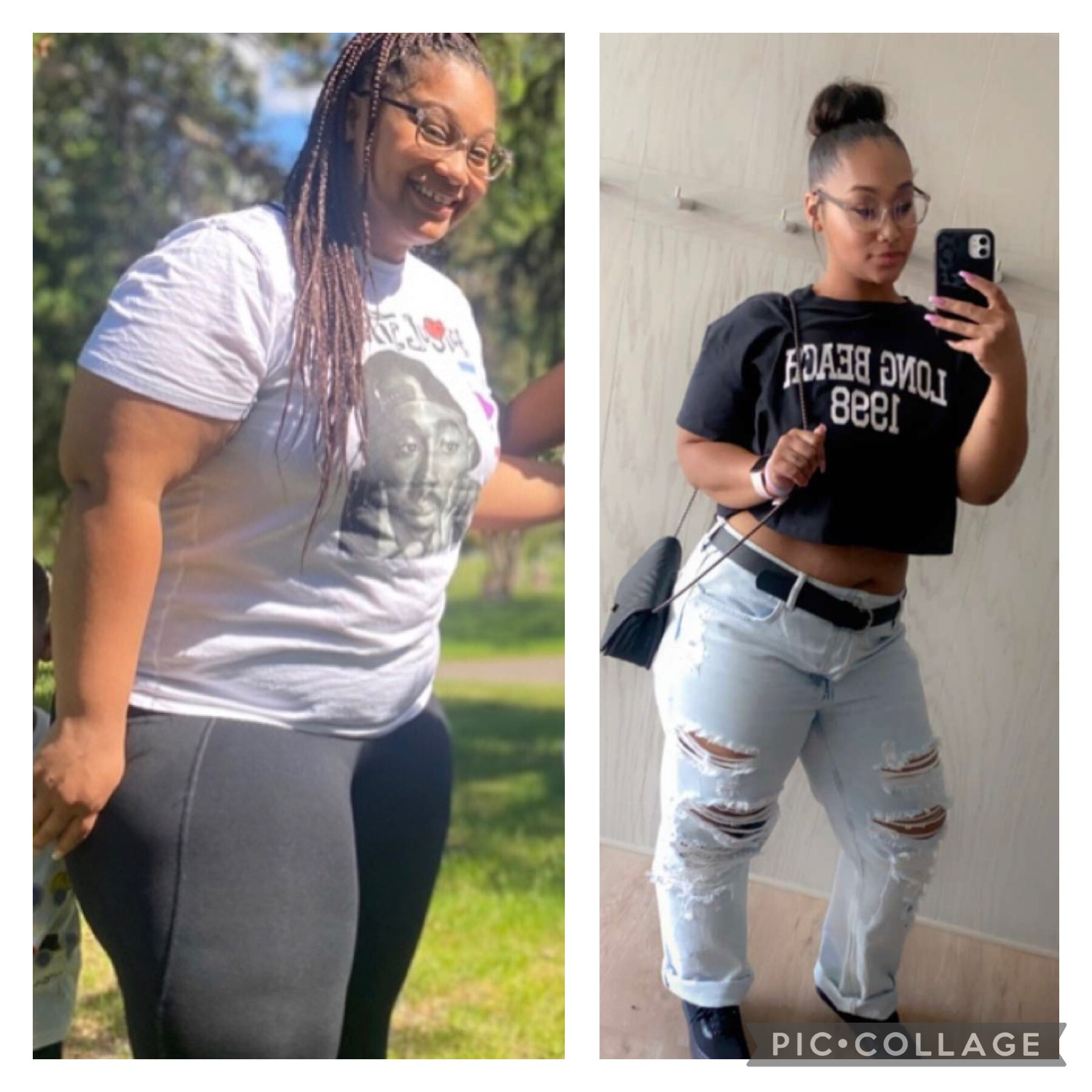 Cherrell's Best Health Tips: From Always Eating to Finding the Right Balance
Cherrell had moved to Arizona thinking she'd get started with her weight loss journey there and start fresh with life, but an unexpected move back home to Minnesota in April 2022 meant she'd landed in a bit of a 'funk' – she realized that all she was doing was eating.
For some perspective, she can recall eating almost an entire box of Graham crackers and Oreo cookies in one sitting, then downing a 20oz Red Bull in the morning. She was depressed, and she felt it.
"Something suddenly came over me one day after the move though," she recollects.
"I went through one of the only boxes I'd packed up from the move from Arizona and noticed that I had my Whole30 book – I'd never opened it, never read it, never acted on it…never gave it a try. Of all the things that came with me in the move, I couldn't believe it. I began to read it, and thought to myself I would give it a go for 30 days and just see what happens".
"All I knew at that point was I wanted to feel better, especially after everything that had taken place with moving back to Minnesota with nothing! On the first day of Whole30, on 14 April 2022, I woke up clueless but I knew I wanted this, so I made do with what was in the fridge and finished Day 1 like it was nothing!"
A New Life with Gym Workouts
Cherrell's next step was joining a gym after pushing herself on the program for two weeks. Her initial goal was to simply feel better about herself and stop turning to food, so her new home became Anytime Fitness Minnesota where she began with the treadmill and then launched herself into group classes.
"After my first meeting with coach Sarah, I decided to start with one class per week, but I loved it so much that I started doing it twice a week!" she says.
"Fast forward, and I was then able to find my way around the gym, incorporating more and doing more routines on my own. Eventually, I even began working out in my stepdad's gym! Working out with him has been the best – he's pushed me to limits I didn't know I could be pushed to!"
"He and my coaches Sarah and Zeke keep me motivated. I can burn between 700-1000 calories in one session, it's insane!"
When it comes to nutrition, Cherrell continued with the Whole30 even after the initial 30 days. Today, she continues to keep away from sugars and grains, and some days incorporates paleo or keto items.
Getting Evolt Scans
Before joining her local Anytime Fitness, Cherrell had never had an Evolt scan done before, but since becoming a member she's now had a total of 3 scans and looks forward to getting them completed!
"I get a scan once a month and it's only the Evolt scan that I go by nowadays," she says.
"I'm no longer a fan of the ordinary bathroom scale, it's only Evolt for me!"
"I love that it's accurate, and love that it tells you absolutely everything you would want to know about your body, especially during a weight loss period. I've always felt as though one arm was bigger than the other, as well as in my legs, and well…Evolt told me so! The scans give me a chance to focus on certain areas based on the information it provides me with".
"It's so very detailed and the accuracy is amazing."
Cherrell's Comparisons
Let's take a look at Cherrell's comparison scans. Her first scan was conducted on 3 May, 2022 whilst her most current was taken on 1 August, 2022.
| Measurement | Before | After |
| --- | --- | --- |
| Weight (kg/lbs) | 230 lb | 196.8 lb |
| Subcutaneous Fat Mass (kg/lbs/%) | 71.2 % | 49.3 % |
| Visceral Fat Area (cm2) | 90 cm2 | 44 cm2 |
| Visceral Fat Level | 12 | 4 |
| Total Body Fat % | 35.2 % | 27.8 % |
| Lean Body Mass (kg/lbs) | 149.4 lb | 141.9 lb |
| Skeletal Muscle Mass (kg/lbs) | 81.7 lb | 78.2 lb |
| Protein (kg/lbs) | 28.8 lb | 28.4 lb |
| Bio Age | 35 | 32 |
How Cherrell Feels Now
Right now, after seeing all the success she's had in recent months, Cherrell says she feels the best she's felt since her teenage years. The 33-year-old reveals her energy level is off the charts.
"I can't remember the last time I had this much energy! Confidence has always been there, but definitely even more now than ever!" she excitedly reveals.
"I bought a crop top, I'd never done that before! So, you can definitely say I'm feeling great. I even started working out twice per day now because of all my energy."
"When it comes to progress, I love being able to compare my Evolt scans and tracking everything in a way that keeps me on track. Even down to my water intake, Evolt will let me know within that scan if I'm not getting enough water".
"Scans with the Evolt definitely keep me accountable."
Words Of Advice From Cherrell
Now with her newfound confidence and knowledge of getting healthy and staying on track for a better life, Cherrell has advice for others seeking to get started on their journey.
"If you're looking to lose weight, do it for yourself first. Don't do it for the satisfaction of anyone else but yourself," she says.
"Show up for yourself and be consistent. The only bad workout is the one that never happened! So, show up even when you think you don't feel like it".
"You will 100% thank your future self for showing up. Also, eating habits are very important. I changed my eating first and am so glad I did. Once you get the eating habits down, then start slowly adding in exercise".
"Take your time and don't look for results right away. Consistency will become your new motivation and allow yourself to be your own inspiration."
To learn more about your body and for personalized macronutrient and supplement recommendations Download the Evolt Active app and search for your nearest Evolt 360 Body Composition Scan location.
For more information about purchasing an Evolt 360 for your business visit www.evolt360.com/contact or request an information pack below.