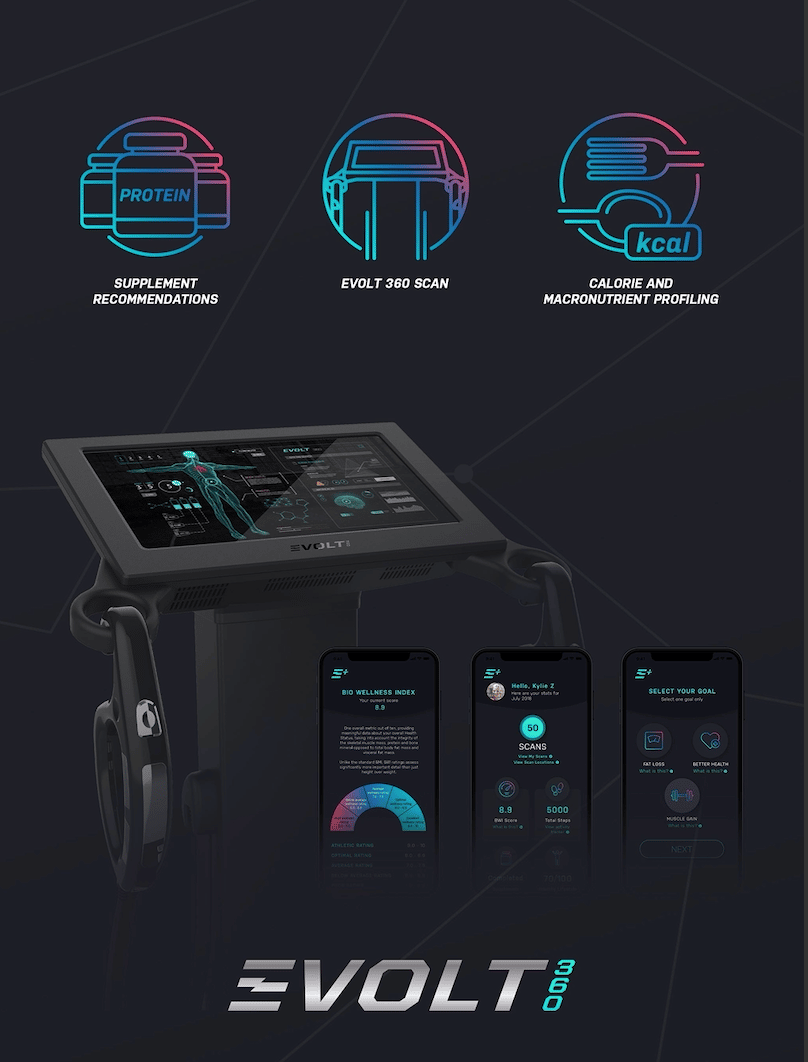 EVOLT TURNS INFORMATION INTO INSPIRATION, BMI INTO BWI, AND IS CHANGING THE FITNESS BUSINESS ONE SCAN AT A TIME.
There's no doubt that technology has changed the fitness game and nowhere is that more evident than in how trainers go about measuring and analyzing the fitness of their clients and developing a strategy for maximizing their workouts — and lifestyle. This revolution is being led by disruptors such as Evolt, a technology-driven company has taken the traditional concept of Body Mass Index (BMI) and brought it firmly into the 21st Century with its BioWellness Index (BWI®) — and it has changed the way health club owners and trainers interact with their clients and has the potential to dramatically improve the health club experience.
Evolt is at the forefront of technology and uses an evidence-based approach to its development and practical use. Founded in 2017 by Ed Zouroudis and Kelly Weideman, Evolt describes itself as a wellness company that is powering connected and digital health. It has developed an end-to end solution that tracks detailed changes in the quality of the activity, body composition and nutrition as well as sophisticated data analytics for member body composition changes. "In a short period of time, Evolt has quickly become a global player, securing contracts across multiple vertical channels, from health insurers, health and fitness and retail to government bodies and some of the world's largest gym chains," explains Ethan Parker, sales and partnership manager at Evolt.
Evolt Explained
At its core, Evolt consists of three main products.
• The Evolt 360 Body Composition Analyzer — A 60-second scan that provides detailed data about a body through more than 40 measurements.
• Evolt Active App — A health and fitness app for tracking body composition, macronutrient profiling, healthy lifestyle scoring and individualized supplement recommendations.
• Evolt Insights — An analytic and challenge portal for Evolt 360 owners.
"Evolt is the world's first intelligent bio scan," Parker explains. "We have combined the latest science for collecting body composition data with a robust consumer app, and an in-depth back-end business platform full of extensive data analytics creates an Evolt network that allows clients to access their account from any machine in the world, and never lose their data." In addition, the client can put the data they are collecting to use in marketing efforts, program validation and lead generation. The second vital part is incorporating lifestyle and nutrition into a person's fitness journey. Based on the client's scan and a short survey, Evolt produces an individualized caloric and macronutrient recommendation, along with supplementation recommendations. "Evolt is the only body composition platform that allows clients to utilize any machine on the globe, provides nutritional and lifestyle information for the client and automatically syncs all data right to your mobile device," Parker adds.
Spreading the Message
All this far-forward technology has allowed Evolt to reach a global audience rather quickly and Parker points out that the company has been fortunate that the word has spread organically through various social platforms from its existing customer base and its rapid growth has come from consumer demand. But Evolt certainly doesn't stop there. It provides extensive education and marketing materials to its clients, including social media-ready images and videos. It also suggests using the highly mobile machine at local events such as health fairs and corporate wellness events to spread the word. And, in one other benefit, adding the Evolt program to a club is extremely cost-effective for owners who, Parker stresses, can pay for their investment rather rapidly. A club typically will charge per scan — and since clubs can lease the machines while charging between $20-$50 per scan, the lease repayments can be made from scanning as few as three clients scans per week.
Service Beyond Profit
But the benefit goes well beyond becoming a profit center for clubs. It provides them with a highly technical advantage to offer more than just cookie-cutter answers for its clients. "Evolt takes the guesswork out of the training program," Parker explains. "We can see exactly how the client is responding to the training routine, as well as some of the things they aren't telling us, like if they are under-eating or something similar. "It also creates a baseline the trainers can coach on for nutrition, so rather than stepping outside their scope of practice, they can build on the nutritional recommendations from Evolt." FIBO USA certainly fits into Evolt's strategy of spreading the word to existing and potential clients. It will be focusing on Body Composition/ Technology and Health Apps and attendees will receive a free scan and full demo of its back-end system. Body Composition Testing and performance tracking tools are the future and will remain the industry's – and Evolt's — number one tracking trend for 2019 and beyond. "Our company will constantly be innovating to be the leaders in this space," Parker promises.
THE ABC'S OF BWI
WITH ALL OF THE TECHNOLOGY AVAILABLE TO CLUB OWNERS AND TRAINERS, including from Evolt, there's no debate that BMI as a measurement is outdated because it uses only height-to-weight ratio. Instead, Evolt has a proprietary, trademarked overview rating called BWI®, which stands for Bio-Wellness Index. The Bio-Wellness Index score is a calculation based on the integrity of lean body mass versus total fat mass that provides a more purposeful overall measure of progress in the promotion of healthy lean body mass for longevity. By comparison, the antiquated score of BMI uses only a measure of height over weight, which doesn't distinguish whether the weight gained is lean body mass rather than fat mass. Significant research exists supporting the importance of maintaining lean body mass in a fat loss scenario, such as: • Increased metabolism of lean muscle assists with the reduction of obesity. • Increased muscle glycogen (carbohydrate) storing capacity for exercise. • Maintaining muscle over the lifespan can aid in reduction in obesity and weight gain. • Improved ability to tolerate high-stress environments. • Improved responses to critical illness and disease and decreased osteoporosis. • Improved bone density. • Improved independence and activities of daily living in older adults. • Decreased risk of falls in older adults. The BWI Score is about establishing the right composition of weight gained or lost and takes into account the age and gender of the individual in comparison to World Health Organization standards. The higher the score, the better the wellness of the individual or the total collated group. The purpose of the BWI is to provide one simple metric as a measuring score of body composition health.
To read the full article, head over to the online FIBO FOCUS Magazine HERE