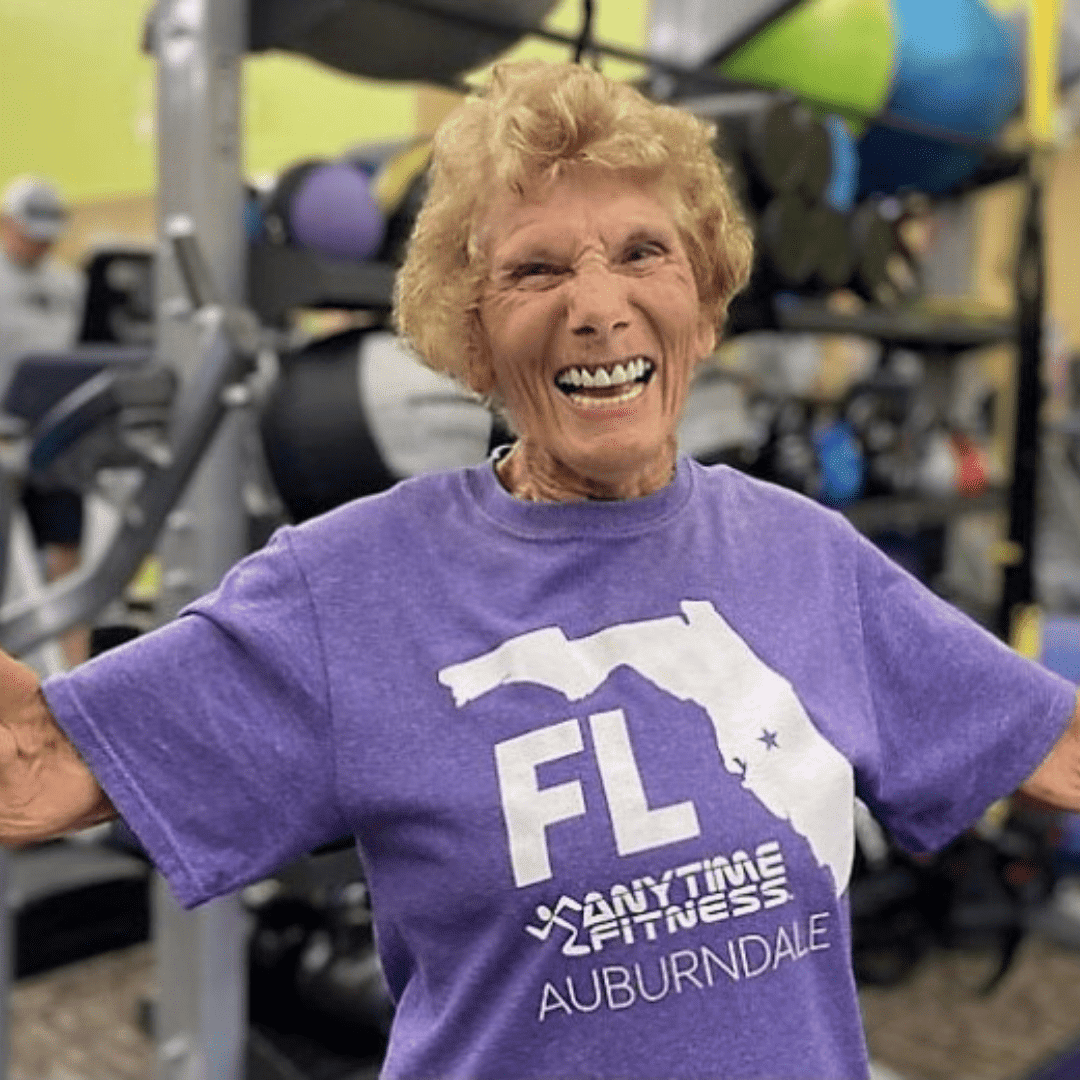 Get Healthy Stay Healthy: 82 Year Old Sue Hits The Gym Every Single Day
It doesn't matter how old you are when you make that realization you want more in your life.
Sue Prince did exactly that at 71 years young, changing from her previous venue to become an active member at Anytime Fitness Auburndale where she could focus on getting more out of her workouts and aim to 'always keep improving'.
Of course strength training looks different when comparing a now 82-year-old to a 20-year-old, but working on major muscle groups, building strength and including some form of cardio is just as important between the two age groups.
So How Does Sue Do It?
Age is just a number for Sue, and she surely does show it with her consistent attendance at the gym.
"I do all my workouts here at Anytime Fitness Auburndale, working out 7 days a week," she says.
"I use the machines, dumbbells, bands, and do the Silver Sneaker classes. I like a challenge, and I love to try new things! Trying new things keeps me motivated."
Not only does Sue walk through the gym doors every single day to do all her exercises, her nutrition is on point too.
"Before starting working out, I already had a nutrition plan in place, but I do use the Evolt 360 body scanner as a visual for seeing my progress and making sure I'm on track," she explains.
"It really does motivate me, standing on the machine. Once you hit a 10 out of 10, you want to stay there!"
Sue's Results And Her Thoughts
Before joining Anytime Fitness Auburndale, Sue never had a chance to experience the Evolt 360. In fact, she'd never set foot on a body scanner in her life, always relying on health results from her doctor's appointments, who would always just say she was in good shape 'health wise'.
"What I love most about the Evolt 360 is that the machine itself shows you where you really need to improve," she says.
"The staff at the gym are so helpful on what exercises to do to improve the area I need help with too. My first scan was in October 2020, and my first 10 out of 10 scan was in May 2021. To think I outranked the highest you could get, I was 10 out of 10!"
"It showed my body functioning at the age of a 64-year-old! And I've stayed consistent ever since. Every day I work to maintain that score."
Let's take a look at Sue's original Evolt 360 body scan results from October, 2020 to August, 2021.
| Measurement | Before | After |
| --- | --- | --- |
| Weight (kg/lbs) | 103.4 lbs | 105.4 lbs |
| Subcutaneous Fat Mass (kg/lbs/%) | 12.1 lbs | 16.5 lbs |
| Visceral Fat Area (cm2) | 20.0 cm2 | 25.0 cm2 |
| Visceral Fat Level | 1.0 | 2.0 |
| Total Body Fat % | 12.6 % | 17.1 % |
| Lean Body Mass (kg/lbs) | 90.4 lbs | 87.3 lbs |
| Skeletal Muscle Mass (kg/lbs) | 50.5 lbs | 48.7 lbs |
| Protein (kg/lbs) | 19.2 lbs | 18.3 lbs |
| Bio Age | 64 | 67 |
Advice From Sue Is Worth Its Weight In Gold
Using a scientifically validated scanner to track body composition and transformation is important, according to Sue, because the reports let you know where your body stands on a scale of fitness.
"It shows the improvements from your previous scans, and if the numbers go in a direction you don't want, you know where the extra weight went and how to change it for next time," she explains.
"I do a scan every 2-3 months now. I recently had an injury to my left wrist, and could notice a big difference in some muscles located there. My goal has been to strengthen that side to where it once was, or better!"
And Sue's advice for those wanting to get their health and lifestyle back on track?
"Goal setting is number 1!" she reveals.
"Always have a goal in mind when you go for a workout. Once you complete one, immediately set another – no matter how big or small. Keeping your goals to what you can accomplish will give your brain endorphins, which is great for overall happiness and wellbeing!"
"Exercise is not just physical. You must exercise your mind as well as your body. I encourage everyone to get a body scan when they join to see where their starting point is, and then do it again 60-90 days later because you will see results!"
To learn more about your body and for personalized macronutrient and supplement recommendations Download the Evolt Active app and search for your nearest Evolt 360 Body Composition Scan location.
For more information about purchasing an Evolt 360 for your business visit www.evolt360.com/contact or request an information pack below.