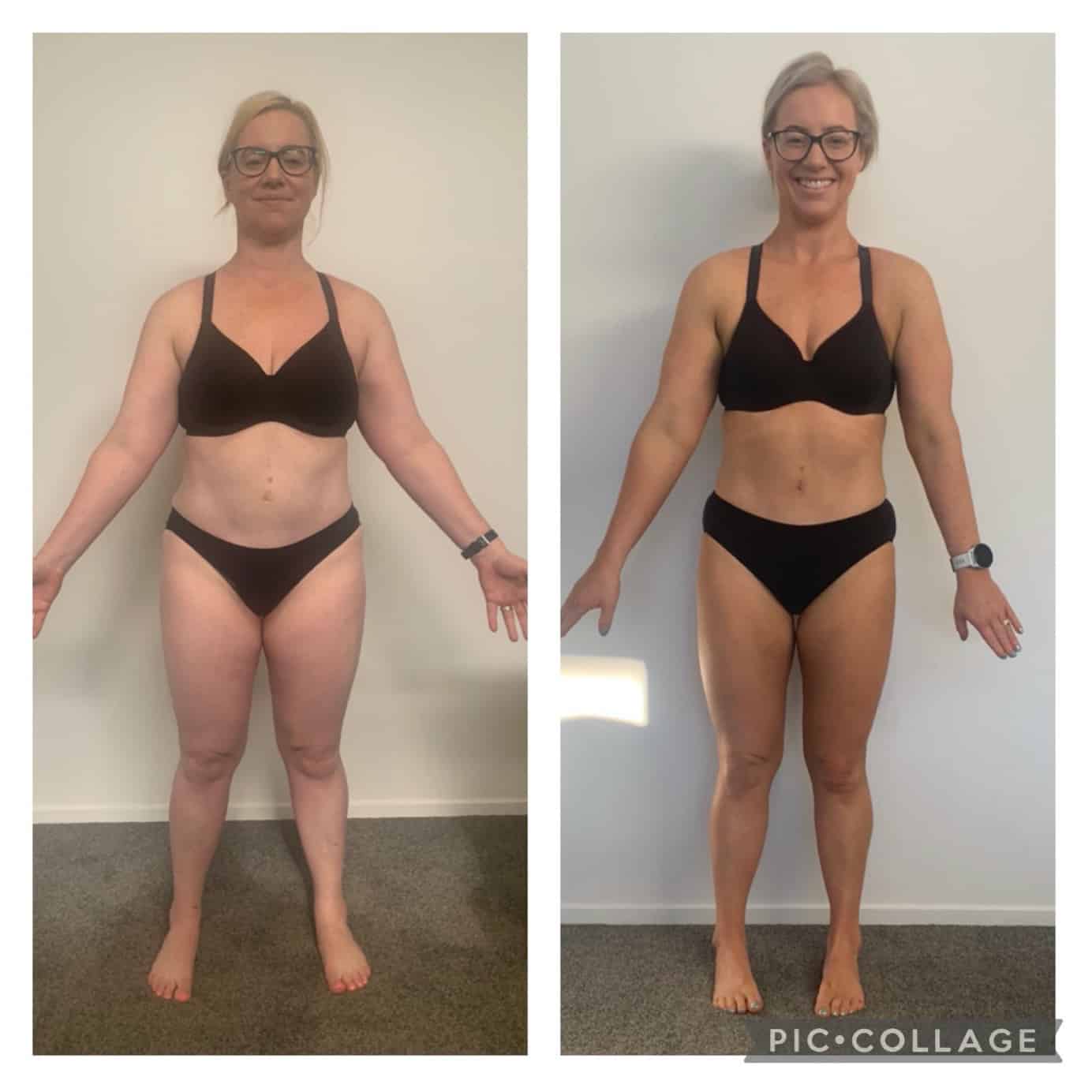 Always time poor, Claire had to do something about her health and macros were the key
So many of us get caught up with the everyday happenings of life and losing track of time that we forget to take care of ourselves. Claire Gibson was no different, always rushing to get things done and seeing everyone else but herself as more important.
The 36-year-old got into the habit of eating fast food and junk, and found herself indulging in alcohol on an almost daily basis. She'd consider these as her 'rewards' for coping with her day, but after the COVID-19 lockdown of 2020 she took notice – her weight had blown out and somewhere along the way, she'd lost herself.
"It was a real kick in the guts when I wouldn't swim in our pool with my children because I felt too overweight and self-conscious," she recalled.
"I made a promise to myself that next summer I'd be in that pool having fun with the kids no matter what! I knew I needed a gym that offered nutrition support, and I did my research, finding that Body Fit Training would be the best fit for me."
Where The Journey Started
BFT Hamilton North was Claire's gym of choice, and she joined in January 2021 – almost immediately connecting and building a close friendship with owners Dominic and Simone DeGiorgio.
"They've created a fun and supportive community at the studio," Claire said.
"I've made so many new amazing friends with the other members throughout my journey, training with people you like being around is so important because motivation is never an issue!"
"Our program runs 6 days a week from Monday to Saturday, and I have to go every day otherwise I'll get serious FOMO. The BFT program varies from day to day so you get plenty of variety – the sessions include cardio, strength and stretching."
The Evolt 360 Helped With Claire's Macros
Over the years, Claire had tried a number of different ways to shed the kilos, but it was with the help of her first Evolt 360 body scan in January 2021 that led her to focus on macros rather than just calories.
"With the help of Evolt and my trainers, I discovered the macros that work for me are 40% carbs, 40% protein and 20% fat with approximately 1650-1750 calories during the week which goes up to 2400 on a Saturday as my treat day," she explained.
"I also had nutrition sessions with my trainer Jared Seeney to work out my 'big picture' nutrition plan, and I could chat with him almost daily during my training sessions about my food choices – and struggles – as well as scan results and what I needed to change to keep heading in the right direction."
Claire's first scan was conducted on 17 January 2021 with her most recent done on 13 August 2021, so let's take a look at the difference between the two!
| Measurement | Before | After |
| --- | --- | --- |
| Weight (kg/lbs) | 88.2 kg | 65.0 kg |
| Subcutaneous Fat Mass (kg/lbs/%) | 28.1 kg | 13.7 kg |
| Visceral Fat Area (cm2) | 41.0 cm2 | 28.0 cm2 |
| Visceral Fat Level | 12.0 | 3.0 |
| Total Body Fat % | 36.5 % | 21.9 % |
| Lean Body Mass (kg/lbs) | 56.0 kg | 53.4 kg |
| Skeletal Muscle Mass (kg/lbs) | 30.7 kg | 29.7 kg |
| Protein (kg/lbs) | 10.7 kg | 11.0 kg |
| Bio Age | 39 | 34 |
What an incredible change in Claire's bio age, going from 39 down to 34 – that's a 5 year shed!
"The Evolt 360 helped me keep on track with my goals and helped me figure out how to loose fat while retaining muscle," Claire said.
"For instance, previously over an 8 week period, I'd switch to a low carb/high protein nutrition plan as that was always the way I'd lost weight in the past; in that time I'd lost 8kg on the scales, but I also lost a lot of muscle and water – and only 1% body fat.
"On the advice of my trainer and from seeing the results on the scans, I put carbs back into my diet and over a 12 week period I lost 7.5kg on the scales, gained muscle and 9.6% body fat.
"I wouldn't have figured that carbs are essential for retaining muscle if it wasn't for the Evolt scans."
The Best Feeling Of Her Life
Claire's transformation has seen her feel the best she's felt in a long, long time – and you can't wipe the smile off her face.
"I feel so nourished and healthy now, my relationship with food and alcohol has completely changed," she said.
"I'm confident I don't need to turn to junk food or alcohol to deal with the obstacles that life throws at me, including a Level 4 lockdown!
"And there's no doubt about it, I feel like a good role model for my kids and I can't wait to hit the beach and the pool this summer.
"There are so many other feelings I've gained from this transformation – I feel more connected to my femininity, shopping for clothes is fun again, I'm more excited about life, and put simply I've become the best version of myself."
Be Patient And Enjoy The Journey
Over her time with BFT and changing her lifestyle habits, Claire has learned a lot about what it takes to reach her potential and has her own advice for anyone thinking about making the change.
"Prioritize your nutrition, because that's where you see results (input is life!)," she said.
"Get regular Evolt scans to keep you motivated to give you insights into your body – the knowledge those results give you is power!"
"We're all human, and we're all going to have bad days. If you have a bad day, don't ever give up. Just get back on plan and keep going!"
"In the end, be patient with yourself and allow yourself time and space to learn; do the training you enjoy with like-minded people and above all else – love yourself and appreciate your body every single day."
To learn more about your body and for personalized macronutrient and supplement recommendations Download the Evolt Active app and search for your nearest Evolt 360 Body Composition Scan location.
For more information about purchasing an Evolt 360 for your business visit www.evolt360.com/contact or request an information pack below.