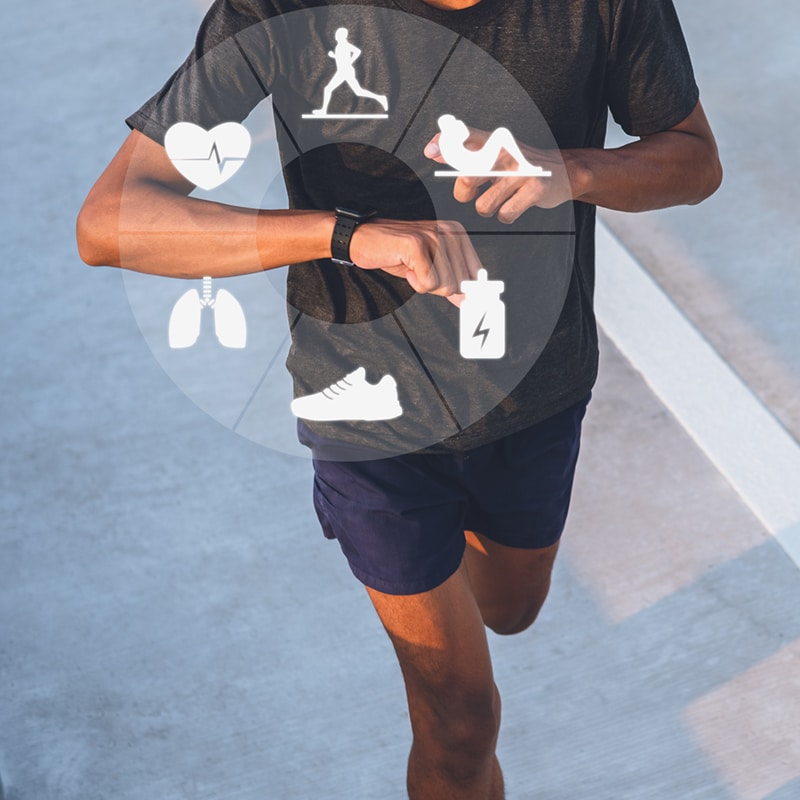 The fitness industry is becoming increasingly competitive and now, more than ever, you should be looking at ways to increase the resilience of your gym or fitness studio to prevent customers from looking elsewhere.
How technology is changing the fitness industry
At-Home Workouts
At-home workouts have become increasingly popular with many people who had previously never considered an on-demand workout to adopt a new style of maintaining their fitness regimes.
This new behaviour poses a threat to gym brands worldwide, as there is a risk that these customers who previously would never have considered an in-home workout, discover that no longer attending a gym is better suited to their lifestyle.
Customers may have invested in expensive home equipment and online memberships to support their fitness goals, which now means that gyms must offer something more enticing to get their customers through the doors.
Technology insights
As the industry's service offering evolves, so too do the expectations of the client. A one-way approach to fitness services is no longer enough to attract and retain clients. Understandably the consumer is seeking a tailored service, which requires a two-way feedback system. Data and insights are crucial to informing this process. Tracking metrics such as weight, measurements, and body composition allows fitness providers to deliver a deeply personalized approach to managing health and wellbeing. And it can't be done at home.
Data should not be seen to replace the role of the fitness instructor or personal trainer in a client's fitness routine. Instead, it is designed to inform and complement the professional services and education a fitness professional provides. One of the leading sources of fit-tech data and insights is body composition scanners, such as Evolt's body scanner. When used in conjunction with the advice of your fitness instructors, you will be providing something that surpasses the capabilities of fitness applications.
Why fitness technology may break your gym
The risks that fitness technology may break your gym are straightforward to understand.
Fitness technology such as video-on-demand, in-home live fitness classes or mobile fitness training apps reduces the need to attend an in-person gym or fitness centre to complete workouts.
However, it is important to recognize that physical activity isn't the only motivator for individuals to attend a gym. Many clients are driven by the personalization, accountability, encouragement, and feedback an in-person gym experience provides. With this in mind, the introduction of on-premise fitness technology bridges the gap between data-driven services and client experience. Investing in better quality fitness technology, like Evolt, is a proactive measure to prevent losing clients to DIY workout practices and apps.
How you can use fitness technology in your gym
There's no denying that apps and technology are evolving the fitness industry and can offer a level of convenience to the client.
However, the quality of biometric data that these generate is poor in comparison to the detailed body scans generated by on-premise technology, such as the Evolt Intelligent Body Scanner. The rapid rise of the fit-tech landscape has seen consumers demand a higher level of personalization and service offerings from their health and wellness provider. And rightfully so – no fitness program should be a set-and-forget process.
The Evolt 360 Body Scanner integrates the data-driven benefits of fitness technology with the in-house advantage of a personalized
experience. Offering more than 40 measurements in a simple 60-second scan, the Evolt body scanner allows gym goers to receive detailed information about their body composition that they can use to optimize their workout and nutrition plan.
The scan allows individuals to track their physiological progress with immediate, precise feedback. The Evolt Intelligent Body Scanner factors in unique and personalized characteristics that can not be tracked through app services or wearable tech. These results act as a catalyst for program adjustment, goal setting and motivation – all of which contribute to client retention.
HOW YOU CAN USE AN INTELLIGENT BODY SCANNER TO MAKE YOUR GYM STAND OUT
There are a few ways that you can promote the use of high-tech devices such as our body scanner to help increase your gym's popularity.
The body scanner provides a step up from the basic metrics offered by fitness technology wearables. It is important to understand that most fitness wearables report on very simple metrics, such as heart rate or time spent working out. By introducing a detailed reporting method, such as a body composition scanner, clients will be able to biohack their workouts and nutrition plans to help them meet their goals.
Encouraging clients to use the intelligent body scanner as part of their regular fitness routine and as a way to track progress towards their goals, will entice them to attend more in-person sessions at your gym. This allows you to connect directly with your clients on a personal level, allowing them to feel more connected to their gym communities and more likely to continue to engage with your offering.
If you want to know more about Evolt's intelligent body scanner and how easy it is to implement our highest-quality fitness technology in your gym, get in touch today.
For more information about purchasing an Evolt 360 for your business visit www.evolt360.com/contact or request an information pack below. Further information on the Evolt 360 is also available here
Sources https://sparkmembership.com/how-technology-is-changing-the-fitness- industry-today/
https://www.linkedin.com/pulse/body-composition-testing-why-matters-ed-zouroudis/
https://cdn2.hubspot.net/hubfs/2527762/Technology%20Trends%20-%20Gym%20(1)-1.pdf
https://www.glofox.com/blog/fitness-technology-is-transforming-the-industry/
https://www.smh.com.au/lifestyle/health-and-wellness/fitness-wearables-v-going-to-the-gym-will-technology-kill-the-personal-trainer-20160323-
gnp92e.html
https://www.clubindustry.com/sponsored/technology-and-human-connection-your-gym-must-offer-both-to-prosper