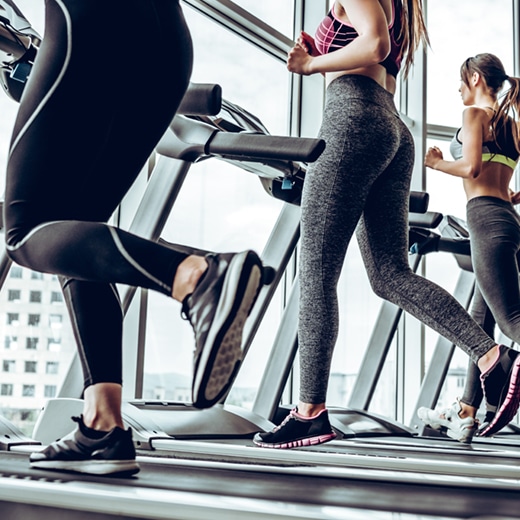 HOW GYMS AND FITNESS CENTERS ARE USING THE EVOLT 360 BODY SCANNER FOR THEIR MEMBERS
It's been a rough ride this past year with the COVID-19 pandemic, but after all the challenges and fluctuating changes, there is finally light at the end of the tunnel for the fitness industry.
With gyms and fitness centers across the globe re-openening thanks to restrictions lifting, gym owners have already started to see positivity through sales as well as confidence in the market from the purchase of machines – including the Evolt 360 Body Scanner.
This month in Australia, certain states across the country will be allowing gyms to re-open with maximum numbers of 100 per venue, and this is fantastic news for all of us in the fitness industry! Health and fitness industry experts like Adam Griffiths from the HQ team of Body Fit Training in the state of Victoria, Australia said despite the closure of gyms since mid-March, his business was planning to operate more than 100 sites by the end of the year – and the Evolt 360 Body Scanner played an important part in that.
"We currently have 48 open sites (operating at restrictions), with centers in every state of Australia, 3 in New Zealand and 1 in the USA," he explained.
"We have upwards of 400+ staff facilitating our amazing programming in our studios, and the Evolt 360 Body Scanner is an integral piece of equipment for our 8 and 12-week challenges, along with sites using it during pre-sale for new sites opening as a tool to engage not only new lead and potential members, but as a tool to track members from their first day and all the way through their fitness journey with BFT."
Pre-COVID, 38 Body Fit Training centers had a grand total of 19,377 scans completed, and Adam was confident those numbers would continue to remain consistent once the doors opened at new operational levels. He said BFT sites were constantly engaging the population by utilizing the Evolt 360 Body Scanner and using the data from the machines to showcase how BFT's unique training protocols could improve not only their Evolt metrics but overall fitness and general wellbeing.
"The Evolt 360 is an amazing motivational tool along with an educational opportunity for our coaches to showcase their level of experience and knowledge," he said.
"Our members and guests of BFT do get very excited when they achieve a great body scan after a period of hard work with their diet and exercise."
In New Zealand, gyms and fitness centers were lucky to re-open on May 14 when the country reached Level 2 status. Unrivaled Fitness co-owner and manager Sarah Buckland from Takanini near Auckland, New Zealand said having an Evolt 360 Body Scanner at her center meant clients could get on top of their health and fitness as soon as they walked through the doors.
"At Unrivaled Fitness, we chose to offer our members a free Evolt 360 body scan when they first joined because it was important for us to know where our members were placed in order to be able to help and support them on their fitness journeys – this helps us gain our members' confidence," she revealed.
"After seeing scores such as their body fat percentage or skeletal muscle mass percentage, there has been a lot of member feedback of them wanting to improve these scores specifically.
"We also use the Evolt 360 Body Scanner in our SouthShred Challenges (a bootcamp run within Unrivaled Fitness) where it creates healthy competition between challenge members. It allows us to look at how each member is doing over the duration of the challenges and offer additional help where needed."
Having an Evolt 360 Body Scanner at Unrivaled Fitness has also allowed Sarah, director Cameron Day and their team of personal trainers to educate members about the importance of keeping track of their lean body mass. She said as people get older, the Evolt 360 was a perfect tool to do just that.
"Most of our older members just want to 'maintain' the lean body mass they have, which includes bone mass and skeletal muscle mass, and the Evolt 360 helps us to keep track of how they are training and whether the type of diet and training they have is effective for their goals," she explained.
"As we get older, it's also a lot easier to gain weight and be at risk of obesity; by keeping an eye on these readings by using the Evolt 360, we can minimize the risk of conditions such as heart disease and osteoporosis.
"There are a lot of smiles and there's plenty of excitement about re-scanning when members see how much they have changed! The Evolt 360 Body Scanner is definitely a great way to help them feel motivated to start or continue on their fitness journey."
IF YOU HAVEN'T YET CONSIDERED INVESTING IN AN EVOLT 360 BODY SCANNER, NOW IS THE PERFECT TIME TO LOOK AT INTRODUCING ONE TO YOUR GYM OR FITNESS CENTER.
The Evolt 360 converts measurements to a metric system that your members can understand, it makes for amazing before-and-after comparisons, and even though many centers were closed for weeks on end, purchases of the Evolt 360 have not fallen short.
In fact, it was during COVID closures that many gym sites looked at re-vamping their membership opportunities, thus purchasing an Evolt 360 Body Scanner so that when doors re-opened, the high-tech machinery would be readily available. CrossFit Revenant in Wangara, Western Australia for example used the time to invest in an Evolt 360 and started sharing the news on its social media pages with its clients as soon as they could – and we can't wait to see the results they've been having!
The Evolt 360 Body Scanner allows your clients to check their skeletal muscle mass, total body water, bone mineral content, protein, body fat percentage, visceral fat levels, BMR, total energy expenditure, provide a calorie and macronutrient profile plus much, much more – and all in just 60 seconds. It's a fantastic tracking tool bringing science and technology that was once used only for high-level and professional athletes, now to the masses.
For more information about the Evolt 360 Body Scanner and how you can get one into your gym or fitness center visit us online at evolt360.com.