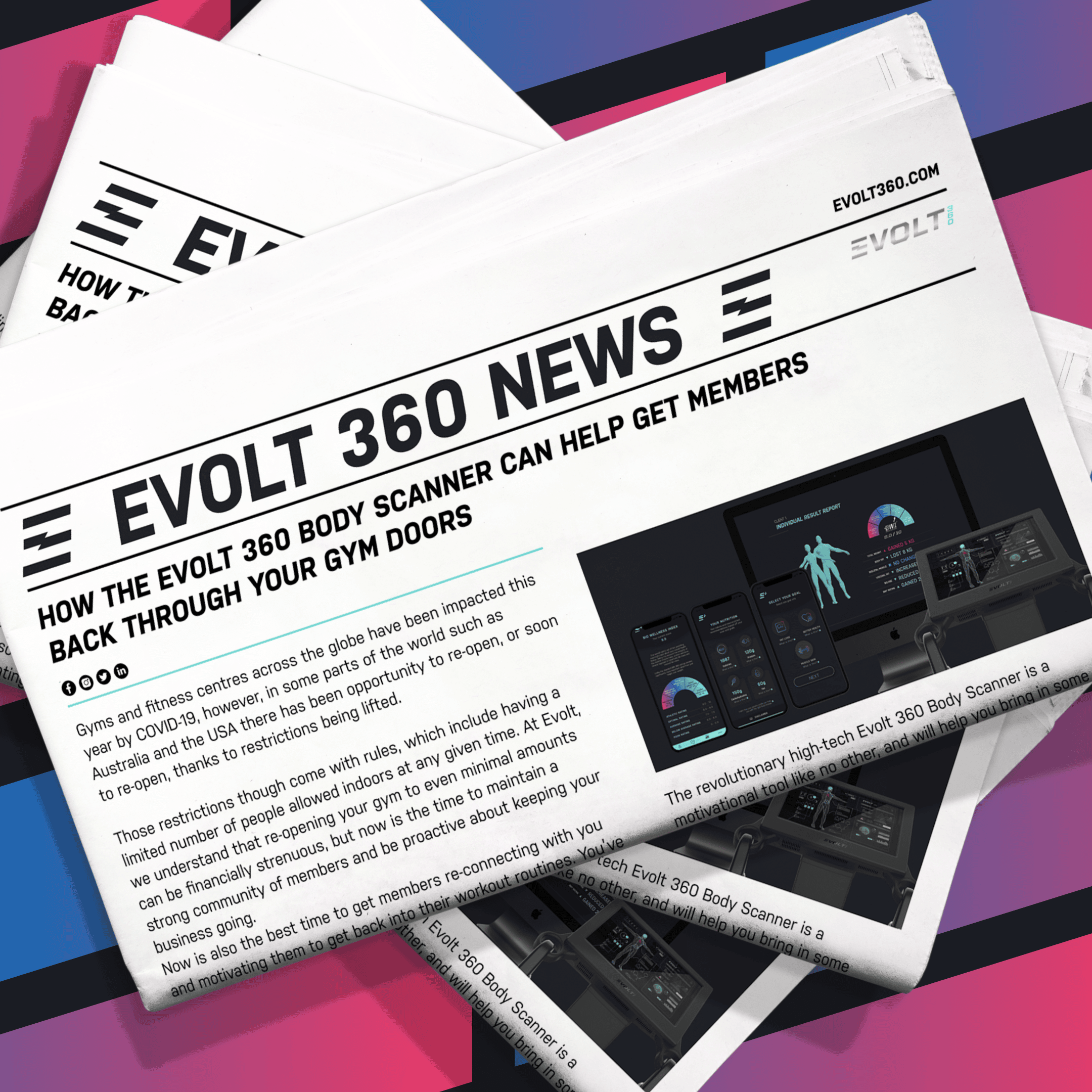 Gyms and fitness centers across the globe have been impacted this year by COVID-19, however, in some parts of the world such as Australia and the USA, there has been an opportunity to re-open, or soon to re-open, thanks to restrictions being lifted.
Those restrictions though come with rules, which include having a limited number of people allowed indoors at any given time. At Evolt, we understand that re-opening your gym to even minimal amounts can be financially strenuous, but now is the time to maintain a strong community of members and be proactive about keeping your business going.
Now is also the best time to get members re-connecting with you and motivating them to get back into their workout routines. You've spaced out your equipment and safe cleaning practices are at the ready, but how can you re-ignite that spark to get members and non-members alike to come back through your doors?
The revolutionary high-tech Evolt 360 Body Scanner is a motivational tool like no other and will help you bring in some extra money while times are tough.
For members, accountability is a large part of sticking to a fitness regime, and allowing them to directly utilize an Evolt 360 Body Scanner in your gym may be the answer you're looking for. Having access to technology that can provide data about their bodies through more than 40 measurements in just 60 seconds will keep them inspired to stick to workout routines and healthy lifestyle choices, while at the same time bringing in additional cash flow to your gym with every member's usage.
It's an opportunity for your center to not only promote the technology directly to your members so they can keep track of their health but to non-members who may not be aware of such body scanning science available to them at their local health and fitness locale.
Adding an Evolt 360 Body Scanner to your gym or fitness center is extremely cost-effective and as an owner, you'll be seeing a return on investment rather quickly through charging anywhere between $20-$50 per scan. Not only will your members be increasing their average spend in your gym, but they will also be seeing it as a way to support their favorite local business during these difficult times. What's more, is that at the same time they will be getting accurate reports on their body composition to help keep them moving forward on their health and fitness journeys – it's a win-win for everyone!
But that's not even the end of it! Members, as well as non-members, will delight at how quick and easy the Evolt 360 Body Scanner is to use, and will be amazed at the highly detailed reports of their measurements. Each individual will be able to download the Evolt Active App, whilst you get full access to an Owner's Portal and the Evolt 360 Specialist Course specifically designed on how to operate the body scanner to its full potential.
There has never been a better time to invest in an Evolt 360 Body Scanner where you can help bring members back, encourage new members to join and keep your gym operating.
About Evolt
Founded in 2015 by Ed Zouroudis and Kelly Weideman, Evolt is a company powering connected and digital health. Having developed an end-to-end solution that tracks detailed changes in the quality of activity, body composition and nutrition with its EVOLT 360 body scanner and other support platforms, Evolt is now a global player in the health, fitness and wellness industries.
At the heart of it all is the EVOLT 360 Body Composition Analyser, a 60-second scan that provides data about a body through more than 40 measurements. It is supported by the Evolt Active App, a health and fitness app for tracking body composition, macronutrient profiling, healthy lifestyle scoring and individualized supplement recommendation, and Evolt Insights, an analytic and challenge portal for EVOLT 360 users.
Evolt is turning information into inspiration, BMI into BWI, and in the process is changing the fitness business.