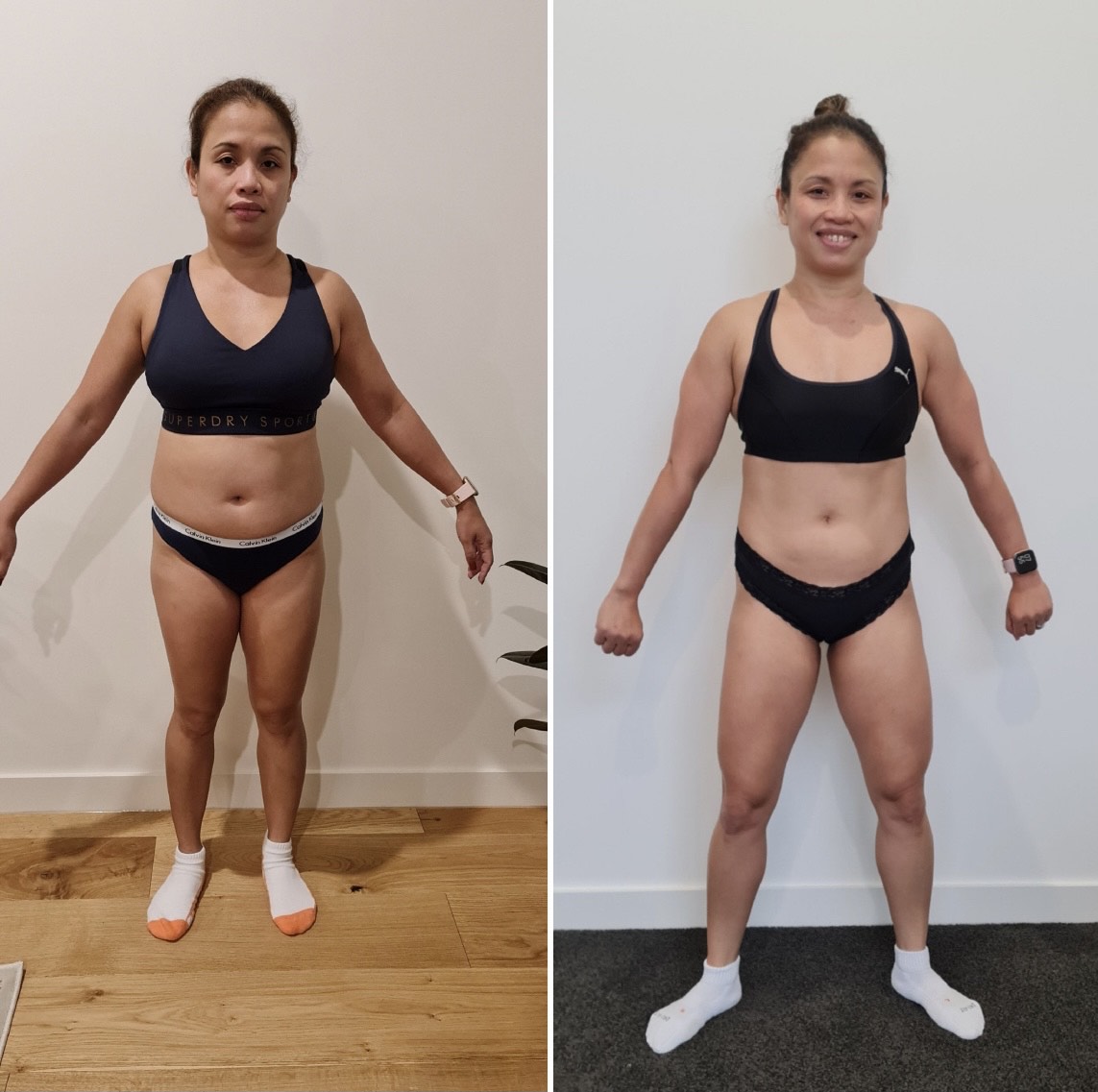 "I gained my confidence back after the 12-week challenge"
Marie Macativo wanted her own red carpet moment when she walked down the aisle of her wedding later in the year, so the motivation to fit a little bit better into her gown was all that was needed to sign up to a 12-week challenge at her gym, BFT Oakleigh.
Rather than use gym time to whittle down to some low 'magic' number, Marie took the effort to become the healthiest version of herself, aiming to reduce body fat and build muscle. In particular, she focused on lowering the accumulated fat around her mid-section, and within 2 months she achieved some amazing results – all thanks to her commitment, dedication, and help from the Evolt 360 body scanner.
How She Got There
Being completely results driven, Marie did a combination of strength and cardio work 6 days a week as part of her BFT training program. For that extra hit of exercise, she also participated in Les Mills sessions and did extra strength training on her own.
"We'd been in lockdown due to COVID-19 for half the challenge though, so I'm very lucky that I have a super equipped gym at home which has allowed me to keep training with Zoom classes," she said.
"Nutrition-wise, BFT uses a meal planner to target your daily macros based on your (first) body scan, so I followed that."
"My partner did all the meal prep and is a bit of a wizard at macros tracking so was able to help too."
Supplement use was minor for Marie, with the 43-year-old only taking a pre-workout BCAA and the occasional protein-based shake.
Seeing Progress With Scans
Throughout the 12 week challenge, Marie and all the other participants jumped on the gym's Evolt 360 every week to keep track of their progress. Weekly body scans allowed for Marie to take note of not only the weight on the scale but also the incredible changes in her body fat and muscle mass.
"The Evolt 360 body scanner really allowed me to understand my body composition and where I needed to change or adapt my training to achieve my goals," Marie explained.
"The fact it integrates with the BFT app is a bonus too!"
"There's also an Evolt Active app, and I love how it consolidates all of my body composition data to show progress over time or areas where I need to focus. I used it to target my body weight and body fat percentage and to match my daily calorie intake to my goals."
Let's take a look at some of Marie's incredible transformation figures from her Evolt 360 results (first scan on 22 May 2021, last scan on 10 July 2021).
| Measurement | Before | After |
| --- | --- | --- |
| Weight (kg/lbs) | 49.9 kg | 48.2 kg |
| Visceral Fat Area (cm2) | 59.0 cm2 | 47.0 cm2 |
| Visceral Fat Level | 8.0 | 7.0 |
| Total Body Fat % | 30.0 % | 28.0 % |
| Lean Body Mass (kg/lbs) | 34.9 kg | 34.7 kg |
| Skeletal Muscle Mass (kg/lbs) | 19.4 kg | 19.4 kg |
| Protein (kg/lbs) | 6.9 kg | 7.0 kg |
| Bio Age | 42 | 41 |
That Amazing Feeling
With such incredible results, it's little wonder Marie feels like she's on top of the world.
"I feel absolutely fantastic, with so much more energy, and I really want to maintain these results," she said.
"I gained my confidence back after the 12-week challenge, and now am so happy to wear any clothes that I want!"
"It's incredibly important to have the data provided by the body scans; without them, you're relying on other methods to identify progress and it would be far less efficient."
Marie had her own personal advice to give to others who were looking for motivation, or for that kickstart to a healthier life.
"Always have a goal, and then a plan to get there," she said.
"For me, the weight loss was aided by the nutrition plan and the insights I got from my weekly scan; my other piece of advice is that even if you run off track, get straight back on and keep going – you'll get there in the end."
To learn more about your body and for personalized macronutrient and supplement recommendations Download the Evolt Active app and search for your nearest Evolt 360 Body Composition Scan location.
For more information about purchasing an Evolt 360 for your business visit www.evolt360.com/contact or request an information pack below.