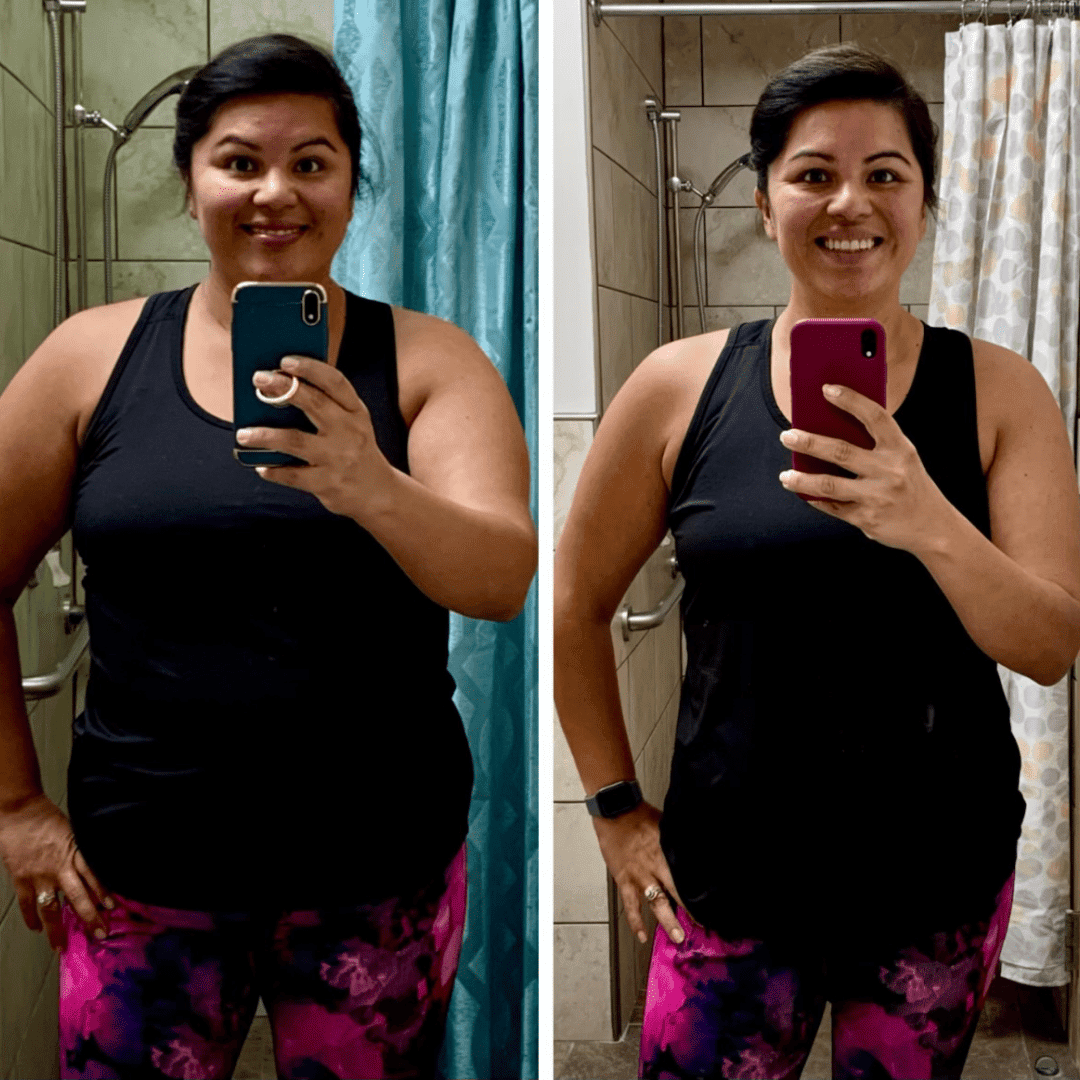 Monica's Weight Loss Tips: How a Photo Motivated Her to Lose Weight
Misery had a hold on Monica Johnson, and she needed to make a change. In January 2021, she weighed 230lbs, hated the way her clothes fitted, and found herself 'wanting to be lazy' most days.
It wasn't until she saw a family photo taken at a fun family day out that she looked at herself and felt shocked and embarrassed she'd let herself get to that point.
Today, Monica is making waves with her health and fitness goals, having lost over 38 pounds and ensuring she keeps to her new way of life which sees her happy and loving herself more and more every day.
It Was the Start of Something Great
That photo helped Monica realize the difference between what she thought she saw every day and what was reality.
"I think of it this way now – family photo, $20. Themed picture frame – $10. Finding my motivation – priceless," she says.
"At that point, I'd had my gym membership for two years, and rarely used it. I decided to finally put it to good use and signed up for personal training sessions with Erick at my local Anytime Fitness. I met with him for 30 minutes 3 times a week, doing strength training and working on my legs, chest, arms, and abs."
"It was great to start seeing a transformation but I wanted more so I signed up to do a 5km run. Mind you, when I was 230lbs, I couldn't run more than 1 minute without feeling sick. Now, I can run 5km in 30 minutes!" Monica also made sure to walk every night whether it was alone, with the dog, or with her husband, and in the end, even her children would hop on their bikes and join her."
Her nutrition was also a focus, mainly targeting a low-carb way of eating, and she used protein shakes to ensure a balance of intake.
Let's look at some of her stats from the Evolt 360 body composition scanner.
Monica's first scan was done on 27 April 2021 and her official comparison was conducted a year later, on 27 April 2022.
| Measurement | Before | After |
| --- | --- | --- |
| Weight (kg/lbs) | 214.0 lbs | 176.7 lbs |
| Subcutaneous Fat Mass (kg/lbs/%) | 71.4 lbs | 54.7 lbs |
| Visceral Fat Area (cm2) | 116.0 cm2 | 93.0 cm2 |
| Visceral Fat Level | 14.0 | 12.0 |
| Total Body Fat % | 38.7 % | 35.6 % |
| Lean Body Mass (kg/lbs) | 131.4 lbs | 113.1 lbs |
| Skeletal Muscle Mass (kg/lbs) | 71.7 lbs | 61.9 lbs |
| Protein | 11.2 lbs | 9.9 lbs |
| Bio Age | 38 | 38 |
What a difference a year makes!
A Positive Change with Evolt
Monica had never experienced an Evolt 360 before, and for someone who didn't know anything about statistics or numbers for the body, she says it was one of the best things to educate her on what was important.
"Having a visual on the amount of lean mass and fat mass levels was an eye-opener for me," she explains.
"I 100% look forward to my monthly check-ins now. It's so important to use a scientifically validated scanner to track body composition and transformation – not only do I feel better and look better, the Evolt 360 results have helped me determine how I'm doing internally. That's the part I can't see, and at the moment, I'm working on being 'optimal' in every area of the scan report."
Monica's Enthusiasm for Life
The difference in how Monica looks and feels is astonishing, and nothing could ever take that away from her.
"Now, I feel incredible," she says.
"I now have more energy to accomplish more in a day, and I think this comes from mindset. When I don't want to get up and work out, I have to tell myself not to give up. When I'm trying to eat the right foods, I have to tell myself you're just hungry, once you eat something nutritious you will not be hungry anymore; and when I don't want to make my bed in the morning, I tell myself it takes less than a minute, just do it!"
"I'm enjoying buying smaller clothes and the way I feel in them. I'm more confident and happy to be in pictures – I feel like I even walk a little taller. Hearing compliments from my family, friends, and co-workers is nice too!"
Some Words of Advice
"For anyone who's needing motivation or looking for advice – you need to get out of your own head," she says matter-of-factly.
"You are the only person standing in the way of who you can become. Our minds and bodies are capable of so much more. But sometimes we think we know more than our bodies and get into our own heads to talk ourselves out of it."
"Don't do that to yourself. Make a commitment to make a change and follow through."
To learn more about your body and for personalized macronutrient and supplement recommendations Download the Evolt Active app and search for your nearest Evolt 360 Body Composition Scan location.
For more information about purchasing an Evolt 360 for your business visit www.evolt360.com/contact or request an information pack below.