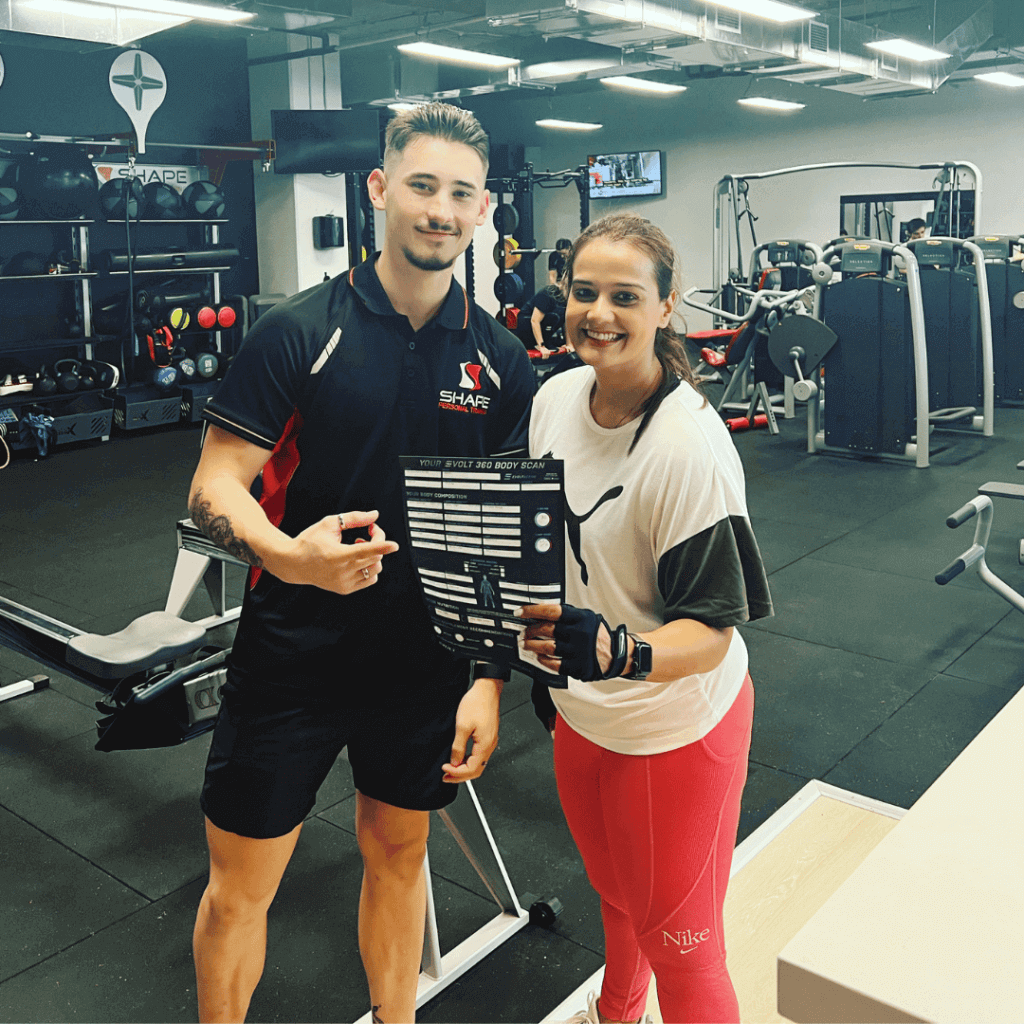 Shape Personal Training Moves From Callipers To The Evolt 360
Driven to see client results with tailored training programs for each individual, Shape Personal Training in North Strathfield, Sydney (Australia) focuses on every person as an individual, and what they want in results. They're also a dedicated partner with Evolt, incorporating body scans into their programs – and seeing incredibly positive outcomes.
With the majority of Shape Personal Training's clients being busy professionals, it's important that the brand offers a personalized service rather than just getting people to sign up to a gym and leaving them to fend for themselves. And together with nutrition planning, group classes, access to commercial gym equipment, their own Shape App and weekly educational emails, Shape Personal Training clients are more than just customers – they're family.
No More Calipers, Please!
Shape Personal Training started with 2 people, Joseph Dagher and Lorah Chetcuti. Joe, a personal trainer and Lorah who was then a client of Joe's, is now also a qualified personal trainer. As a client Lorah lost a total of 50kg in 18 months all through implementing lifestyle changes with training and nutrition.
The company has since blossomed to a 10-strong leadership 'tribe', with each trainer unique in their speciality but working together seamlessly as a team.
Before discovering the Evolt 360 body scanner, Joe used to bring along a set of skin calipers together with a pen and determine a client's body fat levels based on the calipers and markers. He could clearly see that many people were uncomfortable with the process, almost like it was an invasion of personal space – not to mention, the pinch on calipers can be a bit brutal.
The team at Shape Personal Training chose to partner with Evolt 360 for a number of reasons, including the fact that "we saw that the Evolt had great tech support, systems and app; branding from the Evolt team was also awesome as they did stand out from their competitors."
How Shape Personal Training Uses The Evolt 360
Shape Personal Training runs 12-week program blocks with their clients, based on each individual's goals. Before training starts, a client will sit down with their trainer and complete a goals and nutrition session, paving the way for their next 3 months.
During that session, the client will have a body scan on the Evolt 360 and a nutrition plan is established based on lifestyle requirements.
"The benefit of this for us is it allows us to create a smooth process and system for our business, not to mention it gives our clients value and real data they can compare when they do another scan at the end of their 12-week block," Joe says.
"It allows us to set the client up for future success."
"The Evolt 360 is a great innovation…in just 60 seconds, I can see how much muscle to fat ratio my client is holding."
Get In Touch With Shape Personal Training
It's easy to get in touch with Shape Personal Training if you're looking to have a scan done. Simply submit a form on their website here and Joe and his team will reach out! You can also check out all their latest news through their socials on Facebook and Instagram. Just search for their handle @shapeptau.
To learn more about your body and for personalized macronutrient and supplement recommendations Download the Evolt Active app and search for your nearest Evolt 360 Body Composition Scan location.
For more information about purchasing an Evolt 360 for your business visit www.evolt360.com/contact or request an information pack below.