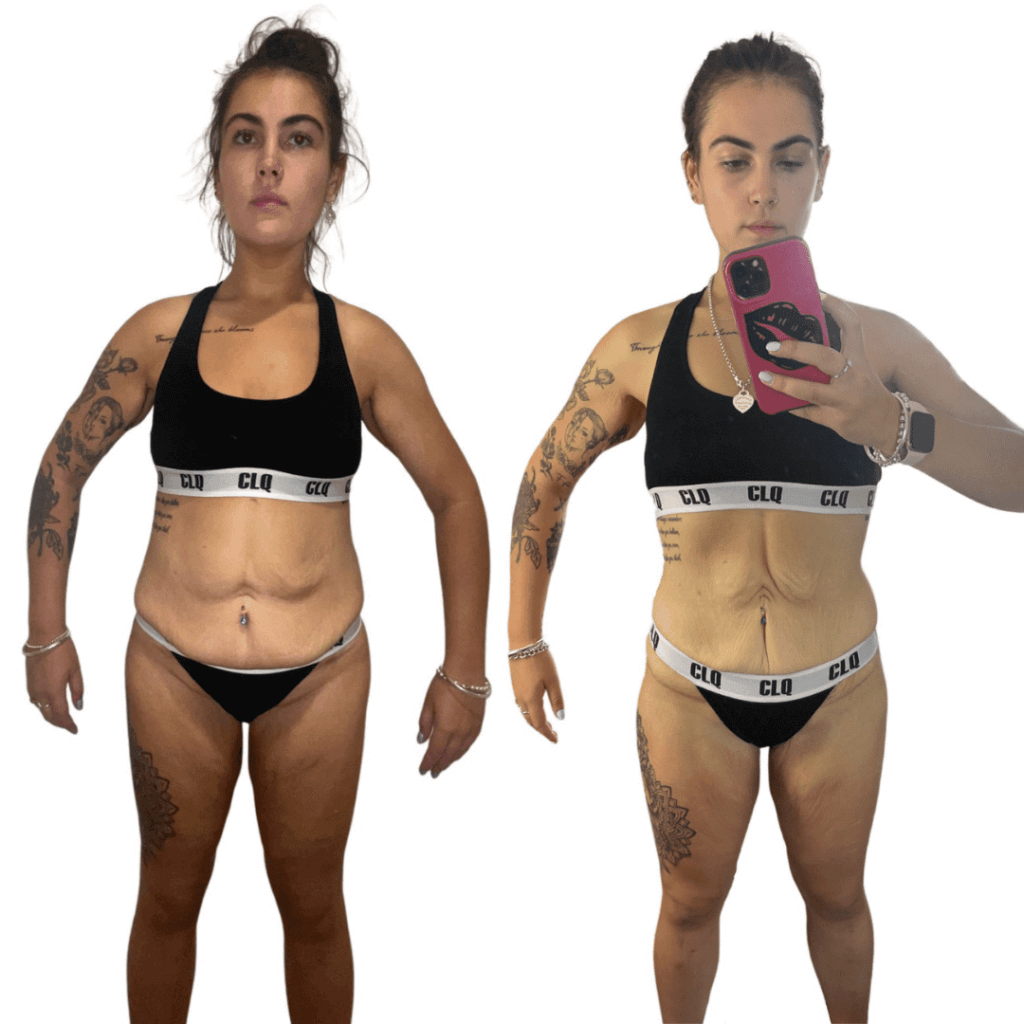 How to lose body fat percentage: Sophie's story
Sophie O'Driscoll was 21 years old, and 142.5kgs in June 2020. But that wasn't the only thing weighing her down.
She struggled with alcohol addiction, had torn a ligament in her ankle, she couldn't walk up a flight of stairs without huffing and puffing, had sleep apnea, high cholesterol, a fatty liver, and was always getting sick.
After going to the gym on and off for a year, she did lose an enormous 50kg, but Sophie contracted Delta on New Year's Day 2022 and was put into MIQ for monitoring. The time spent in isolation allowed her to self-reflect, and she realized that her starting weight wasn't actually her rock bottom – yet. And she didn't want to reach that point.
Joining her local BFT and an 8-week challenge, along with seeing the real numbers through an Evolt 360 body scan, was the motivation she needed to permanently change her lifestyle and stay consistent.
Sophie's Statistics
Sophie first heard of the Evolt 360 body scanner in 2017 and found herself weighing 120kg back then. This time, at age 23, her starting weight going into the 8-week challenge at BFT was 71.8kg after her initial 50kg loss.
Let's look at Sophie's Evolt 360 stats after only 4 weeks!
| Measurement | Before | After |
| --- | --- | --- |
| Weight (kg/lbs) | 71.8 kg | 69.0 kg |
| Subcutaneous Fat Mass (kg/lbs/%) | 13.5 kg | 9.8 kg |
| Visceral Fat Area (cm2) | 25.0 cm2 | 20.0 cm2 |
| Visceral Fat Level | 2.0 | 1.0 |
| Total Body Fat % | 20.5 % | 15.4 % |
| Lean Body Mass (kg/lbs) | 57.1 kg | 58.4 kg |
| Skeletal Muscle Mass (kg/lbs) | 31.7 kg | 32.6 kg |
| Protein (kg/lbs) | 11.8 kg | 12.3 kg |
| Bio Age | 21 | 20 |
"I absolutely loved seeing the change in the abdominal circumference because that told me that my organs and liver and things were getting healthier and the fat around my organs had been shrinking," Sophie says.
"Something a scale in your bathroom definitely could never show you!"
The measurements reported through Sophie's Evolt 360 scan reports show an incredible difference in just one months' time. So how is she feeling now?
"Honestly, I'm feeling so much better within myself, I feel stronger and more alive, which is weird to say, but I have color in my face again and I'm just honestly…glowing," she says.
The Importance of Having the Facts
Seeing the numbers come from an Evolt 360 can sometimes be the wake-up call you need, and Sophie believes seeing progress as you move through your journey is essential.
"It's so important to see the scanner track your body composition and transformation. I used to obsess over the number on the scale for a very long time, but with Evolt, I can actually see that I'm gaining muscle and losing fat, and that's what's important," she explains.
"I've actually lost more fat than what the everyday scale would tell me because in my head I see every kilogram as fat and would never really account for muscle gain, water weight, bones, and all of the rest of the stuff in my body."
"It's vital to not look at the overall number on a set of bathroom scales because that's not what's important!"
To learn more about your body and for personalized macronutrient and supplement recommendations Download the Evolt Active app and search for your nearest Evolt 360 Body Composition Scan location.
For more information about purchasing an Evolt 360 for your business visit www.evolt360.com/contact or request an information pack below.