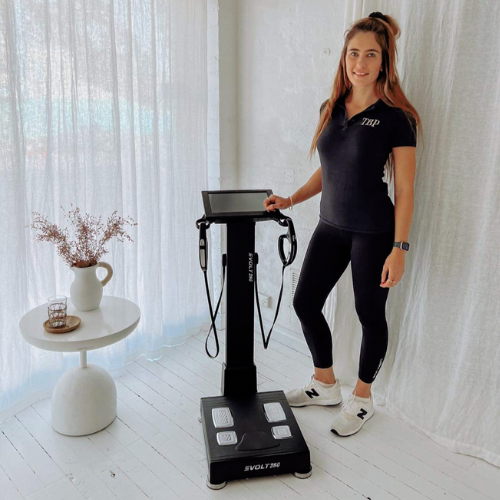 The Body Project Comes Direct To You With The Evolt 360
Based in Quinns Park, Perth (WA), Ashlee McGlashan created The Body Project to help people kickstart their healthy lifestyle goals through body scanning. With access to an Evolt 360 body composition analyzer, she currently does scans from her personal office, but also offers mobile scans at a salon in the suburb of Maylands.
The Body Project is on a continuous growth spurt, as Ashlee has begun the process of conducting mobile scans in gyms throughout the Perth metropolitan area with her Certificate III in Fitness; next month, she will be a qualified personal trainer with her Certificate IV and is already putting the motion in place to offer her clients more services!
How The Body Project Uses Its Evolt 360
Ashlee utilizes her extensive knowledge of the Evolt 360 machine to provide in-depth reports for her clients. With a sole focus on body composition scans, she has the ability to explain scan reports comprehensively, engage with people on a personal level, and help customize programs.
"I believe the Evolt 360 is the Uber of body composition scans!" Ashlee explains.
"The machine uses 5 algorithms to produce a more accurate result for clients. Believe it or not, some other BIA technologies only use 3 algorithms".
"Focusing on body composition, I can sit down with people and help customize their program towards their goals – this means we can create something catered towards muscle gain, fat loss, or simply better health if that's what they're wanting."
"It's also about using the Evolt 360 to prove the effectiveness of their programs. Lots of clients find it very difficult to monitor their progress. For example, skin folds only show you your subcutaneous fat, BMI doesn't take into consideration your muscle or fat mass, and weight scales show you nothing other than a single number".
"I also love how the Evolt 360 instantly downloads the results to the Evolt Active mobile app. Some machines don't offer this, and if you lose that one piece of paper, that scan report, it's really hard to track your progress!"
Driving Revenue
Ashlee's business is not just about bringing the Evolt 360 to individuals though. The Body Project is a unique way for gyms and health centers to have her bring the machine into their facility and showcase it to members – whether it be to allow clients to scan in monthly, or before and after a challenge.
"I believe any gym can increase their revenue by investing in one of these machines," she says.
"It will also boost member morale as well as retention because they now have a clearer insight into their goals and whether or not they're being achieved."
With over 40 valuable measurements, Ashlee strives to make everything easy to understand. Engaging with people is what Ashlee does best, and she wants to ensure that everyone she scans gets the best out of their health report.
Get More Info
To get in touch with Ashlee for a scan with the Evolt 360, you can check out her website at tbpthebodyproject.com.au/, her Instagram handle @tbpthebodyproject or email her directly at info@tbpthebodyproject.com.au
To learn more about your body and for personalized macronutrient and supplement recommendations Download the Evolt Active app and search for your nearest Evolt 360 Body Composition Scan location.
For more information about purchasing an Evolt 360 for your business visit www.evolt360.com/contact or request an information pack below.