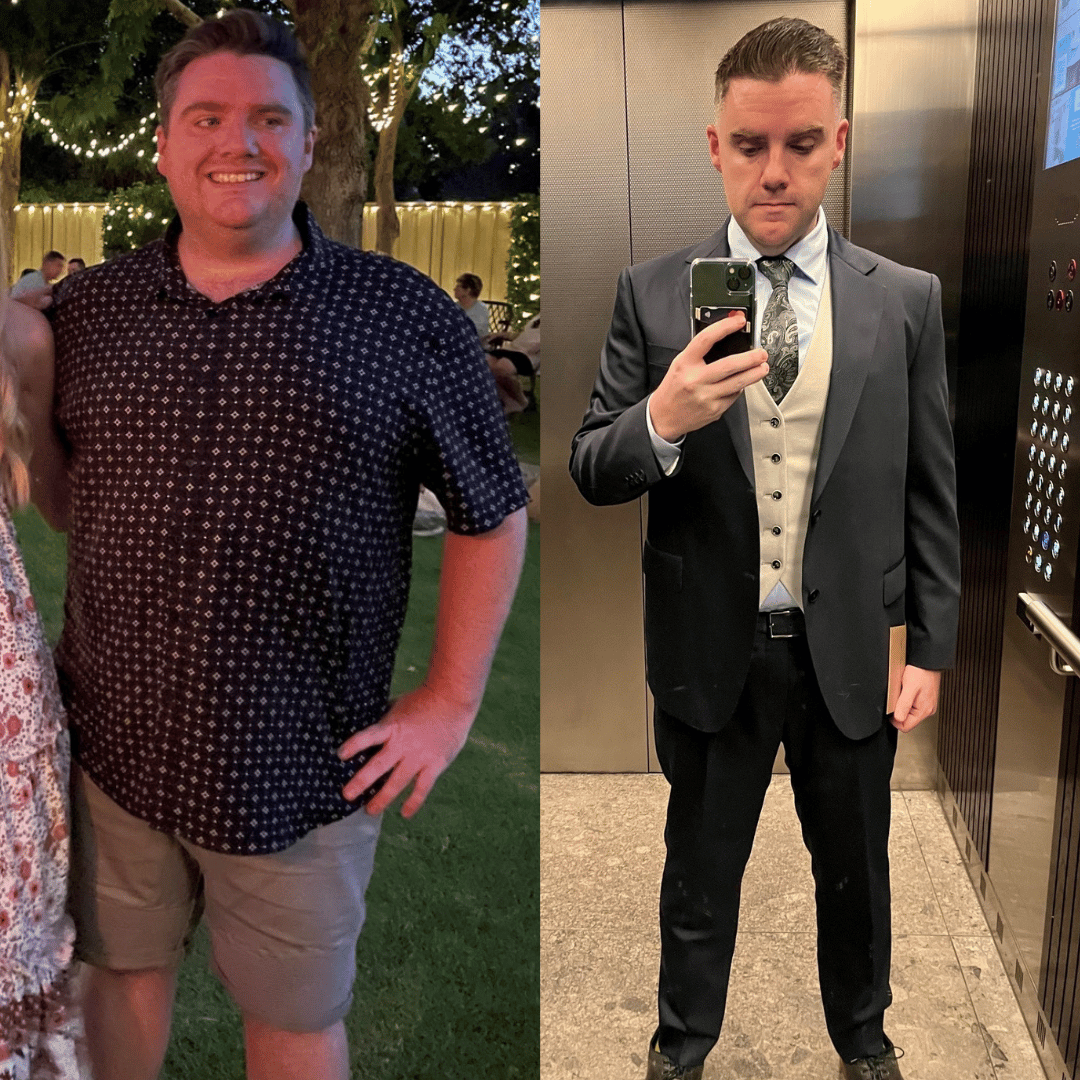 Sam Was a Fiend For Sugar
Sam Kimber, 36, was sick and tired of looking and feeling terrible, and the time came when he just couldn't keep saying things like … "it's a bad angle" when he found a photo of himself embarrassing. His self-esteem was low, his fitness was poor, and he often had back, ankle, and knee pain from inactivity.
"My resting heart rate was always around 100bpm, and I was eating poorly – daily energy drinks, soft drinks, bad food regularly (I was a fiend for sugar)," Sam admits. There wasn't one particular 'moment' where he decided he needed to change but having to buy 3XL shirts sure was the kick in the right direction.
"My whole life, I've always been 'the fat guy' and I knew I always had it in me to change, but I never committed. It was around July 2021 in the middle of lockdowns that I actively started trying to change, but I didn't really kick into gear until September that year."
Sam's Journey To A Healthier Life
Since the gyms reopened at the end of October 2021, Sam hasn't looked back. His goal was always to be around the 174lbs / 79kg mark.
"I live in a great part of Melbourne where there are plenty of places to walk, so I've been doing a lot of walking and now as I'm getting more fit, I've also been adding running into my training, which has increased from about 15 seconds to nearly 2 minutes!" he excitedly says.
"At the start, I'd do a couple of 6km walks per week as well as 2 gym sessions (weight training) and a bit of bike work. This has now increased to 6 days per week overall with 3 weight sessions and a lot more walking, I walk at least 3km a day now."
Sam trains at Snap Fitness South Yarra, and he is grateful for all the motivation that has come with his training.
"Emma and the crew there have been incredible with how much they celebrate both mine and everyone else's successes at the gym, it's been a huge factor," he said.
Combining walking and gym work with proper nutrition has also been a strong factor in Sam's transformation. He's ditched energy and soft drinks for water, and now meal preps to ensure he has full control of what he consumes.
"This has stopped me from falling into the temptation of just getting take-away food as the easy way out if I haven't made lunch," he says.
Numbers Don't Lie
Sam's Evolt 360 scans show his incredible transformation, with comparisons done on 3 December 2021 and 25 May 2022.
| Measurement | Before | After |
| --- | --- | --- |
| Weight (kg/lbs) | 104.4 kg | 86.6 kg |
| Subcutaneous Fat Mass (kg/lbs/%) | 28.0 kg | 19.9 kg |
| Visceral Fat Area (cm2) | 188.0 cm2 | 124.0 cm2 |
| Visceral Fat Level | 16.0 | 12.0 |
| Total Body Fat % | 34.3 % | 27.3 % |
| Lean Body Mass (kg/lbs) | 66.0 kg | 62.5 kg |
| Skeletal Muscle Mass (kg/lbs) | 36.2 kg | 34.6 kg |
| Protein (kg/lbs) | 12.8 kg | 12.8 kg |
| Bio Age | 42 | 39 |
The Evolt Scans
Before joining Snap Fitness, Sam had never had a body scan before.
"I only wish I was able to do it way back when I was 118kg…those results would be even more insane," he recollects.
"When it comes to the Evolt 360, I absolutely love the stats and how simple it is. It shows you so much key information which really helps you focus on what you need to do; it's so cool when the results are so big too!"
"One of my favorite parts about the Evolt 360 was the fact it was incredibly simple to use. All the data is accessible and easy to track."
"Having scientifically validated data right at my fingertips is so important, especially now that I have 2 data points to refer to. I'm looking forward to my next scan as I'm now almost at my target, and I'm very interested to see where my target of building muscle and lowering the fat percentage is at."
Spreading The Word
With Sam's successful journey changing his health and fitness, he has some words of wisdom to anyone who might be on the edge of deciding whether or not to start.
"Without sounding cliché, it really is about hard work and does require a complete turnaround, especially if you are someone like me who was lazy and demotivated," he says.
"It's so easy to just sit down on the couch, gorge on a bag of chips and stay there; developing strong exercise and food habits takes a lot of work, and you will have times where you trip up – but that's fine. It's a long road ahead, so there's no reason to let yourself spiral".
"It's a massive mental game, but the moment you start to see the results and keep going, the momentum you build eventually becomes natural".
"And it's 100% worth it."
To learn more about your body and for personalized macronutrient and supplement recommendations Download the Evolt Active app and search for your nearest Evolt 360 Body Composition Scan location.
For more information about purchasing an Evolt 360 for your business visit www.evolt360.com/contact or request an information pack below.