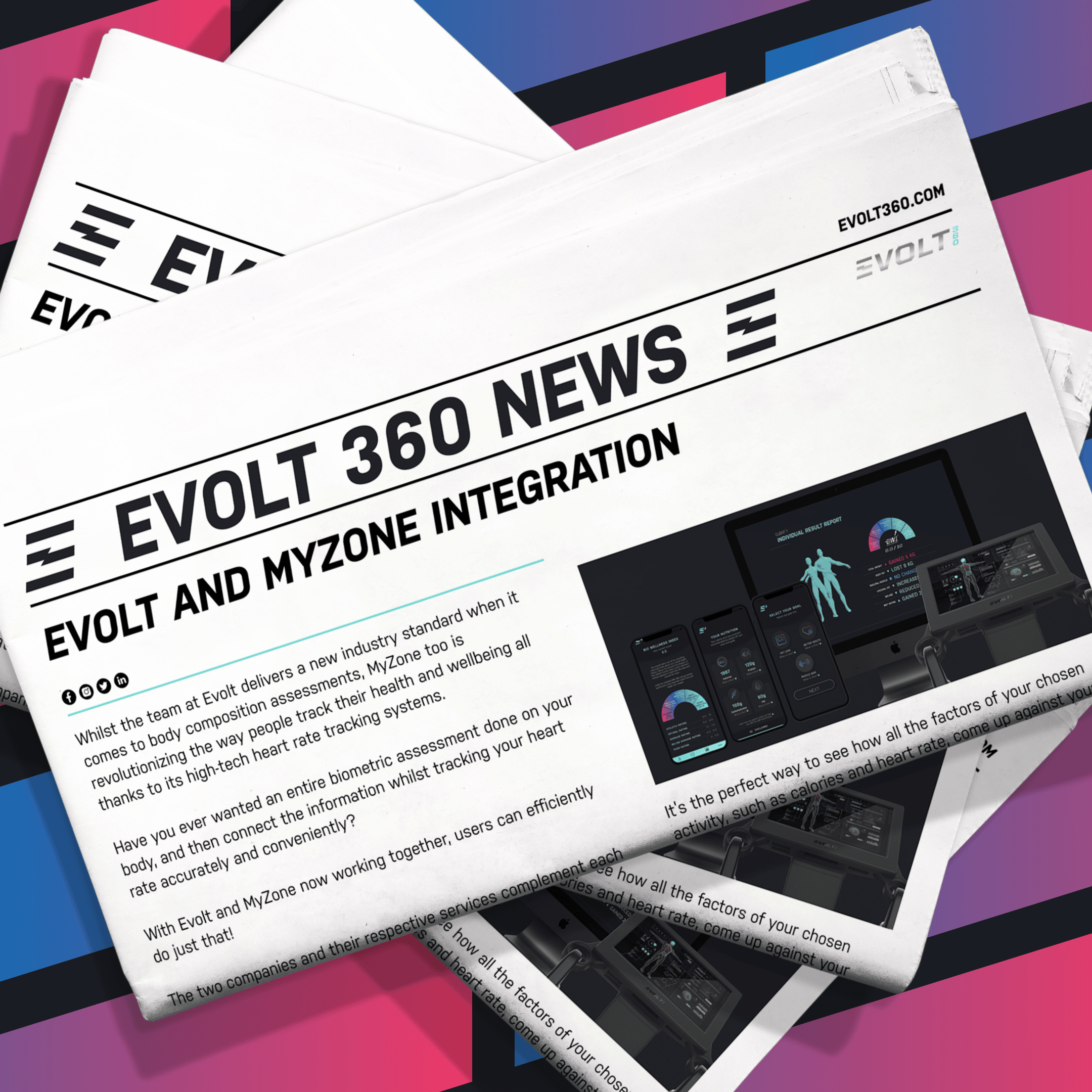 YES, YOU HEARD RIGHT, EVOLT AND MYZONE HAVE INTEGRATED AND WILL CHANGE THE WAY YOU TRACK YOUR HEALTH.
WHILST THE TEAM AT EVOLT DELIVERS A NEW INDUSTRY STANDARD WHEN IT COMES TO BODY COMPOSITION ASSESSMENTS, MYZONE TOO IS REVOLUTIONIZING THE WAY PEOPLE TRACK THEIR HEALTH AND WELLBEING ALL THANKS TO ITS HIGH-TECH HEART RATE TRACKING SYSTEMS.
Have you ever wanted an entire biometric assessment done on your body, and then connect the information whilst tracking your heart rate accurately and conveniently?
With Evolt and MyZone now working together, users can efficiently do just that!
The two companies and their respective services complement each other perfectly, with the EVOLT 360 body scanner tracking body composition changes and MyZone wearable systems tracking an individual's activity and exercise.
It's the perfect way to see how all the factors of your chosen activity, such as calories and heart rate, come up against your body measurements and composition so that when you go for a repeat scan with an EVOLT 360, you will actually see how everything you've worked hard to achieve has gotten you the results you've been chasing.
Using Evolt and MyZone together is the ideal way to stay motivated and accountable when it comes to reaching health and fitness goals. The result is a technologically advanced and unique digital insight into how activity and exercise work extremely well when combined with knowledge about body health.
Once both start-up technology companies from Australia, Evolt, and MyZone are now making huge waves globally, changing the fitness space as gyms and wellness centers across the country utilize both technologies to benefit staff and clients. We are always looking at ways to improve the health and wellbeing of people, and teaming up with MyZone is another step forward in doing just that.
SO HOW DO YOU PUT EVOLT AND MYZONE TOGETHER? IT'S EASY!
Simply hit the Track page of your Evolt Active App, and go to 'Connect to MyZone' where you'll be asked for your account username and password. When authenticated, the Evolt team receives a security token from MyZone and from that point on, when a new scan is registered via the Kiosk or manually, Evolt will push the latest scan data to your MyZone account.
Connecting Evolt and MyZone to each other for the benefit of your health has never been easier!
Visit the Evolt Active App tab on our webpage or head to myzone.org for more information.
ABOUT EVOLT
Founded in 2015 by Ed Zouroudis and Kelly Weideman, Evolt is a company powering connected and digital health. Having developed an end-to-end solution that tracks detailed changes in the quality of activity, body composition and nutrition with its EVOLT 360 body scanner and other support platforms, Evolt is now a global player in the health, fitness and wellness industries.
At the heart of it all is the EVOLT 360 Body Composition Analyser, a 60-second scan that provides data about a body through more than 40 measurements. It is supported by the Evolt Active App, a health and fitness app for tracking body composition, macronutrient profiling, healthy lifestyle scoring and individualized supplement recommendations, and Evolt Insights, an analytic and challenge portal for EVOLT 360 users.
Evolt is turning information into inspiration, BMI into BWI, and in the process is changing the fitness business.
ABOUT MYZONE
MyZone is an innovative wearable heart rate based system that uses wireless and cloud technology to accurately and conveniently monitor physical activity.