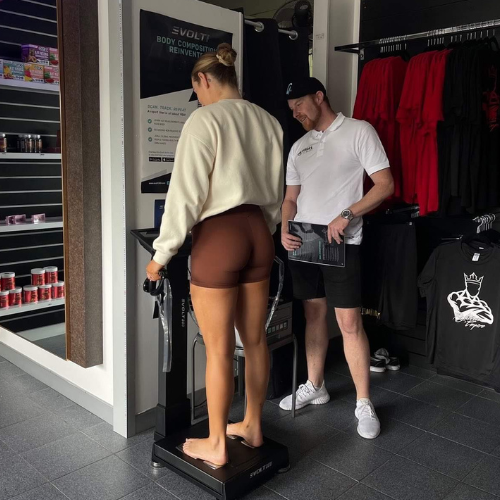 YouSupps Loves Sharing Its Evolt 360
If you're looking for a local supplements store with staff who have infinite knowledge in the sports and recovery industry, and who can also provide you with a full-body scan, then YouSupps in Queensland (AU) should be your go-to.
YouSupps is unique in that they're not there to be pushy with sales or force products into your hand – in fact, everyone that works there is motivated to help and educate people on whatever their needs may be. That includes providing motivational and life coaching training to all their staff; they even have personal trainers!
YouSupps & Evolt Working Together
When you first walk into YouSupps, everything is at your fingertips – protein powders, fat burners, pre-workouts, amino acids, skincare, and dietary supplements like apple cider vinegar, melatonin, and ashwagandha.
But also in store, available to all who come in, is the Evolt 360 body composition analyzer.
YouSupps founder, Jackson Jordan and store owner Eli Fraser have seen incredible benefits to having the Evolt 360 at their store.
"Most clients, and also gyms, that have been using our Evolt 360 have never used one before, and as soon as they see what it can do, they're in love because it's so simple," Jackson says.
"They can see their results through the Evolt app instead of the old school way of a piece of paper that gets misplaced. The gyms absolutely love this machine because they can run their challenges through the app; all their members involved can easily see their results."
"I'm always happy with the Evolt 360 and hope to see more people coming to use it for their scans and becoming a part of the YouSupps family."
Using The Evolt 360 To Its Full Advantage
Jackson says he made the decision to purchase the Evolt 360 over other body composition analyzers because it was "by far a more advanced machine and is so user friendly – not just for YouSupps but for our clients too."
The Evolt 360 is mainly used at YouSupps' Nerang (Qld) shop, but it's also taken to gyms when needed for their members or if the gym wants to run challenges together with the shop.
"We're also planning to help all sporting venues out, such as football clubs, for their start, mid and end-of-season scans to see their results throughout the game seasons," Jackson says.
"This will push all sporting club players from any sporting industry to push themselves harder while getting better each season."
Thoughts On The Evolt 360 From Joel
YouSupps operations manager Joel is also a certified personal trainer, and he couldn't be more impressed with how the Evolt 360 functions.
"I love how quick the machine scans and tracks people's results," he says.
"It's very user friendly and the fact that it has the individual's nutrition macros guide and recommendations on the supplements to help people get to their goals faster is just amazing and never seen before, unlike other outdated scanners on the market."
More Info At YouSupps
For more information on what YouSupps can do for you, or to book in for a body scan contact the team by visiting their handles @yousuppsnerang, @yousuppsormeau and @yousupps.
You can also visit them online at yousupps.com.au or email info@yousupps.com.au
Stores are located at 6C/19 Peachey Road, Ormeau, Qld as well as 10/43 Price Street, Nerang, Qld.