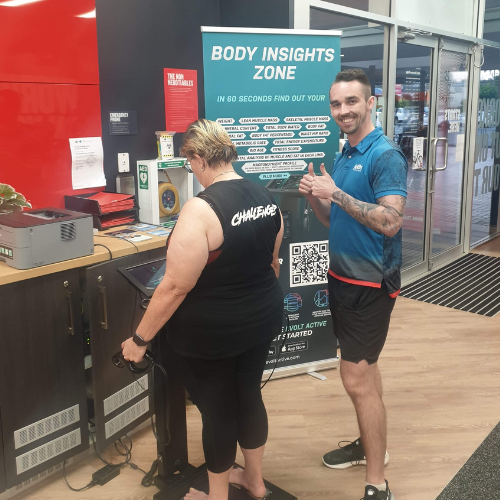 Magnum Fitness makes weekly revenue with the Evolt 360
From humble beginnings as a free bootcamp in North Brisbane (Qld, AU) to delivering more than 120 personal training sessions across 3 locations, Magnum Fitness has a team of 6 trainers and has gone from strength to strength since the start of the pandemic when it first began operating.
Since 2020, Magnum's reputation has grown extensively thanks to high quality one-of-a-kind personal training, so it was only a matter of time before owner and founder Matt Dart hopped on board with an Evolt 360 to offer his clientele a service of the best standard when it came to progress and results.
Empowering The Clients
Magnum's purpose is to empower lifestyle changes, and Matt firmly believes in making habits for long-term sustainable results rather than short-term ones.
"We have our own boutique, results-based training facility at Burpengary and also operate out of Jetts Bracken Ridge and Anytime Fitness Sandgate, we not only offer one-on-one PT sessions, we also run group classes because we have 24/7 access," he says.
"Before getting our hands on the Evolt 360, we previously did everything manually through measurements and just used scales as an indicator, but that didn't give us accurate results."
"We saw how much data was available and realized the Evolt 360 was the best option for our clients to measure and track progress so we could get the accurate data we needed. It's been an absolute game-changer for us to be able to analyze and target specific areas as well as create customized goals with our clients."
Adding Revenue to Business
According to Matt, the Evolt 360 provides a complete benefit to everyone at Magnum Fitness – from members to staff.
"All of our clients get 1 scan per month, which enables us to keep tracking and measuring progress, and the partnered Evolt Active app is amazing because it keeps all the scans in one place for easy comparison," he explains.
"As a business, I love all the reporting that can be done on the Evolt's dashboard so we can get an overall summary of which clients are improving and which ones aren't, and in terms of financial benefits…we added the Evolt 360 as a weekly membership for our clients, so we've added $500+ per week in revenue".
"Quite simply, the Evolt 360 has the best data in the industry."
To Get In Touch
For more information on Magnum Fitness and securing a scan with the Evolt 360, Matt and his team can be contacted via their website at magnumfitness.com.au or by mobile on 0431 475 989. You can also check out their socials on Facebook and Instagram by typing in Magnum Fitness Burpengary