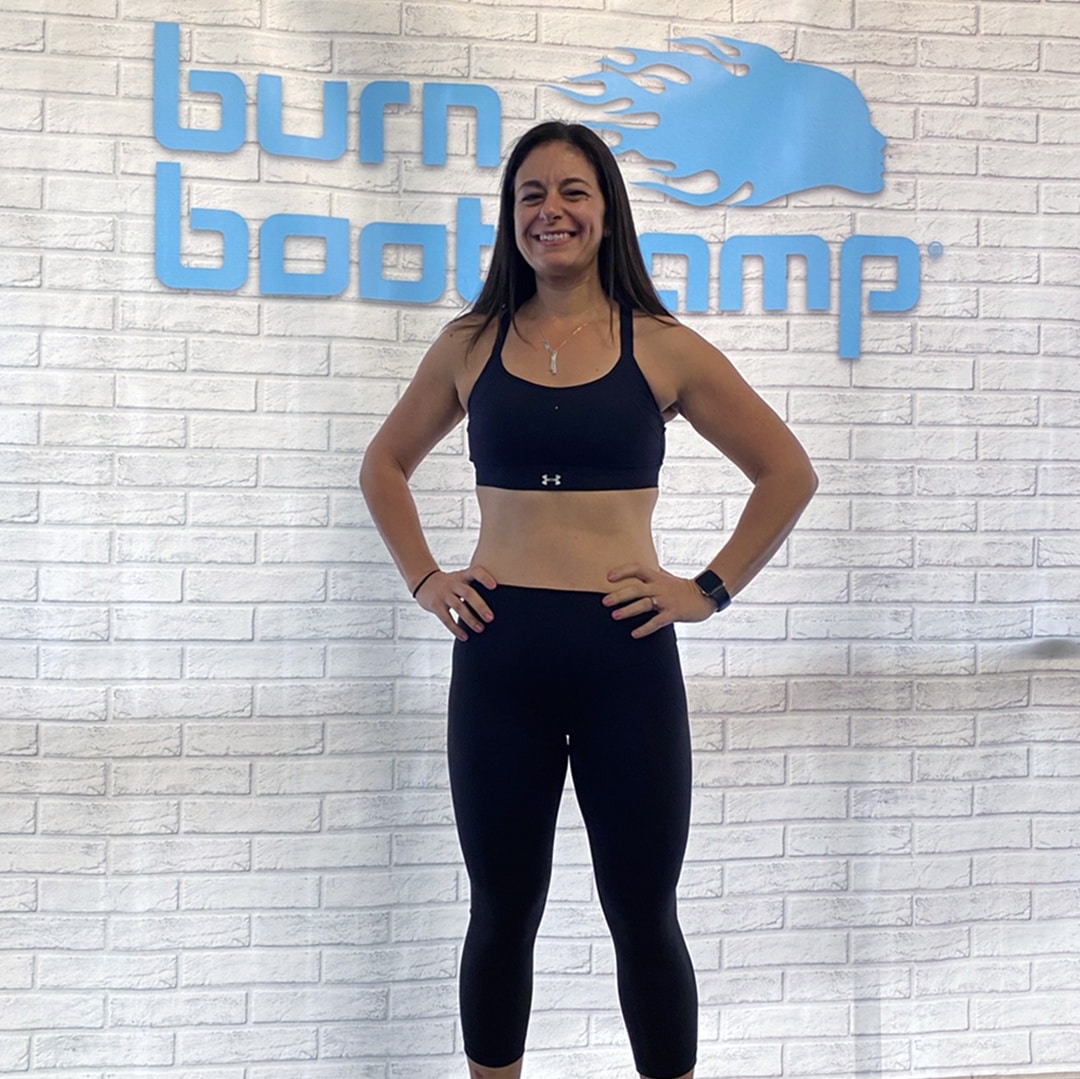 A 60lb loss & a healthier lifestyle with the help of an Evolt 360
Taking That First Step
Sometimes, life doesn't go the way it was planned, and that's exactly what happened to Brittany Christoffel. During the height of COVID-19, she gave birth to a beautiful bouncing baby in April 2020 however during her pregnancy, she wasn't permitted to exercise due to a medical condition – which left Brittany in a position where she was unable even to go for a walk.
Once she was cleared to resume workouts unfortunately every gym and training center had shut its doors, leaving Brittany to do it all at home.
"I didn't always have the motivation for that though," the 34-year-old said.
"In September, I saw an ad for a Burn Boot Camp in Stuart (FL) and decided to give it a go. It was incredibly hard but I knew that's what was needed to get back into shape."
Brittany went to the camps 5-6 days a week for the first few months but then stopped going.
"In January 2021, I realized that my lack of exercise and holiday eating habits caused me to gain back any weight I'd lost, which was pretty upsetting," she revealed.
"It was time to get serious about losing weight and going to the gym because I wanted to be healthier and stronger; I didn't want to keep buying bigger clothes to wear and I wanted to be able to run around with my kids."
From Losing Weight To A Lifestyle Journey
What initially started as a goal to lose weight became more of a journey towards a healthier lifestyle and by August 2021, Brittany had lost almost 60lbs and 20% of her body fat.
Brittany's fitness regimen consisted of training at Burn Boot Camp in Stuart, FL where she aimed to go at least 5 days per week but usually ended up going 6 days. With the camps about 45 minutes long, trainers helped guide her and pushed her to be stronger, and they had encouraged her to take part in a 4-week challenge when she first started.
"We were told what foods to eat and asked to measure everything because portion sizes were important," she recollected.
"I ate 3 meals a day consisting of lean protein, healthy fats and good carbohydrates; I didn't use any trackers because the stress of constantly having to remember to add what I ate didn't work for me and I wanted to make this as easy as possible."
"I took it 1 meal at a time and as long as I had a set amount of proteins, fats and carbs needed for each meal, I knew I was getting appropriate macros."
Together with supplements to aid in muscle recovery, including L-glutamine and BCAAs, Brittany got that little bit of extra energy to ensure more powerful workouts and flawless recovery.
Brittany's First Evolt Scan
Brittany revealed she was extremely nervous doing her first scan on the Evolt 360 because she 'didn't want to see what it would show'. But it was the prospect of what she'd see on her second scan that made her step on the machine.
"As much as I hated the first set of results, I thought it was amazing how it worked," she said.
"I wanted to lose weight for sure, but I wanted to focus on losing body fat and I liked how the scan was able to give you specific information about your body's fat and muscle content among other things."
"I remember getting my body fat taken years ago with a set of calipers and it was awful; the Evolt was so easy and provided so much more information than I'd ever had about my body composition."
Let's take a look at Brittany's before (5 January 2021) and after (28 July 2021) results.
| Measurement | Before | After |
| --- | --- | --- |
| Weight (kg/lbs) | 203.0 lbs | 145.3 lbs |
| Subcutaneous Fat Mass (kg/lbs/%) | 69.2 lbs | 25.4 lbs |
| Visceral Fat Area (cm2) | 125.0 cm2 | 25.0 cm2 |
| Visceral Fat Level | 14.0 | 2.0 |
| Total Body Fat % | 39.7 % | 19.0 % |
| Lean Body Mass (kg/lbs) | 122.6 lbs | 117.7 lbs |
| Skeletal Muscle Mass (kg/lbs) | 66.6 lbs | 65.7 lbs |
| Protein (kg/lbs) | 22.9 lbs | 24.5 lbs |
| Bio Age | 38 | 30 |
Brittany's results speak for themselves! Incredible differences between a range of measurements units, in particular the vast changes in the visceral fat area, visceral fat level, subcutaneous fat mass and lean body mass.
Evolt Helps Brittany With Goal Setting
When Brittany first started her journey, she was mostly concerned with losing weight however over time, it changed to wanting to lose fat as well as gain muscle. So she made sure to check in on the Evolt each month to ensure she was heading in the right direction.
"It shows your fat loss and your muscle gain in your body – and even your limbs," she explained.
"When you're working towards weight loss, this knowledge is important so you can be sure you're targeting the right goals and the right targets. You can also change your eating if the results are not going in the way you want them to."
"The Bio Age was the craziest result to me; I didn't think about how my unhealthy lifestyle made me older! The Evolt said my Bio Age was 38 (and I'm only 34!) and one of my goals was to get that to my actual age – it now says I'm 30, so I'm extremely proud of that."
Advice From Brittany
Brittany's success has stemmed from consistency, with her focus on nutrition and workouts for 7 months and staying on track even over the weekends and on special occasions.
"I've gone on vacation and eaten things I hadn't eaten in months that are definitely not on my plan," she said.
"But the next day, or the next meal, I go back to eating healthy and clean; I've continued this for 7 months with amazing results so my advice for anyone looking to lose fat and/or get stronger is to keep going. Don't let a bad meal or a bad day ruin your progress."
"This journey was incredibly difficult and I'm not even done. I've had to make new goals because I surpassed my old ones."
"The hard work in front of me used to be such an obstacle but now I look forward to accomplishing my goals. The only difference this time, besides the amazing gym I've found, is that I've stayed consistent."
For more information on the Evolt 360 body scanner and to find your closest scanner location, download the Evolt Active app.