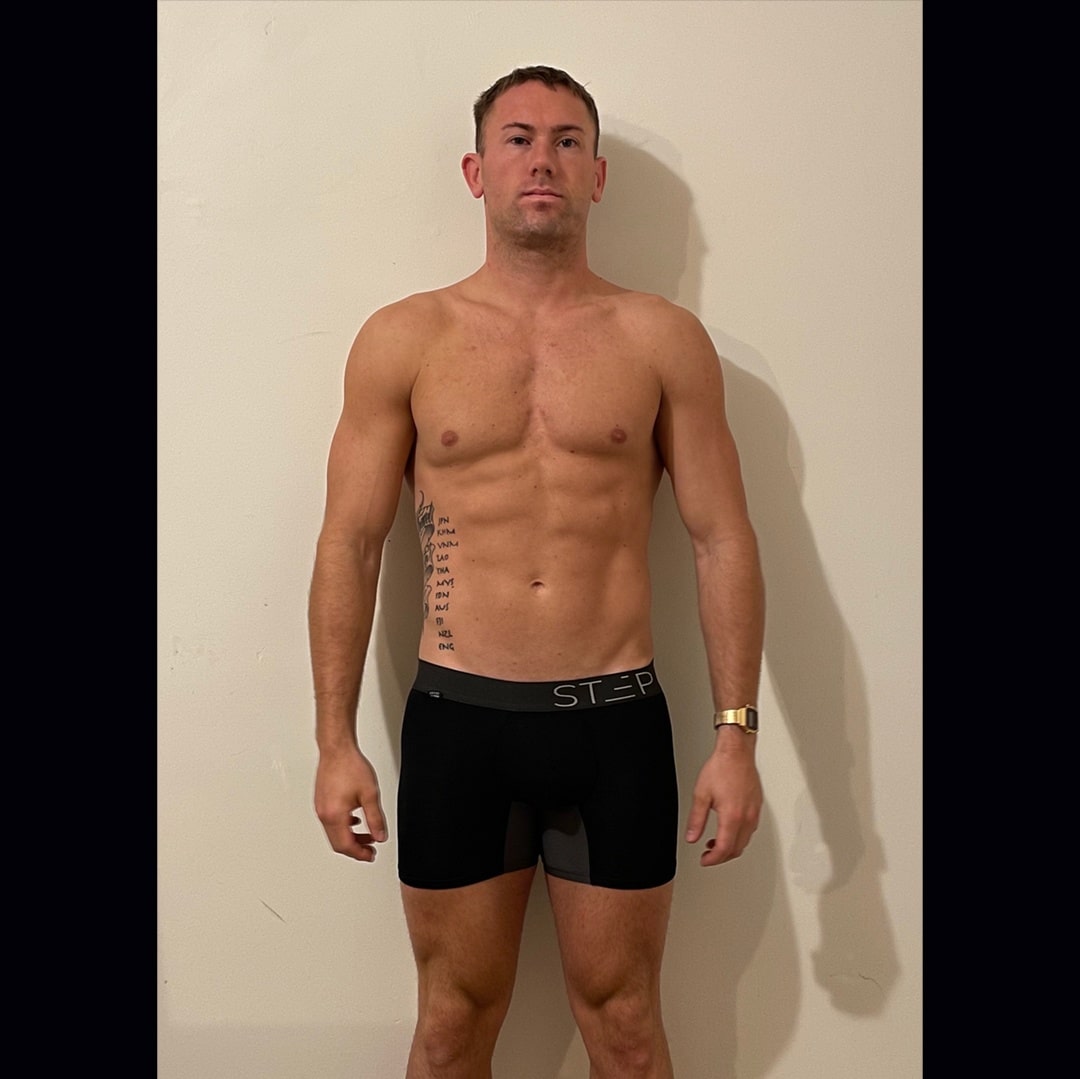 There are a multitude of reasons why people start their healthy lifestyle journey, with anyone's compiled list most likely stretching to hundreds of pages long. But for Stephen Hart it was all about changing the way his body was to his mindset, and ensuring he was happy with where his future was going.
His belief system went through a major overhaul by the time he reached his goal – and all for the better.
"I've always had this belief that once you're 30, you're unfit," he said.
"Yes, I might've been unfit at 30, but I knew it was time for a change. I'm not the tallest of guys out there, but I'm quite broad or 'stocky' as people put it, and I just wanted a trim frame that suited my height so everything was in proportion."
"My initial goal was to lose 10kg maximum and be healthier and lighter on my feet – just enough to not feel heavy or stocky, and to be able to get up and run anytime."
Combining Training For Results
Stephen felt that a variety of training would give him the best results he was after, so whilst focusing mainly on cardio – in particular, HIIT – during a 12-week challenge he'd signed up for, he participated in a range of classes at BFT Everton Park that included anything and everything, from strength training to core work.
"I've always loved the kind of workout where you do short bursts of speed and effort to burn calories," he said.
"I knew I had to build or keep strength so I couldn't miss those classes, but like I mentioned before I just wanted to be fit and light on my feet."
Training for Stephen consisted of heading to the gym 5 to 6 days a week in the afternoon, and when lockdown hit Queensland, Australia he did all his workouts at home over Zoom. When he was able to, he'd go out for a run.
Nutritional Tunnel Vision
Hitting his nutrition goals, Stephen stuck to one healthy and balanced diet that suited his needs and kept going right through to the end of the 12-week challenge.
"To some, it might seem boring and repetitive, but for me that's what I needed," he explained.
"I gave myself tunnel vision if you could call it that, sticking to one plan all the way through. On the odd occasion, there was a nice snack here or there on a Sunday, but nothing like I used to binge on."
"I sort of calorie counted, but in the end, it wasn't for me. I feel sometimes doing that is a bit overwhelming and it can put people off because it's such a big effort. For me, I got my meals sorted, made sure they were in the balance of my calories allowance and simply stuck with it."
In terms of supplements, Stephen took advantage of a few that would see him burn more fat and gain muscle such as Man Sports Scorch Energize & Burn for fat burning and Max's Shred System Protein for post-workout.
"Before the gym I'd take a pre-workout, using Man Sports Gameday Pre-Workout, a natural product with low stimulus so I didn't get the jitters – and so that I could sleep at night," he said.
"Whilst at the gym, from time to time I'd use BCAAs, and then 30 minutes before bed I'd take Max's Slow Release Anabolic Night, and perhaps 6 almonds to snack on."
Numbers Speak For Themselves
Never having set foot on an Evolt 360 body scanner before, Stephen said he would recommend it to anyone and everyone.
"The scan being so quick was my absolute favorite part," he said.
"I honestly couldn't believe it got all those results in that small time frame and it was so accurate; absolutely brilliant."
"To top it off, one of the best things about the accompanying Evolt Active app was that it would go into so much detail into my own body and I could see explanations on everything. For me, who is a real novice about the body, this app helped me a lot."
Stephen's results across so many unit measurements were incredible, and his hard work is clearly shown in the numbers below. His first scan was conducted on 18 May 2021 and his latest was done on 13 August 2021.
| Measurement | Before | After |
| --- | --- | --- |
| Weight (kg/lbs) | 86.2 kg | 78.1 kg |
| Subcutaneous Fat Mass (kg/lbs/%) | 19.1 kg | 11.6 kg |
| Visceral Fat Area (cm2) | 86.0 cm2 | 59.0 cm2 |
| Visceral Fat Level | 9.0 | 7.0 |
| Total Body Fat % | 25.8 % | 16.9 % |
| Lean Body Mass (kg/lbs) | 64.0 kg | 64.9 kg |
| Skeletal Muscle Mass (kg/lbs) | 35.5 kg | 36.2 kg |
| Protein (kg/lbs) | 13.0 kg | 13.6 kg |
| Bio Age | 32 | 29 |
Now He's Light On His Feet
With those phenomenal results, Stephen is thrilled he achieved his goals of losing weight and feeling light on his feet.
"I tell you what, I feel amazing," he exclaimed.
"I feel like I've reached my goal because I've lost a lot of weight and now feel light on my feet. My confidence is up more than ever as I have a trim body that I can comfortably be in without worrying about."
"Energy levels are great, I always needed that something to get me up and going in the morning, but throughout the whole day, I'm great! Before all of this, I needed a nap every day before the gym if I could, nowadays I just head straight on down."
A Lasting Impression
The change of lifestyle and having Evolt 360 body scans done throughout his 12-week challenge has left a lasting impression on Stephen, who said it was a key component in his success.
"I think having an Evolt 360 is a must for any gym so they can offer it to members who can learn about their bodies," he said.
"If people knew how bad their health and body was, it would be a different story out there – there'd be a lot more runners, people keeping fit and in general, so many people would be happier."
Stephen had his own piece of advice for those thinking about giving a lifestyle change a go.
"My main advice to people is to set out a goal and think 'End Game'," he explained.
"Think of what you can achieve and think of the result. That goes for every gym session, every run, every bit of good food you eat, every bit of bad food you eat."
"Think of the end result bit by bit, and you'll get there and achieve your goal."
To learn more about your body and for personalized macronutrient and supplement recommendations Download the Evolt Active app and search for your nearest Evolt 360 Body Composition Scan location.
For more information about purchasing an Evolt 360 for your business visit www.evolt360.com/contact or request an information pack below.