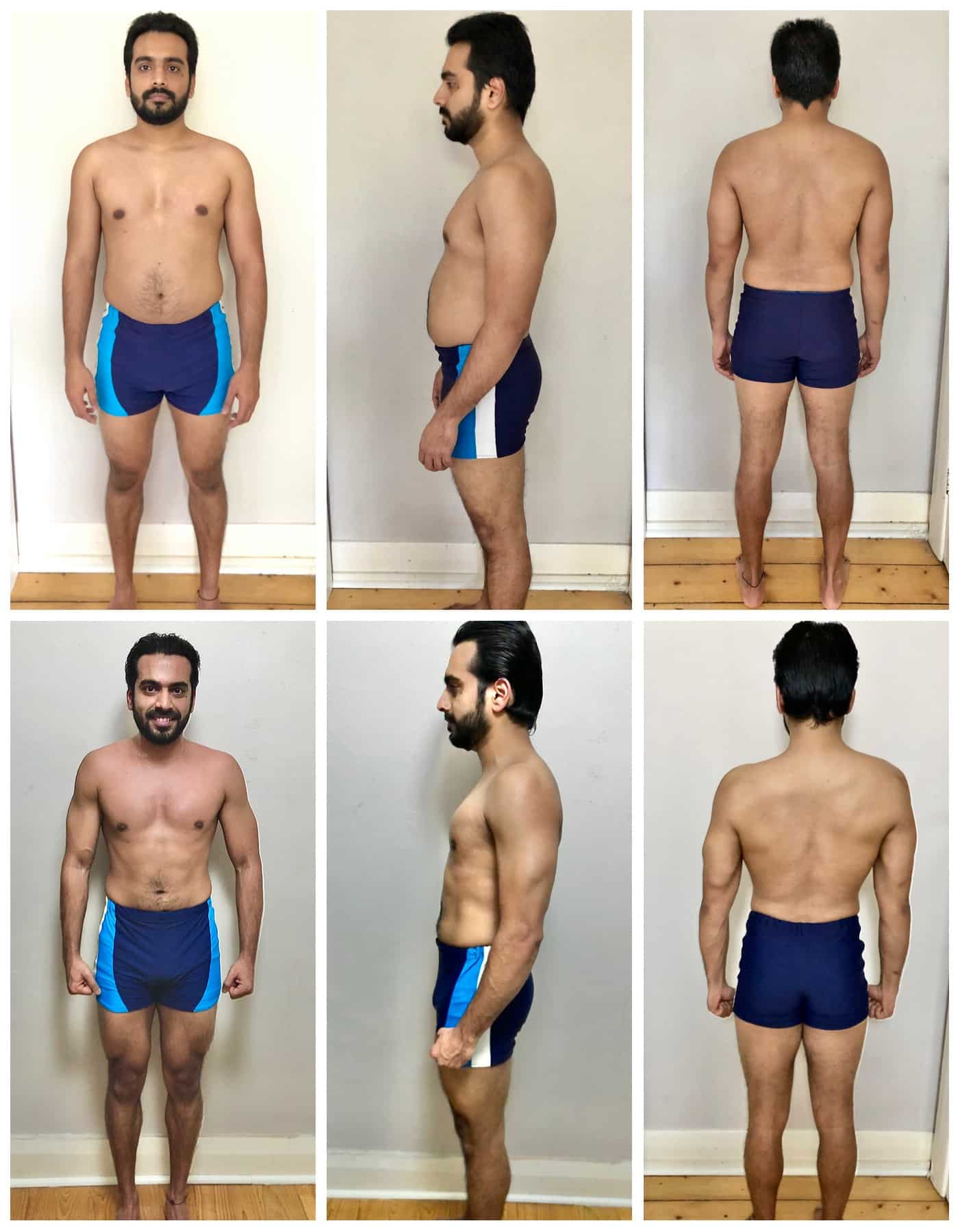 Sagar's transformation after gaining weight gives hope, inspiring others
The sad reality of hearing people's health and weight fluctuating during times of the COVID pandemic are all too familiar – lockdowns forcing people to stay and work from home, and a loss of motivation to remain active in a small space.
Twenty-eight-year-old Sagar Inamdar faced this exact dilemma – gaining weight in a home lockdown for a longer than expected period of time.
"I'd always wanted to have a good-looking body, and a local 12-week challenge with BFT Oakleigh was the best way to get it done," he said.
"I started it all by visualizing how I would look after 12 weeks and kept going throughout the journey. Even after half of the challenge was done in lockdown, my reason kept me going and I worked out at home with no equipment and without having any cheat meal.
"Having an emotional reason was very important for me to push myself up every day to achieve it."
A Mix Of Dedicated Training And Nutritious Food
It was a mixture of cardio, strength and power that saw Sagar get through his 12-week challenge, and he made it a point to ensure he worked out 6 days a week for consistency.
"I only took a rest day on Sundays," he explained.
"With no restrictions in the area, I made sure to get to the gym, but during lockdown times I was covered with amazing Zoom sessions from the comfort of my own home."
It is Sagar's belief that nutrition played a vital role in his transformation.
"After all – what we eat is what we become," he stated matter-of-factly.
"I used the MyFitnessPal app to track my calories and my macros. Many people focus more on calories, but it's important to eat in balance with macros – the Evolt Active app, which I used in conjunction with my body scans on the Evolt 360, automatically calculated macros as per the current body measurements and future goals.
"Now that I've worked so hard to get to this transformation, I don't feel like eating junk food anymore."
To help him along the way, Sagar utilized a number of supplements including XS Muscle Multiplier, XS Muscle Recovery, XS Protein Powder, Nutriway Double X, Nutriway Omega 3, Nutriway Probiotic and XS Rhodiola.
Results Speak For Themselves
The first time Sagar used the advanced Evolt 360 body composition analyzer was at his local BFT Oakleigh gym at the start of the 12 week challenge, where he was able to pinpoint and target specific areas of his body to get the best results he was looking for.
"As soon as I saw my first scan result, it was very easy for me to understand where I stood," he revealed.
"The segmental analysis told me which part of the body consists of what, and it blew my mind. It made my life easier in my journey because I knew where I needed to work on more."
Sagar had body scans done every few weeks, and when each result sheet was printed out, he could see the changes, which inspired him to do more and more every time.
"Sometimes, those changes aren't visible to us, but by looking at the scan numbers, you get to know exactly where you stand and can literally see the progress," he said.
"I absolutely look forward to each and every scan. In fact, I shared the scanning concept to many of my friends and they wanted to get scans done too – they ended up joining the health challenge along with me, and I've seen the same excitement in them as in me."
Sagar's first body scan with the Evolt 360 was done on 24 May 2021 with a mid-challenge scan conducted on 31 July 2021. Let's take a look at some of the numbers, which are astonishing!
| Measurement | Before | After |
| --- | --- | --- |
| Weight (kg/lbs) | 72.8 kg | 66.3 kg |
| Visceral Fat Area (cm2) | 70.0 cm2 | 53.0 cm2 |
| Visceral Fat Level | 8.0 | 6.0 |
| Total Body Fat % | 21.4 % | 15.5 % |
| Lean Body Mass (kg/lbs) | 57.2 kg | 56.0 kg |
| Skeletal Muscle Mass (kg/lbs) | 32.1 kg | 31.6 kg |
| Protein (kg/lbs) | 11.8 kg | 11.8 kg |
| Bio Age | 29 | 27 |
Loving The Numbers
Sagar's excitement over the results of his scans has given him the mental strength to maintain and continue his newfound healthy lifestyle. With that in mind, he said that body scans with the Evolt 360 would be of benefit to everyone and anyone wanting to take that first step.
"Getting this scan done is a must for everyone," he said.
"As soon as you see those numbers, you start to think. You start to look for ways to change those numbers. You start to make the right choices, and in fact, it all leads to your health getting better.
"Evolt scans also give the in-detail knowledge about what each of the terms means and how it's calculated. I strongly believe this education is much needed."
Inspirational Words For Success
Sagar was unable to conduct his final body scan in his 12-week challenge due to a lockdown, but that hasn't stopped him from wanting to share his success with others and hopefully inspire even just one person to make a change for the better.
"If I can do it, anyone can," he explained.
"I always used to have negative self-talk about 'I can't do it' or 'that's not for me', but health is for everyone and the time to work on it is now.
"Procrastination is the killer of growth, that Monday or that month will never come. We have to make the decision and act on it today. Transformation is not only physical, it's a mental journey.
"No goal is impossible. Having a bigger goal is necessary but try not to get afraid by a long-term vision. Keeping small checkpoints in between will really help you keep on track.
"The success formula for good health is not in any of the fancy or outstanding things, it's in daily habits and choices."
To learn more about your body and for personalized macronutrient and supplement recommendations Download the Evolt Active app and search for your nearest Evolt 360 Body Composition Scan location.
For more information about purchasing an Evolt 360 for your business visit www.evolt360.com/contact or request an information pack below.