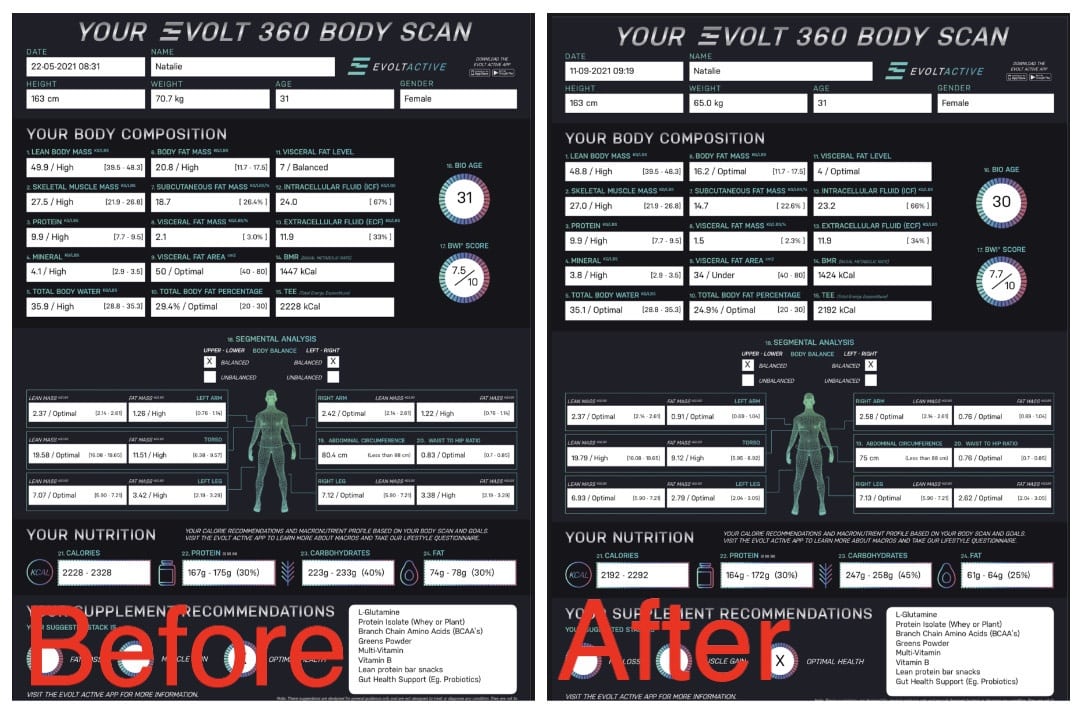 It was all about lifestyle changes for Natalie
It was all about making positive changes for 31-year-old Natalie Crouch, who wanted to move away from the world of dieting and turn more towards a permanent way of living during a recent 12 week challenge at her local gym.
Unhappy with the way she looked and wanting to feel fit and strong, Natalie had been going to the gym consistently for a year but realized that alone wasn't enough.
"I'd participated in challenges before, but always gained everything back after it ended," she said.
"This time, I wanted to make positive lifestyle changes as opposed to just dieting for 12 weeks, so my overall goal during the challenge was to improve my lifestyle, to be in the healthy fat kilogram range according to the Evolt scan, and ultimately get to 25% body fat."
Natalie lost a total of 5kgs during the challenge, which went from 22 May 2021 through to 11 September 2021, and the unit measurement results listed below from her Evolt 360 scan were amazing!
The Training and Nutrition Regimen
With no lockdowns in place, Natalie hit her local BFT gym in West Melbourne 6 days a week and took advantage of their program which saw her do strength, resistance and cardio training. During lockdown periods, she took up running as a way to keep moving, and recently set her sights on the Melbourne Half Marathon this October as a way to stay motivated and accountable.
When it came to nutrition, Natalie admits to being lazy in the kitchen due to lack of time, so to keep herself answerable she signed up for a subscription with My Muscle Chef.
"They deliver all my food fortnightly and it makes it so much easier to stay accountable and track calories," she revealed.
"I'm time poor during the week, but this way I'm able to heat my food quickly and be done with meals; without it, it would be easy for me to neglect my nutrition and get takeaway or processed foods."
"As part of the 12 week challenge, I also committed to being 100 days sober. I'm now up over that target with no real plans to drink for a good while. It's crazy how many calories are in alcohol and the food you subsequently eat after a few cheeky beverages."
Supplements Natalie took during the challenge included magnesium and glutamine for recovery, fish oil, pre-workout, and WPI from Bulk Nutrients.
How The Numbers Stacked Up
Natalie revealed she had been having Evolt 360 scans since late 2019, and consistently turned to them because of the ability to track different metrics in her body. Before having her very first scan almost 2 years ago, she would obsess with the number on bathroom scales.
"I've learned that is only a small part of the story though," she said.
"I love that the Evolt 360 tells me my entire body composition so I can see the progress that matters – fat loss and muscle gain. I also love that my TEE (total energy expenditure) is calculated for me, it makes it much easier for me to keep on track with my nutrition."
Natalie's first scan was done on 22 May 2021 with the comparisons listed below to her latest scan done on 11 September 2021.
| Measurement | Before | After |
| --- | --- | --- |
| Weight (kg/lbs) | 70.7 kg | 65.0 kg |
| Subcutaneous Fat Mass (kg/lbs/%) | 18.7 kg | 14.7 kg |
| Visceral Fat Area (cm2) | 50 cm2 | 34 cm2 |
| Visceral Fat Level | 7.0 | 4.0 |
| Total Body Fat % | 29.4 % | 24.9 % |
| Lean Body Mass (kg/lbs) | 49.9 kg | 48.8 kg |
| Skeletal Muscle Mass (kg/lbs) | 27.5 kg | 27.0 kg |
| Protein (kg/lbs) | 9.9 kg | 9.9 kg |
| Bio Age | 31 | 30 |
How The Evolt 360 Helped Natalie
Having a scientifically validated body scan provides a detailed, more significant insight into an individual's body than a set of ordinary household bathroom scales and traditional methods of measurement like calipers and measuring tape. Natalie said there was simply no comparing the two methods, with the Evolt being far more superior and accurate when it came to real world results.
"Before my first scan, I'd have had no idea how many calories my body needed to even function for the day," she said.
"When I had attempted to lose weight in the past, I'd eaten around 1400 calories based on something I read on the internet. I was surprised to find out that my BMR (basal metabolic rate) is around the 1400 mark and that my TEE is roughly 2200 calories – I was eating far too little."
"To be able to eat more calories and lose weight was mind blowing. I also didn't understand that weight loss could include muscle and water loss too, so having the Evolt scan meant I could track everything and know that even if I'd gained weight it might not be a bad story."
Consistency And Staying Accountable
Natalie started her 12 week challenge by focusing on the most important part of her life – her health. Her success was all about hard work, a strong mindset and being as prepared as possible, and Natalie's advice to others was to think about consistency and recording progress.
"If you have a diet slip up or a cheat meal, don't beat yourself up about it," she said.
"Get back on board the next meal or the next day and continue. There was a day along my 12 week challenge where I ate my whole daily calorie target in a sitting of sweets at lunchtime!"
"Also, consistency is key. If you make positive changes and stick to them 90% of the time, you'll see changes. I wish I had listened to people telling me this years ago."
To learn more about your body and for personalized macronutrient and supplement recommendations Download the Evolt Active app and search for your nearest Evolt 360 Body Composition Scan location.
For more information about purchasing an Evolt 360 for your business visit www.evolt360.com/contact or request an information pack below.