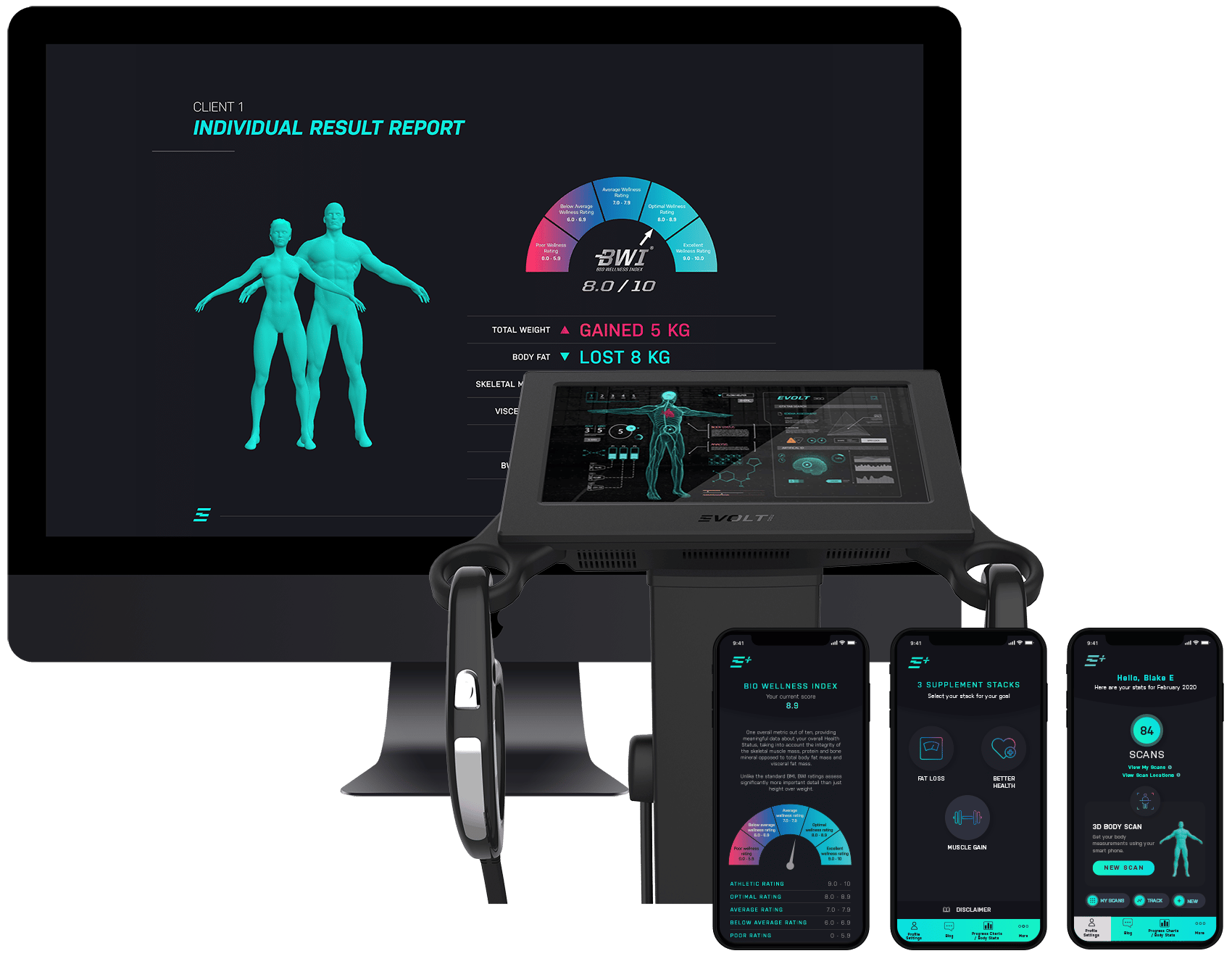 Future proof your business with the new Evolt Suite of services
Today it's more important than ever to critically think about the way your business succeeds in the world of health, fitness and wellness.
You need to be meeting target audiences and attracting more clientele to walk through your doors, but COVID-19 has changed every part of our lives. It's disrupted our industry and sadly we've seen gym closures, financial uncertainty and job losses across the board.
So how do we future-proof our businesses, which are our livelihoods?
Evolt has created, and are continuously growing, a suite of services to provide you, your business and your clients with the best tools in overcoming current economic conditions as well as mental and physical concerns.
Combined Hardware and Software Solution
Our newly combined package of Evolt hardware and software, the Evolt Suite, is the ultimate bundle for your business to keep you focused on the future.
Generate a Second Income
The Evolt Suite incorporates our high-tech, intelligent Evolt 360 body scanner, the Evolt Insights software platform and the Evolt Active App–an impeccable combination of fully customised and progressive technologies all wrapped up into one perfect business package.
We've developed this resources tool with the aim of not only helping your business overcome the challenges of COVID, but those of your clients too. Whilst having an Evolt 360 and its accompanying Insight software and app, you can increase your business's sales performance as a second income generator –but that's just the icing on the cake.
Be the Point of Difference
The Evolt Suite can not only help you obtain the competitive advantage by having a point of difference to drive customers into your establishment, it can also help motivate and engage your current clientele, ultimately lowering attrition rates and rejuvenating their interest again.
With the Evolt 360 body scanner available to all your clients, there are numerous ways to generate their engagement Include a scan in membership renewals, as part of transformation challenges, even offering it up as a value add whenever they want to use it.
The Power in Your Data
Evolt Insights is a powerful software dashboard, providing your business with a live overview of how many scans were performed on a daily, monthly and total basis with an overall collated health rating updated every time you log on. With lists of all your participants, you can check on their progression, run challenges, print downloadable reports, and provide data analytics.
Together with the Evolt Active App, which gives your members full access to allow them to keep track of their progress, this Evolt Suite of services will deliver personalised experiences so you can go from being a regular business down the street to a brand with a difference, setting you apart from the rest.