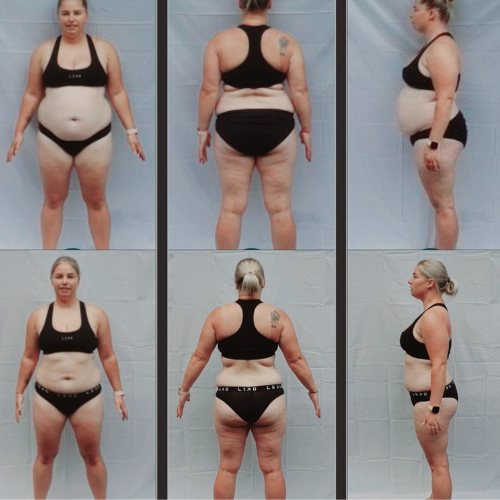 What the Bathroom Scale Didn't Tell Sam
Sam Thomas had worked in an office job for 2 years when she started to notice the weight gain. She was consuming a diet of unhealthy foods on a daily basis, she wasn't happy about any of it but found she wasn't motivated to make changes.
One particular morning, after weighing herself in at 96.4kg on her bathroom scale, Sam finally caved when best friend Suzie asked her for the thousandth time to join her at BFT Lower Hutt for an 8-week challenge. Before she knew it, Sam was signed up and ready to start the journey with two weeks to prepare herself before the challenge officially kicked off.
With a goal of 80kg, 33-year-old Sam successfully reached 81.6kg after 8 weeks of consistency, commitment and motivation.
The Start of Something New
All of Sam's training was done at BFT Lower Hutt, every single day at 5.30 pm and Saturdays at 6 am. She also incorporated a lunchtime walk during workdays and stuck to a meal plan that was mostly about portion control and meal prep.
"I found the meal prep (weighed amounts for 3 meals and 3 snacks every day) really hard to conform to because I'm quite fussy," she says.
"Going from eating chicken and chips every day or McDonald's and no breakfast at all, it was a big change, but I stuck to it as much as possible, and Suzie helped me substitute things if I needed to."
Never having stepped on an Evolt 360 body scanner before, Sam got some well-deserved results from her before and after Evolt reports.
| Measurement | Before | After |
| --- | --- | --- |
| Weight (kg/lbs) | 92.5 kg | 81.6 kg |
| Subcutaneous Fat Mass (kg/lbs/%) | 30.6 kg | 25.4 kg |
| Visceral Fat Area (cm2) | 114.0 cm2 | 93.0 cm2 |
| Visceral Fat Level | 14.0 | 12.0 |
| Total Body Fat % | 38.4 % | 35.7 % |
| Lean Body Mass (kg/lbs) | 57.0 kg | 52.5 kg |
| Skeletal Muscle Mass (kg/lbs) | 31.1 kg | 28.7 kg |
| Protein (kg/lbs) | 10.8 kg | 10.1 kg |
| Bio Age | 37 | 36 |
Sam's Thoughts on The Evolt 360
With Sam's experience on body scanners limited, she discovered how much information one quick 60-second scan could give her – and it helped motivate her.
"I loved all the info the scan gave me – one at the start of the challenge, one midway, and one at the end – it helped a lot with what I needed to work on, especially during the halfway scan. I'd lost 2kg of muscle, so I knew I needed to have more protein in my diet," she says.
"One of the coaches explained to me that maybe I actually wasn't eating enough food, which I thought was crazy at the time because I was already eating a lot more than before I'd started, but admittedly I'd been skipping some snacks, so I tried my best to have everything for the second half of the challenge."
"Having the Evolt 360 right there as part of that challenge helped me stick to my goals and showed me what my body needed for my own specific journey. I mean, some people want to gain muscle, for example, but you can't see those improvements on a normal bathroom scale."
How She's Feeling Now
The difference in how Sam feels now compared to over two years ago is priceless.
"I feel so great! A lot fitter and stronger, with heaps more energy, definitely happier, and my self-confidence has risen after seeing my before and afters," she says.
"I still have a long way to go, but I'm super proud of my efforts. I've completely changed my whole life around, and my friends' reactions to my photos were next level."
"I'd gone into the challenge with a group of friends after Suzie had recruited a few more people, and I seriously could not have done it without them. Also too, the coaches at BFT were amazing, they made it feel like I wasn't new there…it was like one big supportive family that I didn't know I needed."
What Sam Has Learnt
Thanks to Sam's hard work and dedication to getting her life on track, she has some words of wisdom to pass on to anyone starting their health and fitness journey.
"Stick to the plan, you know your body the most and what you're capable of," she advises.
"Don't overdo it in the first couple of weeks, you'll only end up sore. Gyms like BFT are amazing having their coaches there and having to stick to the class schedule really helped and pushed me a lot".
"If I was at a normal gym, there is no way I'd have pushed as hard or seen these results; I'd probably have given up…and being held accountable by my friends also doing the challenge was great. There was always someone to go with for that extra support."
To learn more about your body and for personalized macronutrient and supplement recommendations Download the Evolt Active app and search for your nearest Evolt 360 Body Composition Scan location.
For more information about purchasing an Evolt 360 for your business visit www.evolt360.com/contact or request an information pack below.